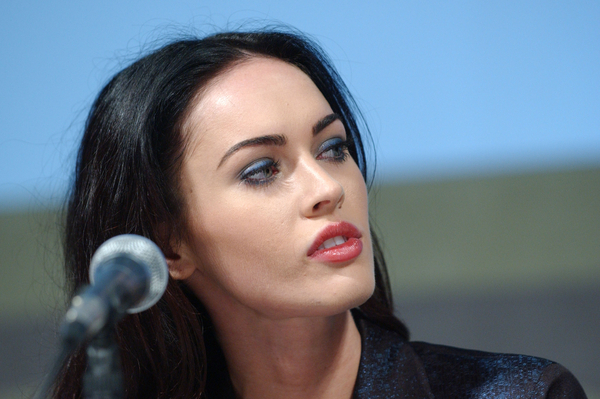 It seems men may be a little fed up with Megan Fox. According to Gatecrasher, several men's websites are calling for a "Megan Fox Media Blackout Day" because the men running or operating the sites feel she's too overexposed. Gee, I wonder at point they realized that? After her seventh magazine cover, all to promote one movie? To give some acknowledgment to Megan, these guys are giving her credit for increased traffic and for being a huge draw at all times. I've noticed that on Celebitchy too – but usually the attention is negative, because Megan has said something dumb in one of the cover interviews. Men don't notice what Megan says – they're too busy ogling pictures of her. But that is going to come to end for one day – at least – so that these men can find and over-expose some other young starlet:
It may seem unlikely, but the men of America are sick of Megan Fox.

A dozen male-focused Web sites including AOL's men's lifestyle/humor site Asylum.com — as well as Ask Men, Just a Guy Thing and Double Viking — have sanctioned Aug. 4 as a Megan Fox media blackout day.

Why the diss? All the editors feel the starlet has become a bit too overexposed — and they're not just talking about her fashion sense. Fox has appeared on the covers of Esquire, Empire, Maxim, GQ UK, Entertainment Weekly and Elle this year alone, plus she did heavy press for her role as Mikaela Banes in "Transformers: Revenge of the Fallen."

"You can have too much of a good thing," says AskMen.com's Editor-in-Chief James Bassil, who tells us, "We're joining in the media blackout and giving our readers a one-day reprieve from the woman we've been drowning in all summer."

Jokes Doug Sheckler of on205th.com: "She needs to do more to earn our undying praise and affection. For instance, she hasn't even returned any of my calls this year asking for a date. What's up with that?"

All kidding aside, most of the men do admit to still lusting after the actress, but are ready for Fox to pass the hot torch on to their other celebrity crushes. "Listen, we love Megan. She's responsible for driving more eyeballs to our sites — just by getting photographed walking down the street in a white T-shirt — than any other celeb alive," says Eric Rogell of TheBachelorGuy.com. But while he professes his love for the raven-haired beauty, he says he's ready for more diverse eye candy.

"It's time to give another young actress a shot at the attention," he says. "We're taking a one-day break from covering Megan's latest nail polish color and instead promoting another 'Next Big Thing.'"

So who is Fox's likely replacement? "My vote is for ["The Unborn" actress] Odette Yustman," says Rogell. "I call her 'The Poor Man's Megan Fox.'"
[From Gatecrasher]
Personally, I've never gotten the general appeal of Megan Fox. Any attractiveness I could give her credit for is ruined when she opens her mouth. But I understand why men (specifically, young men) find her sexy. She always got her mouth open, tongue exposed, staring at the camera with a "f-ck me" look. It just seems… obvious. And like there's nothing else there. But I guess those boys will have to do without Megan for one whole day. Gasp! What will they do?
Megan Fox is shown at Comic-Con on 7/23 and 7/24/09. Credit: PRPhotos