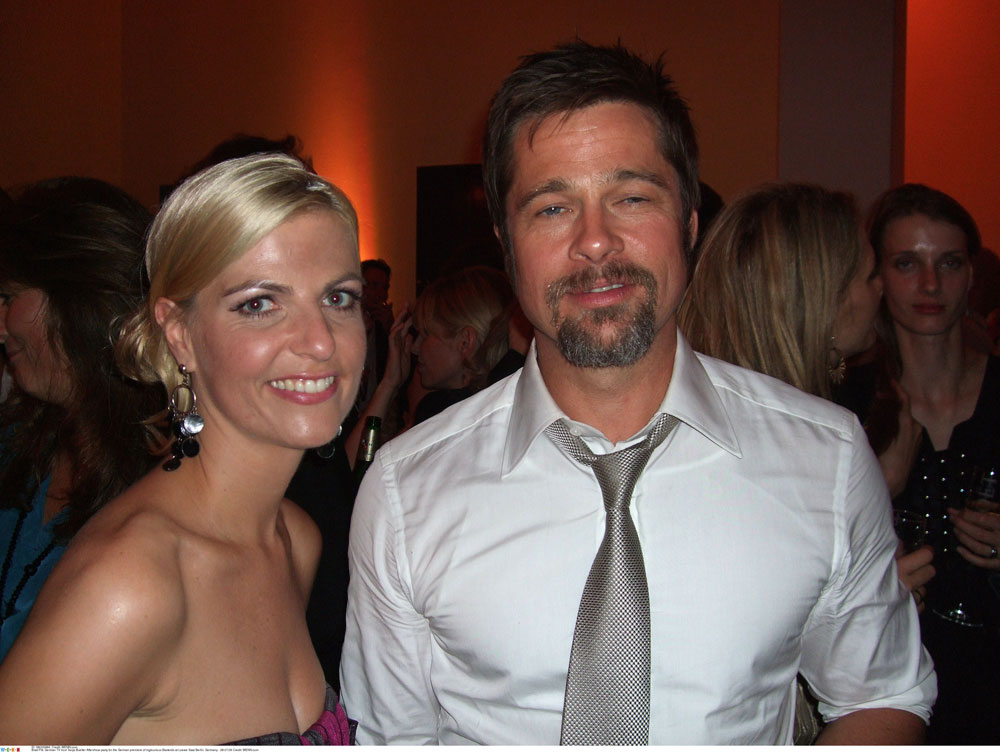 Brad Pitt is headed back to Los Angeles to be with his family after a massive blow-out celebration for the Berlin premiere of Inglourious Basterds. After posing with what looked like a painful eye infection for the Berlin photocall, Brad pulled out the stops in a great grey suit, impeccably tailored, for the premiere. Post-premiere, Brad was doing what he loves doing most in Germany – drinking. Drinking that fine German beer that he can't get enough of. And looking a bit rough while doing it.
OK! says that Brad partied at the post-premiere party with Quentin Tarantino and the cast until 2 a.m. It looks like Brad had a great, beer-soaked night, but all of that smoke and liquor can't be good for eye infection (joking). Unfortunately for Brad, he know seems like a bit of hypocrite/liar, because he told the Daily Mail (via People) that his "partying ends at 6 p.m." Which I guess means "6 p.m. Pacific time" or "it's always 2 a.m. somewhere".
He's on top of the world as the most envied man in stardom, but Brad Pitt wants the public to understand that it can be a tougher life than they imagine.

"It's so tough being an actor," Pitt, 45, joked at the Berlin premiere of Inglourious Basterds Tuesday night – nattily dressed in a Tom Ford gun metal grey suit, silver tie and white shirt. "Sometimes they bring you coffee, and sometimes it's cold, and sometimes you don't have a chair to sit on."

But with six young ones and partner Angelina Jolie at home, he does get early nights when not working. "I'm a dad now – my partying ends at 6 p.m." he told the Daily Mail.

Hard work or not, Pitt clearly felt at ease in Berlin, where the Quentin Taratino-helmed film was shot and he and his family lived during filming. "It's always great to be here and I have a lot of friends here," he told a reporter from Bunte magazine. He also knows how to relax, German-style, when out past his 6 o'clock "curfew." Eyewitnesses report that Pitt sauntered into the screening with a beer in his hand.
[From People]
I like Brad and everything, but he really needs to cut it out with the beer. He's a lush. And he looks like he would be a cheap drunk too – like, give him two beers and he gets all happy and grope-y. I love Tarantino and everything, but I'm starting to think Quentin might be a bad influence on Brad. Anyway… I'm glad Brad is home now. He must have had a wicked hangover on the plane. Brad's cure for a hangover is probably more beer, though.
Photo note by Celebitchy: Brad is shown chatting with architect Lars Krueckeberg and posing with TV host Tanja Buelter. There are also some photos of Quentin with his girlfriend/friend Talulah Freeway. She is awesome and I would love to see more of her. Maybe she's married, though, because she is wearing rings. Diana Kruger is shown looking grumpy (I totally soured on her after seeing her smug face at the premiere) talking to Melanie Laurent. Also shown is my boyfriend, Til Schweiger, (I kid!) with Julia Malik and August Diehl. Credit: WENN.com