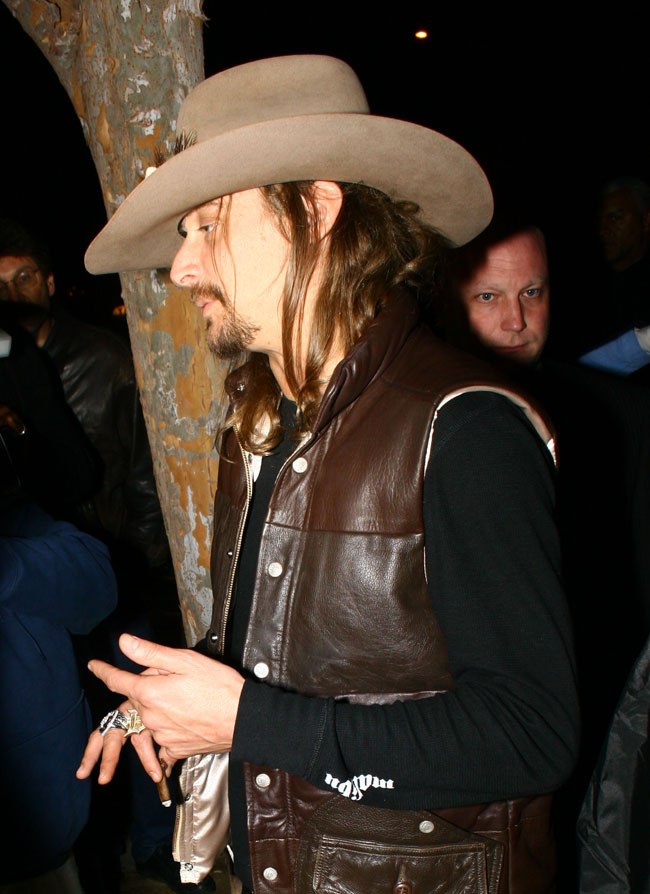 Never did I think I'd say this, but I really heart Kid Rock. It turns out you don't have to do much to get me to change my opinion about you – just hate something I hate and together we'll be best buds. Or I will at least write nicer articles about you, in the case of Kid. Turns out my new BFF hates Twitter. We're soul mates. That's all it takes, right there. No, he seriously hates it. Like, if you ask him about it, he's going to sock you in the face. I have the kind of ear-to-ear grin on my face that you only get with true love.
COUNT Kid Rock out as a fan of Twitter. "It's gay. If one more person asks me if I have a Twitter, I'm going to tell them, 'Twitter this [bleep], mother[bleep]er,' " the shaggy-haired rocker tells Rolling Stone. "I don't have anything to say, and what I have to say is not that relevant. Anything that is relevant, I'm going to bottle it up and then squeeze it onto a record somewhere."
[From Page Six]
You know how Pepe Le Pew would get those hearts in his eyes after he saw that girl cat that he thought was a hot skunk? That's absolutely what I've got going on right now. Kid Rock is my hot skunk. Don't laugh, this feels real to me.
So I was thinking… John Mayer is an epic twitterer. Kid Rock, an epic puncher. Mayer is also an attention whore, and Rock certainly has his moments. There are few things I've wanted more than a Kid Rock/John Mayer feud. Hopefully ending with Mayer getting socked in the eye. Or nose. Or mouth. Really, anything above the neck or below the belt would be fine.
Somehow, we need to get John Mayer to say something douchy about Kid Rock on Twitter. Then Kid, being unable to respond via Twitter – and preferring to do things old school like a real man anyway – will accost Mayer outside Pinkberry and beat him upside the head. Or just exchange scary, frightening words. Presumably TMZ will be there, since I think they keep at least two guys on the Pinkberry/Millions of Milkshakes beat at all times. John will naturally be twittering/annoying the crap out of me from the hospital, but it'll be worth it.
Kid Rock is shown on 7/1/09. Credit: Fame Pictures