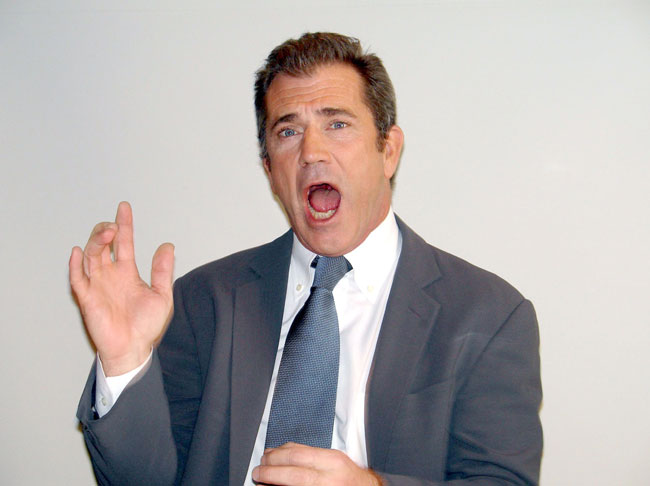 Mel Gibson and his notorious temper are at it again. This incident isn't as cut and dried as his infamous DUI rant, and it sounds like the situation escalated until Mel blew up. Gibson was involved in some sort of altercation with a persistent photographer last night at the opening party for a new club in LA. Hollyscoop reports that Mel got upset when a reporter from Life and Style and her date refused to stop taking pictures of him and his pregnant girlfriend, Oksana Grigorieva. Mel initially had his bodyguards delete the photos in the reporter's camera. Then the reporter sent her male friend to continue taking pictures, which is when Mel took matters into his own hands, grabbing the guy hard and ripping his t-shirt:
Mel Gibson was in the partying mood on Wednesday night when he attended the grand opening party for the new hotspot in town, Playhouse.

Gibson and his pregnant girlfriend arrived with a large group of people and settled into their VIP area.

One club-goer tells Hollyscoop exclusively that "Mel looked so happy and in love" at the club.

However, things went sour when a Life & Style reporter posing as a fan tried to snap a picture of Gibson and his girlfriend. His security team immediately took the camera and deleted the pictures.

The pushy reporter did not stop there as she sent her friend to take another picture. That's when Mel stepped in and attacked the clubgoer because he was fed up with everyone trying to snap a photo of him partying. Our source tells us exclusively that "Mel approached the guy who tried to take his picture and ripped his shirt."

Our source also tells us that the guy that was attacked by Mel Gibson is on his way to the police station to file a report against him.

The whole incident must have upset Mel because he left the club shortly after the incident.
[From Hollyscoop]
Both Hollyscoop and Bumpshack have photos of the photographer. While his face is blurred, it doesn't look like he's hurt at all and you can't see any marks on the part of his chest that's exposed by the ripped t-shirt.
TMZ reports that the photographer is filing a report with the police against Mel. No one should resort to violence, but these people should have backed off when Mel told them to stop taking pictures the first time. Surely this guy is going to file a civil suit hoping for a hefty settlement from moneybags Mel. If the man wasn't hurt, Mel should be responsible for replacing his t-shirt and that's about it.
Update: The LAPD claims that this man fabricated the story that Gibson attacked him. TMZ reports that "cops believe it was impossible for Gibson to have even made contact with him. They tell us Gibson was wedged in a booth with his pregnant girlfriend and couldn't have grabbed the guy's shirt."
Mel Gibson is shown at a photocall on 4/25/09. Credit: WENN.com