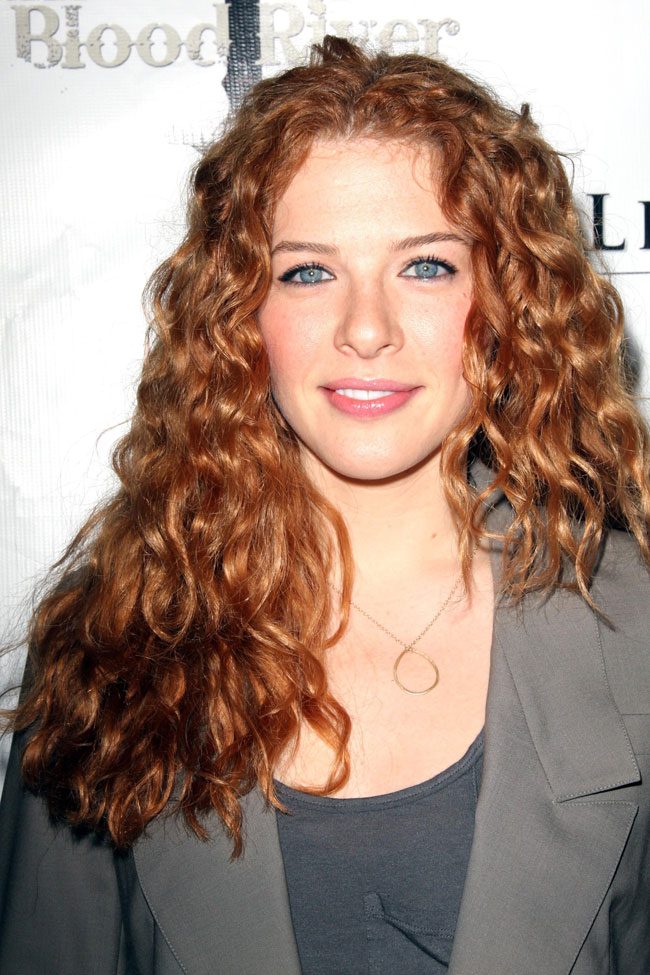 Yesterday we heard that Twilight producers had made the decision to recast the role of villain vampire Victoria for the third installment of the series, Eclipse, set to film next year. Citing "scheduling conflicts," they replaced actress Rachelle Lefevre, who stars in Twilight and the upcoming sequel New Moon, with Bryce Dallas Howard. In response, Lefevre issued a compelling and heartfelt statement explaining how surprised and upset she was about the decision. Here's her statement about how she was unceremoniously dropped due to a ten day filming overlap:
"I was stunned by Summit's decision to recast the role of Victoria for "Eclipse." I was fully committed to the Twilight saga, and to the portrayal of Victoria. I turned down several other film opportunities and, in accordance with my contractual rights, accepted only roles that would involve very short shooting schedules. My commitment to Barney's Version is only ten days. Summit picked up my option for Eclipse. Although the production schedule for Eclipse is over three months long, Summit said they had a conflict during those ten days and would not accommodate me. Given the length of filming for Eclipse, never did I fathom I would lose the role over a 10 day overlap. I was happy with my contract with Summit and was fully prepared to continue to honor it. Summit chose simply to recast the part. I am greatly saddened that I will not get to complete my portrayal of Victoria for the Twilight audience. This is a story, a theatrical journey and a character that I truly love and about which I am very passionate. I will be forever grateful to the fan support and loyalty I've received since being cast for this role, and I am hurt deeply by Summit's surprising decision to move on without me. I wish the cast and crew of Eclipse only the very best."
[From E-online]
In response, Summit has issued a self-righteous bullet point statement that rips apart Lefevre's claims that she tried to work with them, and places the blame squarely on her:
We at Summit Entertainment are disappointed by Rachelle Lefevre's recent comments which attempt to make her career choices the fault of the Studio. Her decision to discuss her version of the scheduling challenges publicly has forced the Studio to set the record straight and correct the facts.

* Ms. Lefevre's representatives were advised as early as April that THE TWILIGHT SAGA: ECLIPSE was expected to start shooting in early August.

* If Ms. Lefevre was, as she describes "passionate," about being part of THE TWILIGHT SAGA, we feel that she and her representatives would have included us in her decision to work on another film that would conflict with the shooting schedule of THE TWILIGHT SAGA: ECLIPSE.

* It was not until July 20th that Summit was first informed of Ms. Lefevre's commitment to BARNEY'S VERSION, a commitment we have since been advised she accepted in early June. Summit had acted in good faith that she would be available to fulfill her obligations both in terms of rehearsals and shooting availability for THE TWILIGHT SAGA: ECLIPSE. We feel that her choice to withhold her scheduling conflict information from us can be viewed as a lack of cooperative spirit which affected the entire production.

* Furthermore Ms. Lefevre took a role in the other film that places her in Europe during the required rehearsal time, and at least ten days of THE TWILIGHT SAGA: ECLIPSE's principal photography. This period is essential for both rehearsal time with the cast, and for filming at key locations that are only available during the initial part of production.

* Contrary to Ms. Lefevre's statement, it is simply untrue that the Studio dismissed her over a ten day overlap. It is not about a ten day overlap, but instead about the fact that THE TWILIGHT SAGA: ECLIPSE is an ensemble production that has to accommodate the schedules of numerous actors while respecting the established creative vision of the filmmaker and most importantly the story.

The fact remains that Ms. Lefevre's commitment to the other project – which she chose to withhold from Summit until the last possible moment – makes her unfortunately unavailable to perform the role of Victoria in THE TWILIGHT SAGA: ECLIPSE.
[From OK! Magazine]
Summit came across as defensive and haughty in that statement and they could have handled that so much better. You can see how they would callously replace an actress without giving her any warning or trying to work it out. I understand that it costs a fortune to film and as a small studio they're probably upset at a perceived slight by an actress which could cost them a lot of money. They didn't need to trash her, though, and could have issued a vague statement wishing her well instead of outlining the issue as if it was all her problem. They even made fun of her choice of words.
This is the same studio that blew off the issue when their lead actor, Robert Pattinson, was hit by a cab on the NY set of the film Remember Me. They didn't even say they were concerned for his well being, and simply wrote "Robert Pattinson is fine. The reports are exaggerated and the accident was not caused by fans. Production continues." That's so obnoxious and dismissive. Summit has also come under fire for failing to provide proper security for Pattinson, who was mobbed by fans on set on several occasions. [Credit to commenter Anna on OK! for reminding me of this.]
Summit needs to hire a real PR person, someone with depth and concern for others who can actually write with feeling. Rachelle Lefevre certainly fits that description and I know her statement convinced me. She's on my radar now, and I hope her career "eclipses" this series. Let's hope the Twilight franchise isn't doomed by this small but arrogant film studio which seems intent on running their cash cow into the ground.
Rachelle Lefevre is shown at an event on 3/24/09 and in stills from Twilight. Thanks to WENN.com