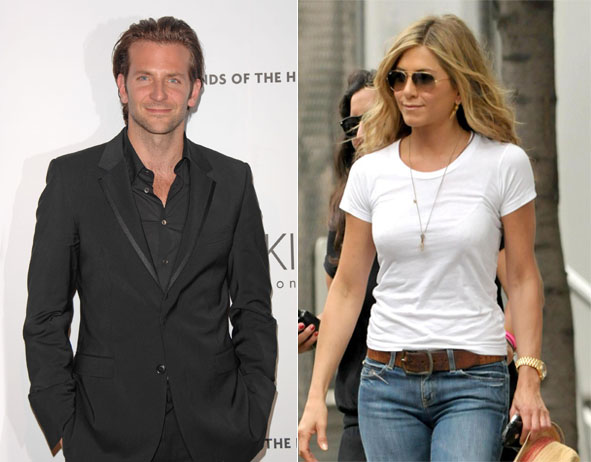 I kind of thought the Jennifer Aniston-Bradley Cooper drama was over, but it's not. Last we heard from that pairing, they were fighting it out in some sort of uncool Bermuda Octagon with Renee Zellweger, Denise Richards, Lake Bell, Gerard Butler and Col. Mustard in the library with the candlestick. Turns out all of that was just a tabloid smokescreen. Jennifer and Bradley Cooper have been secretly dating this whole time, according to the National Enquirer. Not only have they been dating and quietly been getting to know each other, but Jennifer "couldn't be happier that everyone believes he dumped her". Come again?
Now it can be told: Jen Aniston's & Bradley Cooper's media "fake-out" to get sexy away from the prying eyes of the world!

Jennifer Aniston's romance with Bradley Cooper is back on – in fact, it was never off. And Jen couldn't be happier that everyone believes he dumped her.

The ENQUIRER can exclusively reveal that the Friends beauty and Hangover hunk had a discreet rendezvous at a private Washington,D.C., club July 18 – exactly one month after their first public get-together at a New York restaurant.

"Jen loves that everyone thinks Bradley gave her the heave-ho and that she's fooling around with Gerard Butler, her co-star in The Bounty," an insider told The ENQUIRER.

The ruse is allowing Jen and Bradley to get to know each other better out of the public spotlight.

"Jen is thrilled that no one knows about her and Bradley," the insider revealed — that is UNTIL NOW!

"She's really sick of feeling like her love life is always under a microscope. Bradley is Jen's little secret."

Jen, 40, a break from filming in New York City and dashed to Washington, D.C., for a secret meeting with her new Brad, 34. The two arrived at L2 Lounge, a posh private club, at 11:30 p.m.

"They sat off in a quiet corner, but Jen's smile radiated throughout the whole club," an eyewitness told The ENQUIRER. "She sipped Grey Goose vodka and pineapple and kept her hand on Bradley's leg most of the time.

"They weren't shy about being affectionate. Bradley kept whispering in her ear and kissing her lips and neck. They slipped out arm-in-arm about 1 a.m."
[From National Enquirer]
Grey Goose vodka and pineapple? Damn, that sounds good. Is it too early for a drink? Anyway, I'm not sure about the specifics of this report. Sure, I'll buy that they're still dating, and that the drama with all of the extra characters was just some tabloid construction to sell some glossies. But I find the whole thing about Aniston running down to Washington for a secret date a little weird. I can't find any report that says that Jennifer or Bradley were in Washington as any point over the past few weeks. He's been in Los Angeles, working on that ensemble romantic comedy Valentine's Day. Meanwhile, Jennifer has been in New Jersey and New York working on The Bounty with Gerard. Who knows?
Jennifer Aniston is shown on the NY set of the Baster on 7/29/09. Credit: PacificCoastNews.com. Bradley Cooper is shown on 6/15/09. Credit: WENN.com