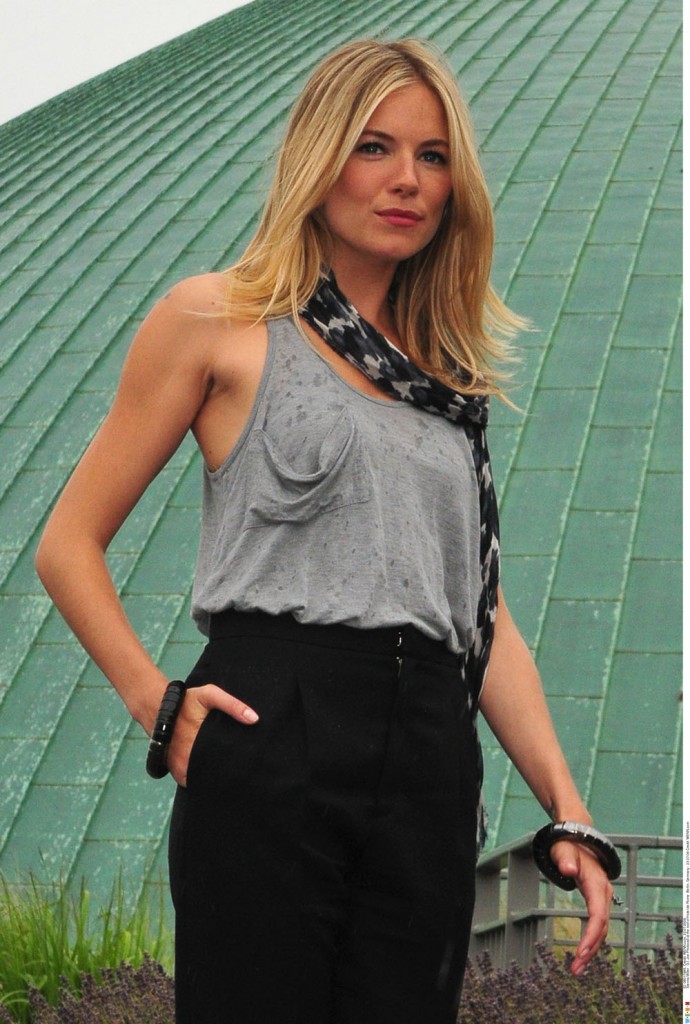 Sienna Miller is just a step or two away from Amy Winehouse. Amy came in third in "least hygienic celebrity" poll a year and a half ago (right after Tommy Lee and Pam Anderson), and while Sienna's name was never mentioned, I could see her coming in fourth. There was a day and time I would have stuck Britney Spears in one of those top – and highly coveted – spots. But Sienna just has this sort of look about her I can't explain. But it's a look that says "I'm very casual about hygiene." And I'm guessing it's random too. She probably goes to great lengths to keep her girly parts in good aesthetic order, but she might only wash her hair once a week.
Sienna admits she's lazy when it comes to a lot of basic cleanliness rituals. She doesn't even bother to wash her face with soap or a cleanser, and often uses shampoo just because it's there. Consequently, she has bad skin. Who'd have thought?
'G.I. Joe: The Rise of Cobra' star Sienna Miller is so lazy she discards expensive beauty products and scrubs her face with shampoo because it's already in the shower.

Sienna Miller washes her face with shampoo. The 'G.I. Joe: The Rise of Cobra' star claims she is too lazy to take proper care of her skin, often scrubbing it with whatever is in her shower. The 27-year-old actress explained: 'I don't have any beauty tips. If you only knew… I wash my face with shampoo and I've got bad skin because of it. I'm not the right person to ask about that sort of thing… I don't feel like a beautiful woman. I don't give it too much thought. It's not something I obsess about, and, like anyone, I get pretty insecure. Sometimes more so because there is more focus on me. '

Sienna also denied she gets upset when she is featured on the worst-dressed pages of magazines and newspapers. She added to the UAE edition of Insider magazine: 'I don't care about those lists. I tend to love the outfits that end up on the worst-dressed pages anyway – they're my favourite. I try not to read those magazine and I definitely don't take them seriously. 'I don't dress for them, I dress for me and whatever expresses my mood at that moment. I just have fun with it.'
[From MSN Lifestyle]
I know shampoo can be used for other things if need be, like washing your body if you're out of soap. And if it comes down to it, I think conditioner can be used instead of shaving cream (as can soap, obviously). There are a lot of things you can substitute in the shower when you run out, but most women are pretty picky about what they put on their faces. Especially when you're a celebrity. People notice your skin when your face is five feet wide on a theater screen. And in terms of laziness, I understand skipping shaving your legs. That's laziness that's understandable. But washing your face with shampoo just because it's closer? It's probably one of the three most important things you do in the shower, and definitely the easiest. Most shampoos have a ton of fragrance and ingredients I wouldn't want on my face.
It's no surprise Sienna's a bigger fan of the "worst dressed" clothes. She's definitely worn some lovely dresses, but I'm assuming she has a good stylist. If she doesn't care what she puts on her face I doubt she has great natural style either. Unless sleeping with married men is a style. I guess it is in a way, at least a lifestyle in her case.
[Thanks to Vera of I'm Not Obsessed for tweeting about this]
Here's Sienna with Dennis Quaid at the "G.I. Joe" photocall at the roof of Hotel de Rome in Berlin on July 23rd. Images thanks to WENN.com .