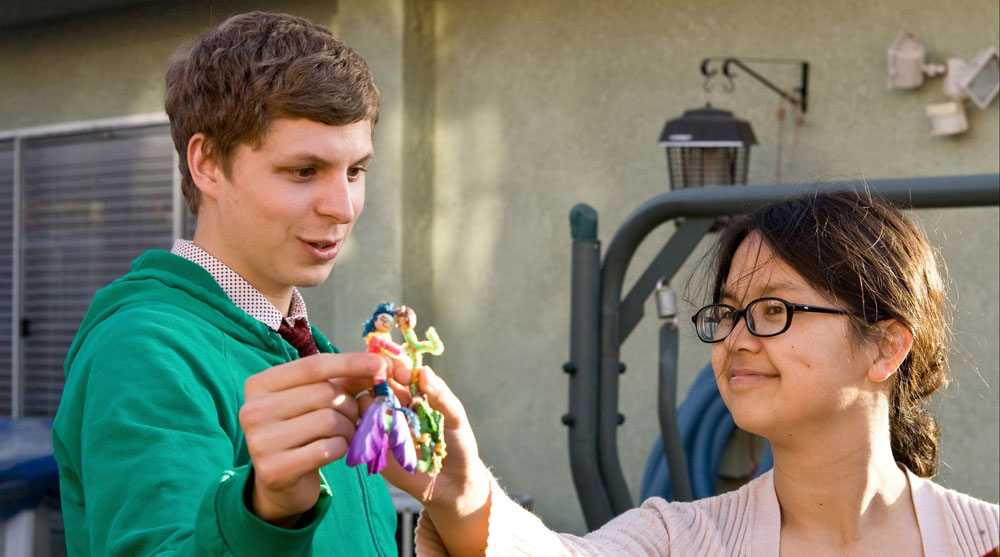 In kind of sad news about some up-and-comers, nerdy heart-throb Michael Cera, star of "Juno" and "Arrested Development," has broken up with his longterm girlfriend, Charlyne Yi. The couple have been together for three years and made a film together called "Paper Heart," which is set for release on August 14. While both have said that they will remain friends, I can't help but think that the promotional tour for this film might be more than a little awkward. But on the flip side: ladies who love nerdy guys will be thrilled to know that he's available.
Talk about awkward! Michael Cera has dumped his longtime love Charlyne Yi, 23 – just as the co-stars are beginning a lengthy promotional campaign for their comedy Paper Heart.

"Charlyne is beyond sad," says a source. "And the breakup is so much harder because she'll have to see him on tour."

The three-year relationship fell victim to Michael's skyrocketing career, says the source. His shoots kept them apart for long stretches of time- and it didn't help that Michael, 21, has become a bit of a heart-throb.

"He's been with her since before he was super-famous, and now all these girls fawn all over him," says the source. "He's just itching to date other people. As hard as it will be for Charlyne, he'll probably be out with someone else very soon."
[From Star magazine print edition, Aug. 10, 2009]
It is kind of a bummer about the timing of the breakup, but the guy is 21 years old. As cute a couple as Charlyne and Michael were, did she really think they were going to last forever? He's barely a grown up. It's normal for him to want to see what's out there, especially now that women are actually giving him the time of day. Still, I feel for Charlyne. Most of the time when a guy dumps you, you can go on with your life and not have to see him again. She still has to promote this film with him. It won't be easy.
Michael Cera and Charlyne Yi are shown in stills from Paper Heart. She's also shown at a screening of the film, with Bai Ling, on 7/28/09. Those are her shoes. Credit: WENN.com