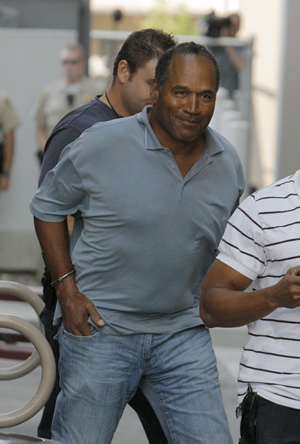 You know what makes me happy? The thought of O.J. Simpson being someone's bitch in prison. Yeah I know the likelihood that he'll go to prison is pretty slim – it's O.J. after all, he could go all Rambo on the inside of a police precinct and somehow get away with it. And I know the likelihood that he'd be someone's bitch is also pretty slim – but a girl can dream, right? And that's my dream, because I have a frighteningly retributive nature. But after the thought of O.J. going to prison and O.J. bending over, the thing that makes me the next happiest is O.J. losing all his stuff to Fred Goldman & Company. I can't believe the Juice has been able to live his lavish lifestyle for so long, but better late than never.
"A California judge on Tuesday ordered the ex-football hero to fork over a Rolex watch, among other items, to help satisfy the $33.5 million judgment for the wrongful deaths of ex-wife Nicole Brown Simpson and her friend Ron Goldman. David Cook, a lawyer for Goldman's father, Fred, said after Tuesday's hearing that the Submariner Rolex could be worth anywhere from $5,000 to $20,000. 'In this case, if it's Mr. Simpson's, then it would be ours,' Cook told reporters outside the Santa Monica courthouse. Simpson's Los Angeles-based attorney, Ronald Slates, expressed doubts about the Rolex's authenticity and said he had already collected the timepiece from his client and planned to turn it over to Goldman's camp by Tuesday afternoon. 'Know any Rolex watches that sell for 125 bucks?' he asked, noting that's the amount Simpson told him he paid for it. But the lawyer conceded that if it is a knockoff, 'it's a pretty good copy.'"
[From E! News]
The very best part? If any of that "sports memorabilia" that Simpson was arrested for trying to steal back is found to actually belong to him, he has to surrender it – so he loses either way. Party up in here!
"Los Angeles Superior Court Judge Gerald Rosenberg also ordered the Naked Gun star to surrender any of the memorabilia from last month's purported Las Vegas heist that is found to belong to Simpson. He is currently facing 11 criminal counts, ranging from armed robbery to kidnapping, for taking the items. Simpson, 60, has proclaimed his innocence, stating that all the mementos belonged to him and he was just conducting a 'sting operation' to get them back.

"As for the cache of memorabilia, Slates said he had no way of handing over any of it because Las Vegas police have confiscated it for evidence. Cook countered that Rosenberg's ruling states that should Simpson be found to own any of the disputed collectibles, which reportedly includes footballs, jerseys and photos, then they must be given to the Goldmans. 'As we said earlier, Mr. Simpson is going to walk out of Las Vegas bust. You've always heard that expression,' Cook added. 'He's not walking away with that sports memorabilia. That's what the judge ordered, and he's going to literally walk away empty-handed for all his trouble.'"
[From E! News]
I wish you all could see my happy dance. It's very undignified, completely unhinged, and totally worth it. I love to see this wife-battering murderer getting what he deserves. I doubt much of anything will wipe the smug grin off his face, but maybe living in a box down by the river might be a good start.