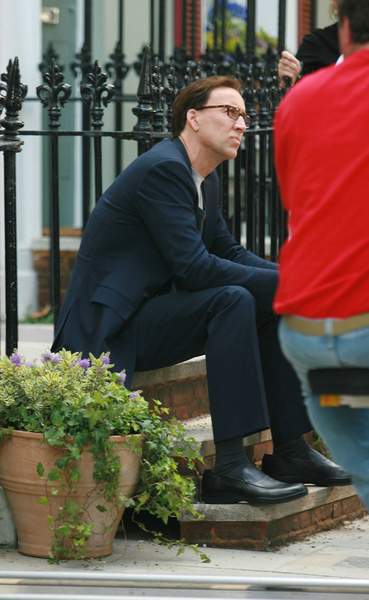 Note by Celebitchy: Both Helen and JayBird covered this, so here's Helen's take on it, followed by JayBird.
---
Sometimes even a gated community isn't enough. Sometimes you just need some security, and police, and I don't know – a rottweiler? Nicolas Cage at least had the first two when an intruder broke into his house at 1:30am Monday. His wife Alice Kim and son Kal-El were also in the home at the time.
Robert Furo was charged with residential burglary and remanded to jail on 100,000 dollar bail, after allegedly breaking into Cage's oceanfront home in NewPort Beach, 80 kilometers (50 miles) south of here, said the local district attorney's spokeswoman Farrah Emami.

"The defendant, Mr Furo, is accused of breaking into the home of the victim, Nicolas Cage … and wearing Mr. Cage's jacket" early Monday, she said.
Nick escorted the intruder into his backyard, and when he got there he discovered the guy was wearing his jacket. It must have been a nice jacket. Nick Cage likes them action movies, so I'm guessing he'd have a really nice home entertainment unit, you might steal that first. Or even his cell phone. Or some cash you found lying around. Not so for this intruder, not when you can have a nice jacket instead.
The intruder will appear in court on 10th October. He's listed his occupation as 'tailor', so either he's not so crazy and recognises the amusement of stealing only a jacket, or it was really a very lovely jacket and he simply recognised that as part of his profession.
Written by Helen, JayBird's version to follow
---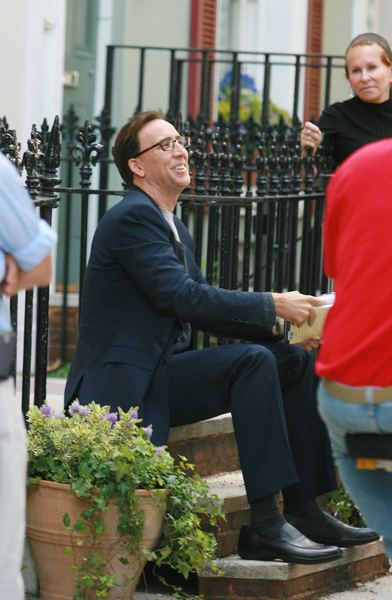 I'm sure being a celebrity isn't all sweetness and light. I know we all would like to be famous, or at least rich, and most of the famous people we talk about here sought out their fame, and thus chose it, with all the good and the bad that comes with it. Still, there's some freaky elements to deal with, like… stalkers! Now they say you're no one in Hollywood until you have your very own stalker, and while it's nice to know you've arrived, it's probably not so nice to realize it when someone's trying to slash your tires… or your throat. Nicolas Cage got a little bit of the weirdo action when he woke up on Monday morning to find a man in his house… wearing his coat. I gotta tell you, if I were to break in to a rich person's house, trying on their clothes would not be my first order of business. Which makes me think this dude is likely crazy. Or just obsessed with couture who knows.
"Sweet dreams aren't made of this. An Orange County man has since been arrested and charged with burglary after Nicolas Cage woke up early Monday morning to find the guy shuffling around his Newport Beach home. Cage reported seeing a strange male in his home to his community's gate guard, who in turn called the cops.

"Newport Beach police told "E! News" that Robert Furo Jr. was wearing Cage's jacket when the actor spotted him shortly before 1:30 a.m. The Oscar winner then escorted Furo outside, where officers took him into custody without incident a few moments later.

"Police said that there was no sign of forced entry and Furo didn't give them, or Cage (minus the trauma factor) any trouble. The Ghost Rider star's wife, Alice Kim, and their son Kal-El, who turns two on Wednesday, were also asleep in the house at the time.

"Furo pleaded not guilty to felony burglary Tuesday and is currently still behind bars. Bail was set at $100,000 and the defendant, who identified himself as a tailor, is due back in court for a pretrial hearing Oct. 10."
[From E! News]
Well at least it sounds like this Robert Furo Jr was one of your nicer, better behaved crazies. There's a sliding scale of crazy: the bottom being the guy who stands outside your house with binoculars, the second being the guy who walks inside, takes his pants off and sits on all your furniture, and the third being the guy that stabs you in the kidney. There is nothing between the pants-off guy and the stabbing guy. So considering that rule, it sounds like Cage's crazy guy was right in the middle – the report doesn't mention the sate of Furo's underwear, so I'm going to assume it was around his ankles. I'm glad Nicolas Cage and his family are alright, though I'd recommend they purchase a top of the line steam upholstery cleaner, just to be safe.
Picture note by Celebitchy: Nicolas Cage is shown on the set of "National Treasure 2" in London on 8/3/07. Thanks to PRPhotos.