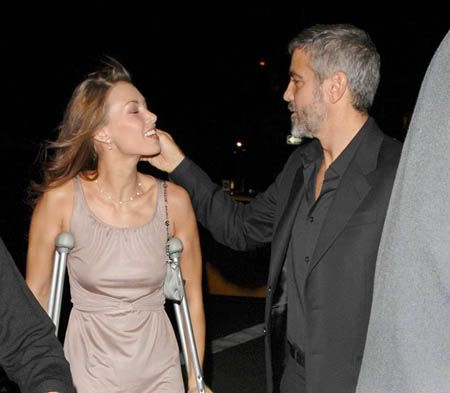 More details have come out about George Clooney's motorcycle accident in New Jersey a week and a half ago. Clooney and his girlfriend of the moment, Sarah Larson, a 28 year-old former cocktail waitress were thrown from his Harley Davidson after a collision with a car.
A witness tells The National Enquirer that Clooney kept his cool and was careful to tell Larson not to move after the accident. This is key in the case of a potential spinal injury and if their injuries were worse Clooney's advice could have saved her from being paralyzed:
"I saw the bike hit the curb, and then Clooney and girl hit the ground. If they hadn't been wearing helmets, they would have been killed instantly," eyewitness David Sciumbata told The Enquirer.

"They were pinned under the bike, and it looked like her leg had been crushed."

David, a guitarist, watched the mishap from his front proch in Weehawken, N.J., around 3 p.m. on Sept. 21. He called an ambulance and then rushed to aid the couple.

"Clooney was clearly in pain, but he kept asking the girl about her spine," David said. "He was afraid she might have been paralyzed.

"He tried to keep her clam. I heard him say 'Please don't move. You are going to be fine. I don't want you to move your leg or your back."
[From The National Enquirer, print edition, October 8, 2007]
Clooney did absolutely the right thing. Medline says that "If you are in doubt about whether a person has a spinal injury, assume that he or she DOES have one" and that you should not move a person after an accident unless it is absolutely necessary as in the case of getting them out of a burning vehicle.
Both Clooney and Larson escaped from the accident with minor injuries after being treated at a nearby hospital. Larson suffered a broken toe while Clooney fractured a rib and had road rash.
Clooney was quite level-headed and smart to tell Larson not to move and to stay calm after the accident. As much as I like to rip on Clooney for being an incurable womanizer, he gets points for this one. There was a report in a NJ paper that claims he also told he loved her in the moments after the accident.
Clooney and Larson are still together, and she was seen hobbling outside of his hotel in NY on crutches for a night out on the town last night. In one picture he's shown smoothing her hair or picking something off her face. Her eyes are closed and she's clearly relishing the attention. Thanks to Splash News for those pictures.
Clooney is also shown in NY filming Burn After Reading. Thanks to PRPhotos.