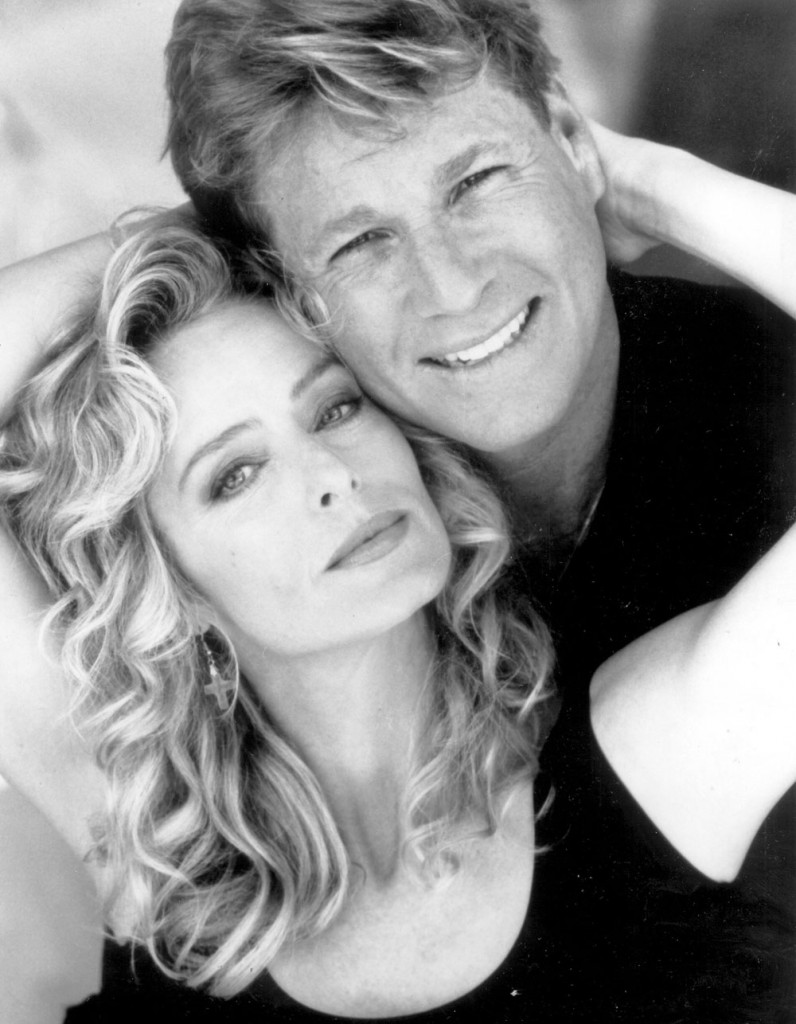 Vanity Fair's September issue will be a dual cover – I don't know if they're going to issue two different magazines with two different covers, or if they're going to put Farrah Fawcett on one side, and Michael Jackson on the other. The photos VF chose are lovely, for both stars, and the images mimic the other. Black-and-white photographs of Michael holding himself, circa 1989, then Farrah naked, embracing herself, circa 1976.
Vanity Fair has released an excerpt from Leslie Bennetts' sort-of tribute to Farrah, "Beautiful People, Ugly Choices". It doesn't really seem so much a tribute as a "tell-all" about Farrah and Ryan O'Neal, with a lot of stories about drug usage, cancer, menopause and infidelity. Leslie Bennets even calls Farrah and Ryan "the Angelina and Brad of their day—dazzling sex symbol meets Hollywood hunk—until their stars were tarnished by drugs, infidelity, and family pathology." Yikes. Here are some of the excerpts from the piece:
The truth was that Fawcett had always been more complicated than the clichés, the realities of her life far darker than the sunny image she projected. The gap between her public image and private reality was wide: "I'm always more comfortable when I have on hardly any make-up, my hair is brown and I'm very unattractive," she said.

The work that brought her solace in later years was a love of art that had nothing to do with fame, a private passion that inspired her to sculpt female nudes with an obsessiveness that seemed like an attempt to understand the world's fascination with her own body. The documentary [Farrah's World] that became her last appearance violated every rule of Hollywood image-making; no other star had ever exposed herself to a viewing audience while moaning in pain, vomiting, and losing her famous hair to chemotherapy. But Fawcett's final triumph was to integrate the public and the private at long last, imbuing her death with a larger meaning and finding redemption in baring her head along with her soul.

The Break-up: O'Neal cites several reasons for his breakup with Fawcett, starting with menopause. "I believe Farrah was going through some kind of life change," he says. "I didn't have a change of life. I was always a jerk. But they're hard work, these divas; I was sick of it, and I was unappreciated. I just don't think she liked me very much. So I excused myself, and I was lucky enough to meet this young girl. She was more a daughter to me than a lover, and my own daughter had flown the coop, so here was this replacement."

Leslie Stefanson, a beautiful actress less than half his age, may have been a daughter substitute, but she and O'Neal were in bed together at his Malibu home when Fawcett made a surprise Valentine's Day visit and walked in on them. "It was terrible," O'Neal says. "I didn't expect to see her down there. I tried to put my pants on, but I put both legs in one hole."

Ryan being a "hopeless father": "I had just put the casket in the hearse and I was watching it drive away when a beautiful blonde woman comes up and embraces me," Ryan told me. "I said to her, 'You have a drink on you? You have a car?' She said, 'Daddy, it's me—Tatum!' I was just trying to be funny with a strange Swedish woman, and it's my daughter. It's so sick."

"That's our relationship in a nutshell," Tatum said when I asked her about it. "You make of it what you will." She sighed. "It had been a few years since we'd seen each other, and he was always a ladies' man, a bon vivant."
[From Vanity Fair]
Yikes, Ryan hit on his daughter. That does sum up their relationship, doesn't it? But it was certainly nice that Tatum came to Farrah's funeral – the two women had a famously rocky relationship. Well done, Tatum.
As far as the Michael Jackson cover story, I've only skimmed it. I'm sure there are some juicy stories and never-before-told stories, but I think the Michael Jackson news has jumped the shark. Larry King won't let anything go, and I'm so tired of seeing all of Michael's sycophants now making the rounds on cable and network news. Here's the excerpt from the Michael Jackson story, "The Boy Who Would Be King", if you're not too tired of this stuff.
Vanity Fair covers via CoverAwards. Header image is supposedly circa 1991. Credit: WENN.com