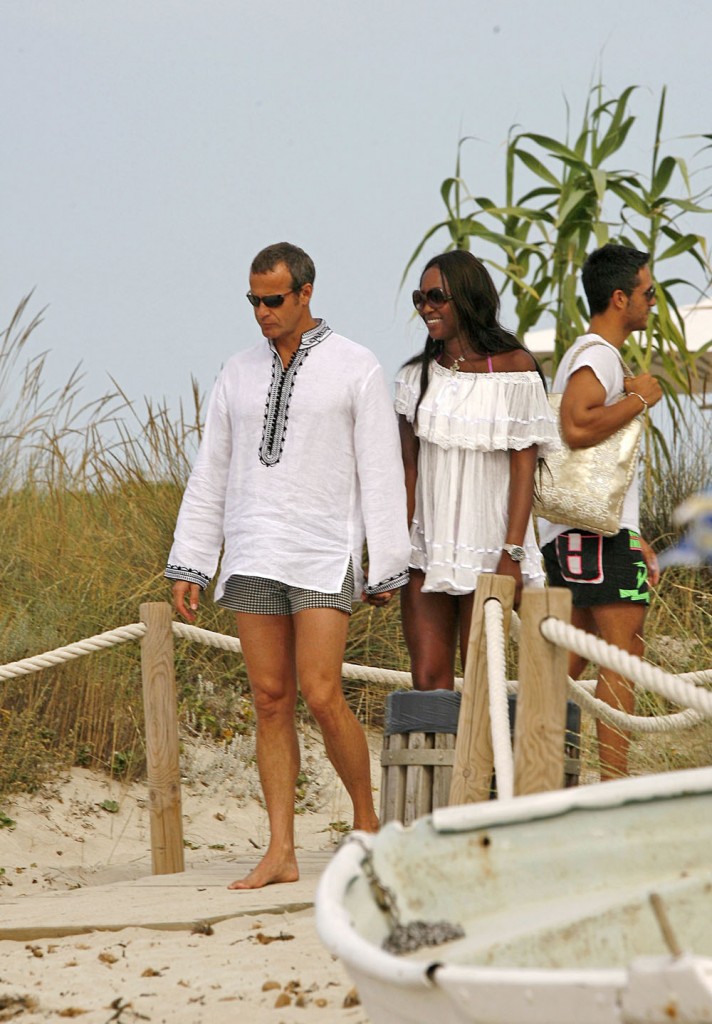 Dude, how many times is Naomi Campbell going to go postal on random people? It seems like every few months Naomi goes completely crazy and beats the hell out of someone with whatever is around. For her assistant, Naomi actually beat the woman with a bejeweled phone. I believe that fight was over a pair of jeans. Once, Naomi went totally crazy on a yacht, and caused thousands of dollars worth of damage – all because she didn't care for the wine and appetizers. Then, last year, Naomi had a massive temper tantrum at Heathrow, assaulting and spitting on a police officer, all over one misplaced bag. Naomi has been charged and convicted of various crimes dealing with her anger issues, so it's not like it's all a case of mistaken identity or one rare bad day. The crazy bitch has issues, and I'm surprised we don't hear about her tantrums more often.
The latest incident occurred in the island of Lipari, Italy. Naomi was on holiday with her friend, Russian billionaire Mikhail Prokhorov, when a photographer (Gaetano Di Giovanni) got within slapping distance of Naomi. According to Di Giovanni's statements to the press, Naomi "slapped him and hit him with her handbag" and Naomi's "nails had damaged his left eye". While Di Giovanni's vision was compromised, he could "hear that her bodyguards and her boyfriend were trying to drag her away". Good Lord, I would have paid to see that.
Naomi Campbell has been accused of attacking a photographer and putting him in hospital during a holiday in Italy with her billionaire boyfriend.

Gaetano Di Giovanni claimed his face was scratched and bruised after Miss Campbell, 38, allegedly slapped him and hit him with her handbag. The supermodel's 'nails had damaged his left eye', Mr Di Giovanni was reported telling Italian newspaper La Repubblica.

Miss Campbell's representative denied the attack took place and said in a statement: 'Media reports circulating that Naomi Campbell attacked a photographer in Lipari, Sicily are completely untrue. The photographer was seen following Naomi Campbell on a small boat, taking photographs, the day after the alleged incident.'

Mr Di Giovanni told the Italian newspaper: 'First she hit with her bag, screaming at me and then she tried to slap me. I managed to avoid her – but her nails still got my eye.'

'For a few seconds I could not see a thing. I could hear that her bodyguards and her boyfriend were trying to drag her away.'

Police on Lipari said no complaint had been made to them.

Lipari is part of the Eoliean Islands, a chain which stretches between Sicily and the mainland and is popular with celebrities.

Miss Campbell arrived on the island with Mikhail Prokhorov on his yacht after spending several days in the south of France. Last year the Streatham-born model, known for her temper, admitted attacking police at Heathrow in a row over lost luggage.
[From Daily Mail]
My favorite part is the image of Naomi's bodyguards dragging her away from giving the guy an even worse beat down. Naomi is like a vampire or a rabid dog. When she smells blood, she just wants to attack even more. But still, Naomi denied the stuff even happened… could it be that this is one of those rare times when she didn't attack anyone? My guess? Probably not. The incident fits in with Naomi's previous behavior, so I'm buying it.
Here's Naomi Campbell and her boyfriend Vladislav Doronin walking along the beach before getting on a boat in Formentera, Spain. Images thanks to BauerGriffinOnline.