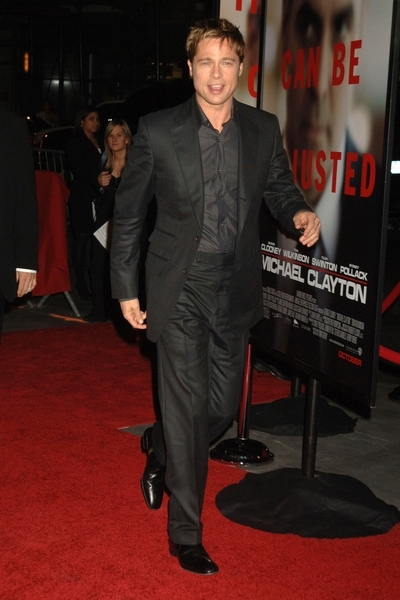 Brad Pitt, who was raised as a Southern Baptist, has a pretty interesting interview in the upcoming issue of "Parade" magazine. He says that as he entered college, he began to doubt religion, and that doubt stays with him today. He says he believes in his family and the goodness of people, and that's where he puts his faith. In a way, it helped him discover himself by really thinking about things. I know a lot of our commenters have said they don't think Brad is very smart, and while I wouldn't accuse him of secretly attending Mensa meetings, I think he's got a lot more going on in his brain than most celebrities.
Now the head of Hollywood's most famous family finds comfort in his partner Angelina Jolie and their four children, Maddox, 6, Pax, 3, Zahara, 2, and one-year-old Shiloh. "I still have faith in that," he says. In the new issue of "Parade" magazine, Pitt discusses his evolution from college journalism student to actor to philanthropist. Is a run for office in his future? See interview excerpts below to find out…

On inequality:
"Whoever said all men are born equal never left his own backyard. I see people everywhere without opportunity. I want to help level the playing field."

On whether his charity work is the result of his relationship with Jolie:
"That's idiotic! I do it because I'm a member of the human race. In Africa you see people on the street dying from AIDS, children left without parents. We're all cells of one body, with the same emotions and desires for our families–for a little dignity and a chance for a better life. Let's focus on that! I believe in the founding principles of America. I want to fight for that. I know most Americans feel the same way."

On whether he'll ever run for office:
"Oh, my God! I never thought about it. I have no desire at this point. Maybe I serve better by not going through that door. George [Clooney] should do it! He'd be quite good. I think Ben Affleck should run."

On being famous:
"When fame really hit me was when Legends of the Fall was released three years later. You get no warning about what celebrity is or how to deal with it. It's sort of multitiered. The initial stage is feeling discombobulated and not up to the task. I didn't understand the incessant attention when I went outside, the way people completely focused on me. It made me very uncomfortable.

On the paparazzi:
"I mean, yesterday Angie was taking Maddie off to school. There were 30 paparazzi outside. One guy sticks a video camera in Mad's face, yelling, 'Maddox! Maddox!' He doesn't get a response. He doesn't know my boy. Mad is already savvy to this, unfortunately. But my 2-year-old dreads being anyplace there are cameras. It scares her. They're all in her face. My kids are faced with this every day! It's disgusting. So we've been run out of L.A., all the major cities. We just can't live there. You don't understand–this is the hunt, the hunt, the hunt! I thought it might be over a year ago. It's gotten worse."

On turning away from religion:
"I didn't understand this idea of a God who says, 'You have to acknowledge me. You have to say that I'm the best, and then I'll give you eternal happiness. If you won't, then you don't get it!' It seemed to be about ego. I can't see God operating from ego, so it made no sense to me.

On the ways of the world:
"We're basically all the same. There is so much focus on our differences. Again, this thing of ego—my high school is better than your high school! We forget that we all have the same feelings on any side of the world. Why can't we find common ground instead of this obsession with our hatreds?"
[From Us Weekly]
While I may not agree with Brad on everything, it's hard to deny that it sounds like he's actually thought a lot of things through that many people never bother to wrestle with. I think Angelina has been a good influence on him in terms of charity, but he was a bit of a do-gooder before he met her, just a less public one. I think Brad's still smarter and more caring than 9 out of 10 celebrities out there, and I hope he keeps up the good work.
Picture Note by Jaybird: Here's Brangelina at the Assassination of Jesse James premiere on September 18th. Header image of Brad at the Clayton' New York City Premiere on September 24th. Images thanks to PR Photos.