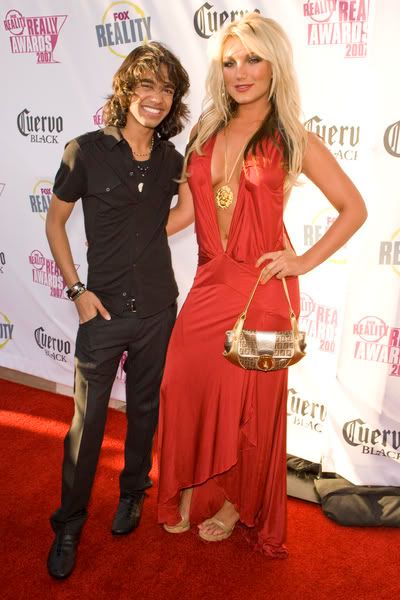 Ahh, Fox. Always so classy. It's pretty funny that the owners of "Fox News" are the same guys that give you "Cops" and "When Bears Attack" and now "Fox Reality Channel Really Awards 2007." Oh greatest prestige of prestiges. I don't know why anyone would show up for this. It's like an awards show to crown the most pathetic loser. I mean there's desperate, and there's shooting yourself in the foot.
I'd like to point out a few of the classiest outfits – namely Leilene Ondrade's. I have this gorgeous spider web outside my window, and I'm pretty sure that very spider designed Ondrade's outfit. If you look close enough, you can see some leaves and a dead bumble bee stuck in there.
So what's the point of the "Really Awards?" Couldn't really tell you. Let's see if this guy can.
"The Fox Reality Channel seems to create its own reality, one in which it gets to have its own awards show. It's called the 'Really Awards,' and it happened last night, but won't air until the 13th. Not that it matters to gossipists and TV celebrity followers, because the pictures and news from the show have already leaked out.

"'The biggest news is that Danny Bonaduce and Jonny Fairplay got into a huge fight for not much reason at all. Fairplay is tiny and has no sense of caution, and Bonaduce is a bodybuilder with an anger problem, so you can guess the outcome: missing teeth and an ambulance ride for Fairplay. It's possible we'll see charges filed.

"Other notes: Brooke Hogan was there and looked horrible. Sanjaya showed up for some reason. And of course Elvira was there to promote her new show, 'The Search For The Next Elvira,' airing this Halloween."
[From TV with MeeVee]
Not to be more of a snot than I already am, but do we really need a next Elvira? Isn't one enough? I wasn't under the impression that it was something like Santa Claus or the President of the United States, where you always needed a current one. I've never head someone ask "Which Elvira are you voting for in the next election?" Maybe I'm not as topical as I thought. I have to tell you, this show sounds super professional and well produced. Are you wondering about the Danny Bonaduce fight? Well probably not, but I thought I'd tell you all about it, because rage-a-holics are funny when they're onstage.
"Sources reveal that Danny lost his cool when Johnny was on stage attempting to read the teleprompter. The audience was booing Johnny since he couldn't read his lines and Danny decided to break Johnny's mouth 'Bonaduce' style. He obviously forgot that he was at an award show and not in the boxing ring.

"'Danny ran upstage and told Johnny that everyone is booing him because he sucks. Johnny attacked Danny out of anger and began to hump him. Danny threw Johnny over his shoulder and broke his tooth. Blood was all over the stage and Johnny ran off and began to cry. Hollywood's infamous trannie Alexis Arquette took initiative to walk on stage and finish the set.'"
[From Hollyscoop]
Anytime Alexis Arquette has to take the initiative to clean up your mistakes, you've got some serious problems. I never really think of her as the "go-to-girl," and maybe she just wanted some attention, but if nothing else, it shows some level of professionalism that she did something. Though I'd be more inclined to sit there and just enjoy the drama. It's like the "Jerry Springer Show," awards-style. Here are some pictures from the general fugishness of the night.
Pictured in order are Sanjaya Malakar and his sister, Brooke Hogan, Janice Dickinson, Chyna Doll, Ron Jeremy, Danny Bonaduce, Elvira, Warren G, Shane Sparks, Ant, Makala Gordon, Brandon Rodgers, Hugh Hefner with Holly Madison, Bridget Marquardt and Kendra Wilkinson, and Leilene Ondrade. Thanks to PRPhotos for these pics.