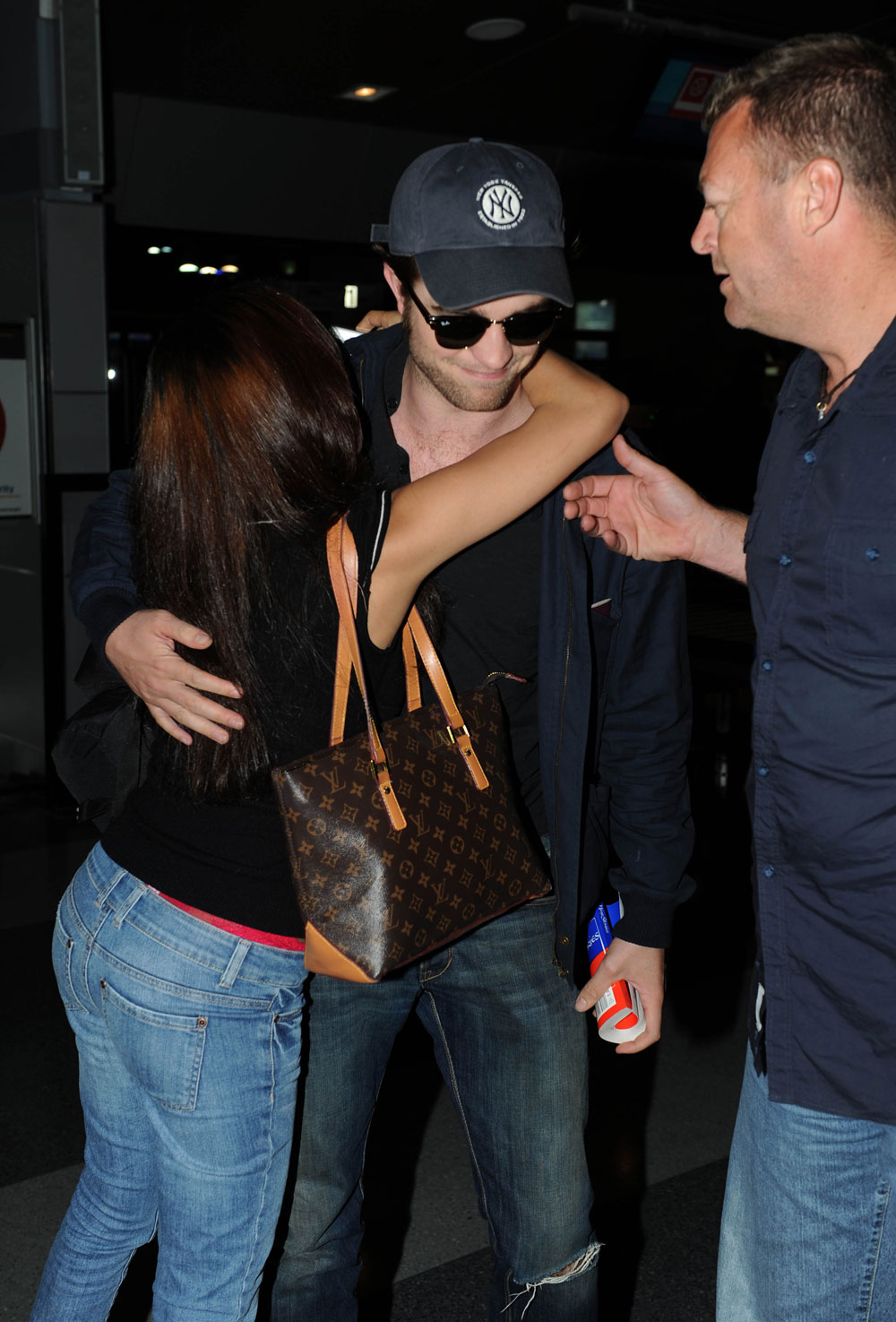 Robert Pattinson is in danger of getting his chiseled face and marble-like torso damaged by the hoards of Twihards swarming the set of his film Remember Me in New York. In what sounds like a scene from Hard Days Night, Pattinson was running to escape a throng of teenage fans in June when he made a detour into traffic and was hit by a taxi. It was just a light clip, and Pattinson was said to be fine. The production company, Summit, issued a haughty statement at the time expressing no concern for Pattinson's safety and accepting no responsibility for the incident, simply saying "Robert Pattinson is fine. The reports are exaggerated and the accident was not caused by fans. Production continues."
Sources at The New York Police Department see Pattinson's on set security detail as a bunch of amateurs who can't control some starstruck teenagers. They think that Summit is lax at protecting the actor and say that the 23 year-old actor is needlessly put in dangerous situations:
Sources in the New York City Police Department have told IrishCentral that the "security situation" with "Twilight" star Robert Pattinson has gotten "out of control," and cops are planning on assuming more-stringent control over the young actor's security when he is in town.

"Enough is enough," said a highly-placed official at Police Headquarters. "His security people aren't up to the task of keeping him safe, and they have no idea how to deal with the crowds this guy attracts." The source pointed to a well-publicized incident in which Pattinson ran from a crowd of admirers and was slightly injured when he was struck by a taxi.

"That's amateur hour," the police spokesman said. "We have celebrities a lot bigger than this guy who can come and go in perfect safety because we know how to take the right precautions. We have presidents and kings come and go. This poor kid can't get in or out of a car without things getting dangerous."

The police source confirmed what IrishCentral has been told by other members of the department — that "Pattinson's people" want to be in full charge of the actor, his travels through the city, the sets used for various shoots, and all security matters involved. But it seems that they underestimated fans' rabid interest in the handsome star, who has complained that fans get close enough to tousle his hair and grab his clothing.

Pattinson himself is reportedly very troubled by the close proximity to fans in which he must work, and has complained that they are able to find what hotels he stays at and what restaurants he dines in.

Police said they were particularly concerned about the so-called "Twiheads" — fans who have so completely embraced the vampire theme of "Twilight," and who have confronted the actor asking for his blood and even cut themselves so they can bleed for him.

The Department has long experience in the protection of the hundreds of recognizable celebrities who live and work in the city, and while the Mayor's Office has a special and well-regarded film and motion-picture office and works to coordinate the needs of a studio with the demands of public safety, the police have ultimate responsibility for keeping the peace.

Apparently, they believe it's time they reminded the Summit Entertainment security staffers who is in charge before a weird fan encounter turns into something more serious.

The Police Department, as is its policy, would not make any official comment on its security operations.
[From IrishCentral via MSNBC's The Scoop]
I don't think the cops really get the phenomenon that is Twilight and Robert Pattinson, and neither does Summit for that matter. Last week they canned actress Rachelle Lefevre and replaced her character, the vampiress Victoria, with another actress for the third film, Eclipse. Lefevre wasn't featured heavily in the first film, Twilight, but her character is in New Moon and is central to the plot of the third installment. It's upsetting to fans that they'll have to get used to another actress in the role for the third film, but Summit only seems to be concerned about the bottom line. It's about time they realized that they need to hire a real security firm who can work out logistics and not just a bunch of bulky guys to stand around and tell fans "you almost killed him" after an inevitable incident. It's going to be a lot more expensive for Summit if Pattinson gets hurt due to their negligence.
In related news, the first annual Twilight fan convention, TwiCon, was held in Dallas over the weekend. Robert Pattinson and Kristen Stewart were not in attendance, but other actors like Peter Facinelli (Dr. Carlisle Cullen), and Jackson Rathbone (Jasper Hale) were there. When asked by MTV about the recasting of Rachelle Lefevre both Facinelli and Rathborne were careful not to comment on Summit's business decision, but said that they were sad that she wouldn't be returning and that they loved her.
Robert Pattinson is shown being hugged by an overeager fan in NY on 7/26/09. Credit: INF Photo.