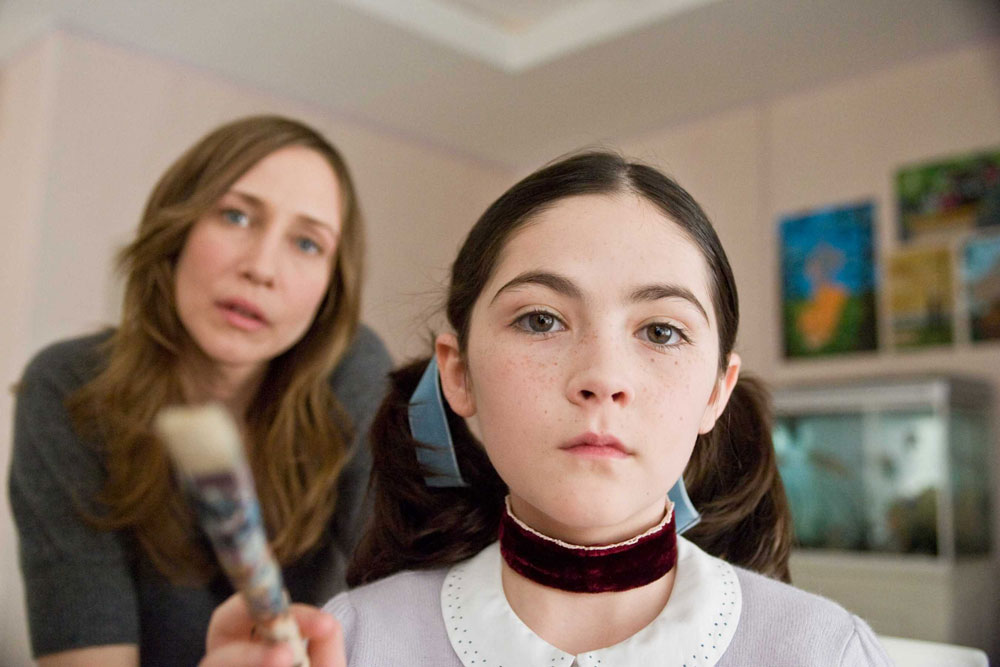 It's been out for a week and a half now, and adoption groups are getting wind of the plot of horror film Orphan and are urging a boycott. Without giving too much of the plot away (which is easily spoiled by reading the synopsis on Wikipedia) 9 year-old orphan Esther is adopted by a wealthy family eager to give her a home. Esther at first seems like a withdrawn child who is mature beyond her years, but soon wrecks havoc on her adopted family in chilling scenarios that are typical for the "evil child" genre. Many adoption groups find the film offensive, particularly because it discourages adoption of older children who are most in need of a home:
Warner Bros. new horror flick "Orphan" may be causing its audience to scream, but it is also causing a squeal from a growing number of national adoption groups and organizations who are urging Americans to boycott the flick which is centered on an evil adopted child.

Leading philanthropist and founder of Children Uniting Nations which supports foster youth, Daphna Ziman, is one of the many who are outraged and joining the charge to promote a socially responsible solution.

"Although we recognize the film is fiction, the response we have had from adoption groups and potential adoptive parents has been overwhelming," Ziman told Tarts. "When a major corporation sensationalizes on an area that affects our nation's most needy children without responsible messaging it is unconscionable. Warner Bros. needs to be socially conscientious of the children they are potentially harming and put a disclaimer on the film and a public service announcement educating viewers on the plight of children living in protective custody through no fault of their own."

Advocacy groups believe that the film may feed into any possible pre existing doubt and prevent parents from adopting. Although Warner Bros is yet to meet Ziman's request for a meeting with executives to add the disclaimer, the studio has reportedly removed a highly criticized line from the film where the orphan Ester says, "It must be hard to love an adopted child as much as your own."

"'Orphan' is a work of fiction; it is not a depiction of any real-life events or situations and has never been portrayed as anything but an entirely fictional story," a rep for Warner Bros told Tarts in response. "We apologize if we appeared insensitive with the initial trailer as it's never our intent to offend anyone with our products."
[From Fox News Pop Tarts]
Journalist Linda Cook brings up the controversy over the film in her review on Rotten Tomatoes. Cook was adopted as a child and writes that she overheard someone leaving the movie say "Boy, I'd never adopt after seeing that." She says that "this is the sort of thing that touches a nerve in any adoptee," but adds "If someone really, truly wanted to adopt… it would have taken more than a single movie to dissuade them."
I can understand how adoptees and adoption advocates would take offense to this film. The line in the trailer, mentioned in the source article above, "It must be hard to love an adopted child as much as your own," was removed from future versions but you can still see it in official trailers available online. There's even a user-created remix of the trailer that includes overlaid words like "Thinking of adopting? Think again."
Have any of you seen this film and would you agree that it can dissuade people from adopting? Please don't reveal any spoilers in your comments as I understand this film has a huge twist at the end. I'm not a horror movie fan and am not likely to ever rent this film, but some people could be waiting to see it.
Photos are stills from Orphan featuring Peter Sarsgaard, Vera Farmiga and Isabelle Fuhrman as Esther. Credit: Allmoviephoto.com