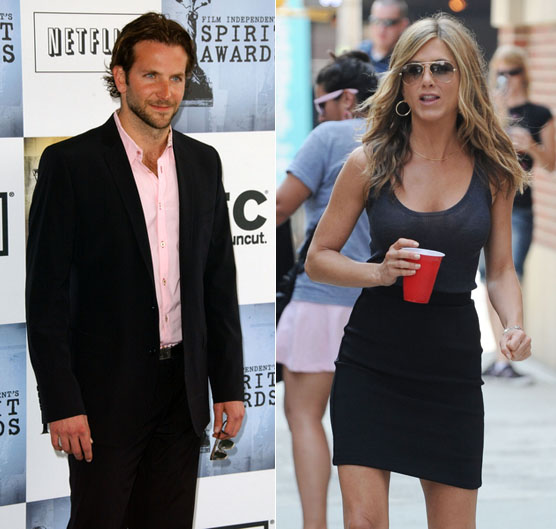 I'm beginning to feel sorry for Jennifer "stick on nips" Aniston. It seems like whenever we hear about her lately it's a either a weak rumor that she's dating a co-star, or that co-star's denial that anything is going on. At least Gerard Butler seems to have a sense of humor about it and a genuine fondness for Jen. Bradley Cooper, on the the other hand, is issuing terse humorless statements that make it sound like he thoroughly regrets being seen out with the yoga-loving actress, even though she significantly raised his profile. In late June, Cooper told the press that Aniston was "simply a friend" about two weeks after their NY dinner date. The only compliment he offered was to say that she was "very, very interesting." Now he's categorically denying a supposed date with Aniston in D.C. on July 18, which was reported by the National Enquirer late last week. Cooper wants us to know that he wasn't even in the DC at the time he was said to have met up with Aniston, and he doesn't try to soften the blow by adding something nice about her.
It made for a romantic image: Jennifer Aniston meeting with Bradley Cooper for a Washington D.C. rendezvous as a follow-up to their "just friends" New York dinner in June in New York.

Only one problem.

"It didn't happen, they were not there together," says a rep for Cooper, 34, throwing cold water on the Capitol hookup reports that have circulated online. "Bradley was there on a stop-over from his USO tour."

Cooper isn't the only one busy denying a romance with Aniston, 40. Her costar in The Bounty, Gerard Butler, 39, recently blasted such rumors, calling them "just annoying."
[From People]
Ok, we get it – you're not dating Jennifer Aniston and you don't want to provide a smidgen of quote for the press to latch on to and spin countless stories from. It's just strange that Cooper, and this article, are so brief. It makes you wonder if someone has it out for Aniston because this article is worded so negatively, especially for People, and doesn't even include a little filler about what she's doing now. Maybe Jen used up a lot of the good will people had for her by going out looking exceptionally cold on the set of The Bounty last week. It's possible that was some kind of costume for her role, but she probably has a say in her wardrobe. Given how much we saw her nipples on Friends, I'm inclined to believe that she entirely approves of having them exposed and/or enhanced, and that probably rubs some people the wrong way. Bradley Cooper sure doesn't want people to think he's rubbing up on her for whatever reason.
Jennifer Aniston is shown on the set of The Bounty on 8/3/09. (Both the Black dress and white tank photos) Credit: Fame Pictures and WENN.com. Bradley Cooper is shown on 2/21/09. Credit: PRPhotos