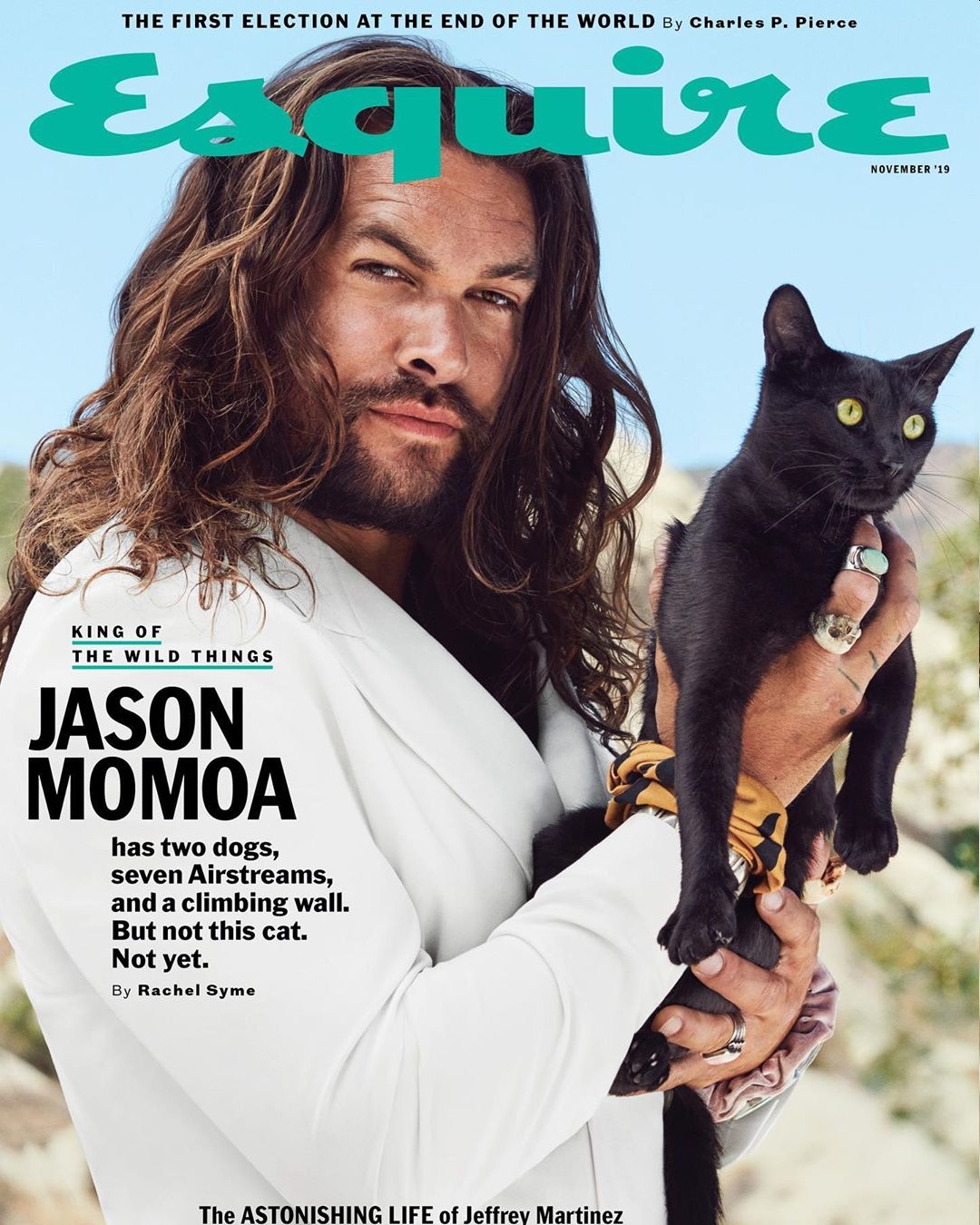 Jason Momoa covers the November issue of Esquire. The black cat he's holding looks like my a–hole black kitty. I should definitely send my kitty to Jason Momoa, I think they would get along really well. Jason Momoa is basically what would happen if you turned a very happy puppy into a human through magic. He's very sweet, he slobbers, he's easily excitable and he thinks everyone is his best friend. Jason is promoting See, one of Apple+'s new series. See is not getting the kind of attention that The Morning Show is getting, but Apple+ is spending a ton of money on this too, and it's largely built around Momoa. It's a sci-fi dystopia, but I'm not going to get into the plot, because Jason barely talks about it anyway! He's mostly just happy to chill and drink beers and play with dogs and talk about how much he loves his wife and kids. You can read the full piece here. Some highlights:
His home with Lisa Bonet: Bonet's section of their house in Topanga, on a sprawling five-acre ranch where she does yoga, is the nice part, while his man cave (yes, he uses the term "man cave" a lot, as in "I feel like Tom Waits and Neil Young might stay the night in my man cave") is . . . the less nice part. "Goddesses belong up there," he says, holding one hand high above his head. Then, lowering it to the ground: "Dirtbags down here."

He can't keep a secret, not even about his secretive show: "But let's be honest: People leak sh-t. Like, don't f–king tell me, because I'll say something. That's why I'm not the best at interviews, because I start saying sh-t I'm not supposed to say." He jokes that he can't even keep his own kids' secrets, and that they know not to come to him to divulge their misdeeds. "I'd tell Mom right away. I'm not going to get busted over your sh-t."

On Lisa Bonet: She was "literally my childhood crush… I mean, I didn't tell her that. I didn't let her know I was a stalker until after we had the kids."

Struggling to find work in his 20s: "I fell in love with the art of acting. But no one took me seriously. Baywatch isn't known for its . . . quality of acting. I couldn't get an agent to save my life… If someone says something isn't possible. I'm like, 'Listen here, I married Lisa Bonet. Anything is f–king possible.' "

He's modest: "I'm not known for my acting. I'm known for action. I don't say a lot of things or use big sentences. I'm not 'very smart.'"

On Khal Drogo not leading to bigger roles: "I mean, where do you put Drogo? He's not going in a rom-com. No one even knew I spoke English."

His thoughts on movie stars: "I think of Brad Pitt as a movie star. You know what I mean? Like George Clooney is a movie star. Those guys are like, boom." He just worked with Timothée Chalamet on Denis Villeneuve's Dune, coming out in December 2020. "I would never be able to handle what he doe. He's so f–king talented, man. I don't know. I'm a little dumber, needed some time. Which is probably the best for me, because it would have been bad if it happened when I was younger. I just would have f–ked it all up."

On his environmental work: "Everyone just has no idea what you get to see firsthand when you live on an island. All the sh-t and garbage that rolls up. The rising of the tides."
"I'd tell Mom right away. I'm not going to get busted over your sh-t." That made me LOL. He's THAT dad. He's the one who halfway acts as if his kids are his biggest playmates and that Mom sets all the rules. That's one of the themes of the interview too – he's trying to convince Bonet that they can get another dog, and he's basically using his kids to convince her. Also: I friggin' love that Momoa is in awe of Timothee Chalamet! That's so cute to me. And I think Jason is smart… about some things. But in that part of the piece, he was talking about how he's seen as an actor. Like, he's not up for "playing a nuclear physicist." He never gets that call, to play someone "smart."
Cover and video courtesy of Esquire.