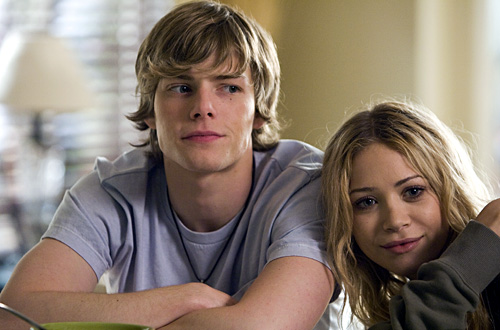 Mary Kate Olsen, 21, is now single after ending a year long relationship with Max Snow last month. They were unable to make their long distance relationship work and were living on different coasts.
Now she's said to be in a new romance with another actor who works with her on the acclaimed HBO Showtime series Weeds, 20 year-old Hunter Parris. They've been seen all over town together:
On screen, Mary-Kate's character, Tara, shared some steamy scenes with Silas, played by 20-year-old Hunter. And off the set, the due has been seen out and about all over L.A., getting might cozy!

"They were at MK's favorite hangout, Chateau Marmont, last week," the source reports. "MK has a bungalow there, and they were sharing drinks and dinner."

That was the second time the pair had a rondezvous at the famed… hotel. Just a few weeks ago, after the Weeds season premiere, they were there, "looking into each other's eyes and having a great time…"

Even when hunky Hunter isn't around, Mary-Kate can't help cooing about him. "She was at artist Antony Micallef's debut Los Angeles show… and I heard her saying Hunter is so cute and sexy – and a great kisser!" an eyewitness reveals. The young actor also seems to be good boyfriend material. Hunter even went shopping with Mary-Kate at Maxfield, one of her favorite L.A. stores!
[From Star Magazine, print edition, October 8, 2007]
I was going to say they might just be friends if they were only seen out a couple of times weeks apart, but if he went shopping with her that clinches it. Mary-Kate's rep says they're just friends, and Hunter has denied that they are anything but friends, saying "It's not true. She's a very good actress and fun to work with. I'm sure we'll laugh about it this week." It seems like there's something going on there given all the times they've been spotted together.
Here's a scene from weeds featuring Mary-Kate and Hunter.

I don't really pay much attention to either of the Olsen Twins because I never understood their appeal. They usually dress like freaks of nature, with that weird messy hair, giant witchy shoes, and purses that seem to defy the laws of psychics by staying attached to their arms while they remain upright.
I can kind of tell them apart, because I think Mary-Kate is supposed to be the punkier one, but it was never really a priority for me. Now that I've seen a clip of Weeds, though, (I live in Europe and it's not here yet) I have to say that Mary-Kate is a decent actress and if she is dating that Hunter guy, good for her. He's quite the hottie. If only she could get a hairdresser BFF maybe she could clean up her look a little.
Update: US Weekly reports that Mary-Kate says that "it's not true" that she's dating Hunter.
Mary-Kate and Hunter are shown in the header image in a still from Weeds found at TVGuide.com.