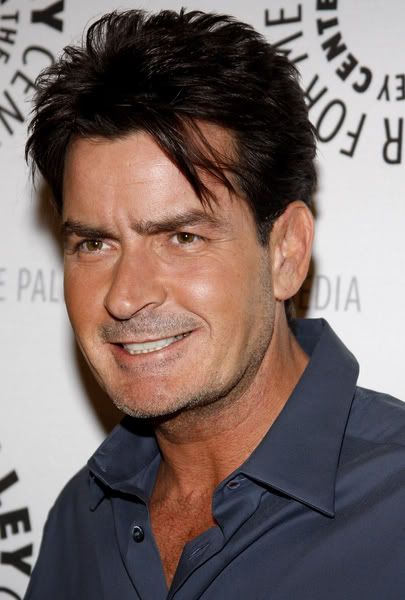 Every few weeks some new detail comes out in the Charlie Sheen and Denise Richards divorce that seems to swing my opinion toward the other party. While I thought that Richards was cruel and heartless for trying to deny Sheen overnight visits with his daughters Sam, 2, and Lola, 3, the e-mails he sent her that she brought up in her custody battle make him seem a lot less innocent in the matter.
While even if all this is true he doesn't seem to pose a threat to his daughters, he still comes off as a jerk with a short temper and a mean streak. That's what Richards surely wanted to convey to the world when she made his nasty e-mails to her public.
Sheen is said to have called Richards a "jobless pig" and to have told her to "go cry to [her] bald mother." Richard's mother is undergoing treatment for cancer so that's particularly cruel:
GO cry to your bald mom, you [bleeping] loser," Charlie Sheen wrote to Denise Richards in an e-mail the actress included in documents filed last week in L.A. Superior Court in the couple's custody battle.

"You are a pig. A sad, jobless pig who is sad and talentless and sad and jobless and evil and a bad mom, so go [bleep] yourself sad jobless pig," reads another.

"You are an evil piece of [bleep]. I can't wait to tell the world what a piece of [bleep] you are. You don't get a [bleeping] dime till this is resolved," says a third e-mail.

Richards says in her court filing that she was particularly hurt by the one about her mother, who is undergoing chemotherapy treatments for cancer.

Pictures of Sheen's "erect penis" that Richards says he used for his profile on sex sites are also included, which Richards claims he e-mailed to "approximately 30 women."

"I'd love to give it to you any time," Sheen wrote to one woman under the screen name "mrjonze55."

Richards says Sheen even visited gay pornography sites – "which I found even more disturbing because I felt that the boys looked underage," the documents state.

Richards accuses Sheen of punching the headboard of their bed once in a rage, and telling her that by no longer breast-feeding, she was causing their daughter, Sam, to "become retarded."
[NY Post]
A lot of women bring up their husband's interest in porn in divorce cases. Guys like porn, it's just how they're wired. As long as it doesn't interfere with your relationship and they're not spending an inordinate amount of time on it or letting the kids see it, I don't see the harm.
Still, if Sheen was e-mailing pictures of his dick around unsolicited that's another thing. I doubt all these women consented to receiving the pictures, but if he was already separated or divorced from Richards and asked the other parties if they were open to receiving the pictures, that's his business. I never got the appeal of pictures of naked guys with erections, but as long as he's not doing it around his daughters or forcing it on unsuspecting women, who are we to judge his kinks?
The NY Post reminds us that Sheen apologized before these e-mails were leaked, saying "I have been responsible for some of the worst dialogue [sic] and venom-spewing behavior in the past few weeks that I can possibly recall, ever."
He still seems like someone who honestly wants to see his daughters and doesn't pose a threat to them. Richards is saying he's into underage-"looking" porn, but if you look up porn online it's hard to avoid the younger-looking women. (Which just seems sad and borderline criminal even if they're over 18.)
It's hard to imagine people being this nasty to each other when there are children involved, and I hope they can keep their mouths shut and try to get along for the sake of their daughters. Although they may be young now, the stuff Richards is making public will be available for their kids to look up as soon as they can type.
Here are pictures from the 2 and a Half Men 100th anniversary party yesterday. Charlie Sheen is shown with his fiance, Brooke Wolofsky.Thanks to PRPhotos.