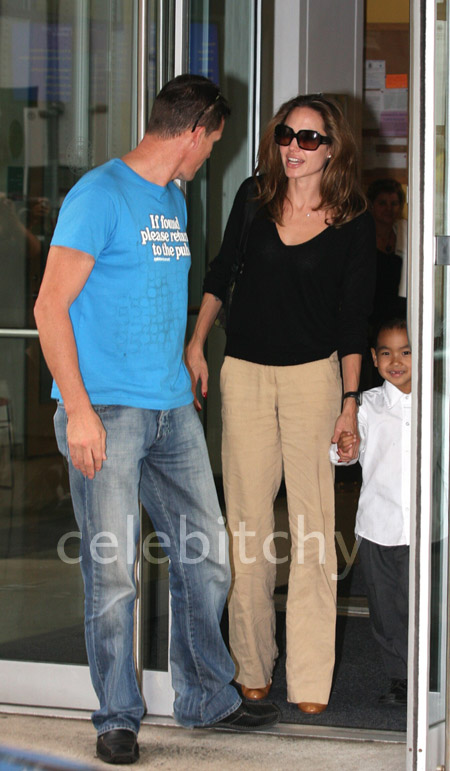 An unnamed photo agency scored exclusive recent photos of Angelina Jolie in a tank top that showed her flat stomach, belying all the speculation over whether she's pregnant with a second biological child. Instead of scrapping an upcoming cover story speculating on the state of Angelina's tiny womb, In Touch purchased all the rights to the photos to make sure no one else got a hold of them to make their issue look obsolete before it got out.
What's more is that they showed the pictures, but just cropped them over her chest to say that it looks like she's got pregnancy boobs. That's pretty inventive, you have to hand it to them:
WHEN Angelina Jolie stepped out in a midriff-baring tank top, her emaciated stomach nearly ruined In Touch's plans for this week's cover: "Is Angelina Jolie pregnant?" To protect its story, the glossy bought exclusive rights to the shots of her taut torso "so no other weeklies could run them," said an insider. In Touch claims Jolie gained 10 pounds in her chest, but conveniently cropped the photo above her flat stomach. "When Angelina showed up looking so skinny, they bought the photos," our source said. The mag says, "The most striking area of Angelina's weight gain is in her chest, which is why we focused on that area."
[From Page Six]
I still think she's looking pregnant and not simply healthier, but if she did have a perfectly flat stomach from different angles it's probably true that she's just gaining some much-needed weight. If that's the case though she seems to be toying with everyone by wearing shawls and loose-fitting clothing. It also looks like whenever she's out she's holding Zahara or another one of her children so you can get a clear view of her stomach. So maybe she went out with that half top on to dispel all the speculation finally. We're reading too much into this, though, maybe she doesn't plan it out like that.
Meanwhile there's a story in the NY Daily News that makes Angelina and Brad out to be rich snobs. They were seen reading a Best Western sign and "laughing hysterically." An observer is quoted as saying "They thought it was funny that it said 'hospitality lodging.' I guess it's a little different than the Waldorf."
It's possible they found the term antiquated and were joking about that, and weren't laughing about how the average people have to stay in dingy rooms when they're on vacation. They wouldn't make fun of refugees living in tents, why would they rip on the middle class?
Angelina is shown picking up Maddox from school yesterday. Thanks to Splash News.