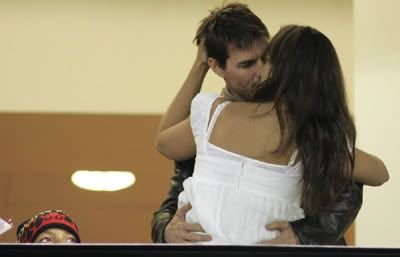 Tom Cruise stopped a re-airing of the infamous "Trapped in the Closet" episode of South Park on Comedy Central by telling parent company Viacom that he wouldn't promote Mission Impossible III if it was shown. The episode makes fun of Cruise's cult religion, Scientology, and suggests that the actor is gay. You can watch it here. Isaac Hayes, who plays chef, recently quit the show after the same episode offended his cult sensibility.
For their part, Comedy Central said that they pulled the episode because they wanted to pay tribute to Chef with different episodes that feature Hayes.
Meanwhile Cult News reports that Cruise may have his wide-eyed paramour, Katie Holmes, give birth on a boat or in a Scientology compound so he has maximum control over the event. Scientology edicts require the mother to stay silent during the birth and stipulate that the baby should be left alone for a day and removed from the mother for three days after birth. Katie is said to be resisting the separation from her newborn. She is due in a month or two.
Here are pictures of the two at the World Baseball Classic in Angel Stadium last night.
Pictures [via]
Five more pictures after the jump.