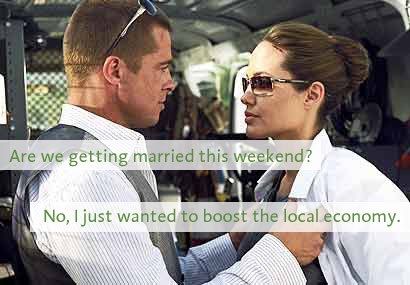 Reports that Pitt and Jolie are marrying in Italy has Italian villiagers and reporters all in a tizzy. A local hotel is cleaning up in what is said to be preparation for the wedding. It sounds like a hoax to us:
Some speculate that local tourism operators invented the wedding rumors to fill up hotel rooms. But three elderly men having an early glass of wine in a bar down the road were convinced there was more to it.
"They are cleaning the village and tidying up everything, something is going to happen," said Andrea, who declined to give his surname.
We reported a few days ago that the couple was said to be planning a wedding on a boat in the middle of Lake Como, but that we thought the story was pulled out of someone's butt.
Other rumors include:
Brad Pitt's family supposedly wants him to marry Angelina right away. They think Brad should secure his rights to the children should the couple break up.
And skinny Angie is said to be planning plastic surgery should she have trouble shaping up after the baby is born.
Even if she gains a few pounds or sags in places, she's sure to remain the favorite pin-up of lesbians everywhere.