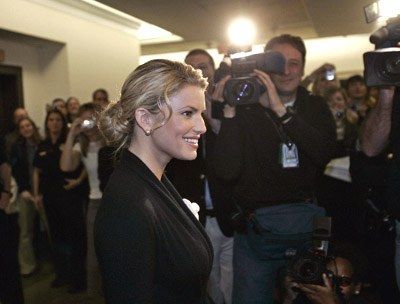 Jessica Simpson brought her trout pout to Congress yesterday to hold a press conference on behalf of the charity she represents, Operation Smile. News outlets were aghast that she had supposedly snubbed Bush by backing out of a Republican fundraiser later that evening, but her controlling daddy insists that she just loves the dictator to pieces and didn't want to politicize the cause.
Meanwhile Simpson wants to jump on the adoption bandwagon, and admits that she apes Angelina Jolie in everything she does:
Simpson said: "I think Angelina Jolie has done amazing, amazing things and the international adoption rate just since her (decision to adopt) has skyrocketed. It's unbelievable.
"I want to adopt and I plan to adopt before I have my own kids."
Give us a break, Simpson. You don't even have a boyfriend after that smarmy rocker dumped you by instant message. Chances are you're going to forget you even said this within a month.
Here she is at the press conference yesterday.
Pictures [via]
Three more after the jump.