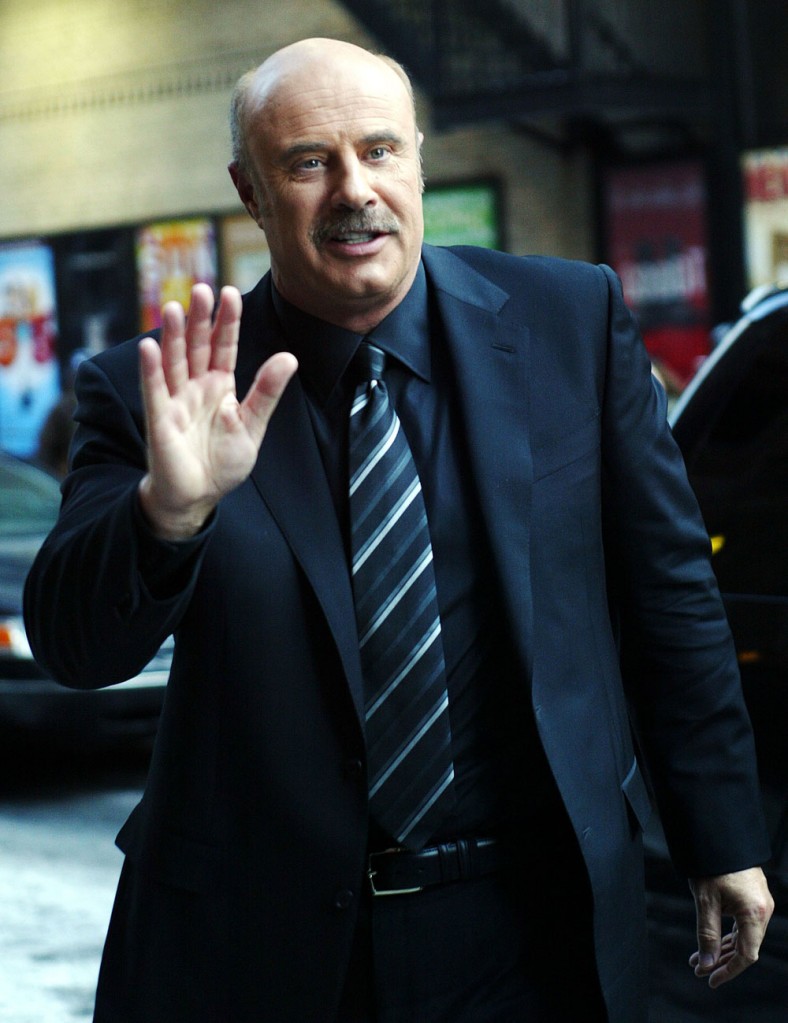 A woman who was sexually abused by Dr. Phil in 1984 while working as an intern in his office is speaking out. We heard about these allegations last year when The National Enquirer ran a piece about Dr. Phil's fraudulent health club business in Kansas in the 1970s, in which he had people sign up for expensive contracts, sold the contracts for cash to a financial institution, and then ditched town and closed the club. They also covered Phil's abuse of a 19 year-old female intern and former patient he hired to work in his lab. The woman alleges that Phil regularly fondled her on the job. She filed a complaint against him in 1998. Phil was issued a reprimand by the Texas State Board in 1999 and his practice was put on probation for 12 months. He left the practice less than a year later and moved to Dallas.
Now Sara Morrison, Dr. Phil's alleged victim, is going on the record with her claims. She gives an account of a scheming psychologist who manipulated her as a teen patient and then hired her to work for him, just so he could take advantage of her:
"Dr. Phil is a monster!" Those are the angry words of a former patient of Dr. Phil McGraw, who is revealing the shocking story of the sexual abuse she suffered at the hands of the TV shrink!

Sara Morrison is speaking out in a world-exclusive ENQUIRER interview – divulging sickening details of how talk-show titan Oprah Winfrey's former protege repeatedly fondled her, sexually abusing her while she was being treated by him.

The 44-year-old mother of one also reveals authorities were called in to investigate the abuse, threatening Dr. Phil's career as a psychologist and his marriage to wife Robin, who was outraged by the charges.

"Not a single day has gone by when I haven't been affected by what Phil McGraw did to me," Sara told The ENQUIRER.

"He profoundly affected the course of my life. The world should know this man is a predator and a bully. He shouldn't be telling Americans how to live their lives, how to improve themselves."

Sara was a college sophomore home for the summer when she sought treatment from Dr. Phil in Wichita Falls, Texas, in 1984.

"I suffered from low self-esteem, and Iwas depressed, lonely and suicidal," recalled Sara. "Phil was extremely insistent that I call him all the time, and he would call me.

"He wanted to see me three or four times a week – as a patient."

While treating her that summer, Dr. Phil did nothing improper, she says. But his attitude changed completely the following summer when, in a highly unethical move, he paid Sara to work as his intern, while charging her as a patient at the same time.

"The first day I showed up for work, Phil had his hands all over me," she recalled.

At the time, the then 34-year-old psychologist and his second wife Robin had been married for eight years, but that didn't stop his sexually aggressive behavior, Sara said.

"Phil would pull me down to sit in his lap while he talked on the phone to patients, other doctors, even his wife! He'd be running his hand up and down the inside of my thigh all the way up to my panties."
[From The National Enquirer]
Dr. Phil is definitely a scumbag, and if this woman's claims are true it's pretty clear he took advantage of her. I don't understand why his show is even still on the air, but people like to watch families that are so screwed up that our own dysfunction looks absolutely normal in comparison. Dr. Phil adds a sense of legitimacy to his trashy show, with his fancy title and hoakey advice. It looks like he has a lot of experience with the type of behavior he would chew out one of his guests for and you have to wonder if he ever really changed.
Here's Dr. Phil McGraw and his wife Robin at an American Red Cross of Santa benefit on March 28th. Images thanks to WENN.com .