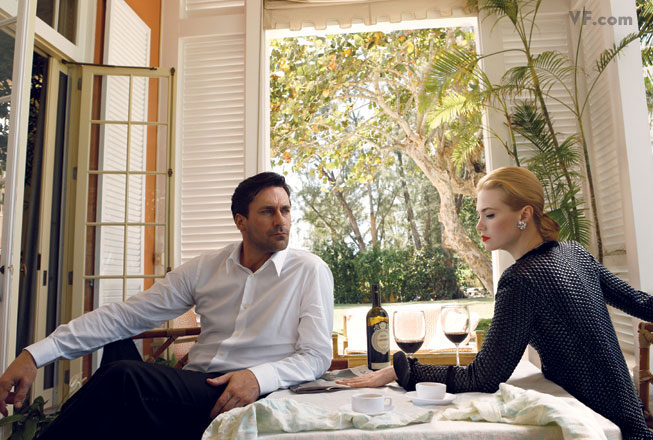 Season three of Mad Men doesn't start until August 16, and believe me, us Mad Men-aholics are seriously counting down the hours, the minutes, and the seconds. What can be done to soothe the savage beast known as the Draperaholic? The Peggy-loonie? The Joan Holloway fangirl? Well, we have some little pieces of press here and there that should get us through today. First, this little piece of news from Best Week Ever: apparently, Jon Hamm and January Jones were supposed to be on the September cover of Vanity Fair. They got pushed off because of the deaths of Farrah Fawcett and Michael Jackson. But BWE has the images that could have been the cover, and the beautiful spread by Annie Leibowitz. Jon Hamm shirtless! I'm drooling.
The Los Angeles Times recently spoke to Melinda McGraw about her role in Mad Men, and working with Jon Hamm. Melinda plays Bobbie Barrett, the rather hardcore wife/manager of schticky comedian Jimmy Barrett. Bobbie and Don Draper had an intense affair last season (he tied her up, for goodness sake), and I have no idea if she's returning. I hope she is, because her character is awesome. It sounds like she's Jon Hamm's biggest fan, because she's calling Hamm "the Obama of Hollywood". Uh-oh. Clooney's not going to like this!
We asked Melinda McGraw if it's true that her Emmy nominated "Mad Men" costar Jon Hamm is — according to all reports — always a total pleasure to work with.

"He's like Obama," says McGraw, who plays the seductive wife of a comedian client of the ad agency and actually got to make out with Jon (OK, we're officially jealous….) in the show.

"He's the Obama of Hollywood," she explains. "He never loses his cool, always prepared, funny, calm, and he's really, really sweet and very generous and very protective of other people."

And she wasn't the slightest bit surprised at how funny he was on SNL. "He's extremely funny."

All those in favor of cloning Jon Hamm, raise your hands.
[From the Los Angeles Times]
My last piece of news is for the seriously hardcore Mad Men freaks (I'm including myself). Jon Hamm sat down for a podcast interview with ESPN's Bill Simmons, which you can hear here. Apparently, he mostly talked about "sports", which in my mind, is something vaguely about "balls". New York Magazine has the rundown:
Jon Hamm himself had recently sat down for a 45-minute podcast with ESPN's Bill Simmons (a.k.a. The Sports Guy). If you feel like you're the type of person who would enjoy listening to Hamm wax rhapsodically about the early-eighties exploits of the St. Louis Cardinals or the merits of the National Hockey League's Winter Classic (or if you just want to hear his goofy laugh), we highly suggest that you put your headphones on and devour the whole thing. However, if you're the kind of person who tunes out the second you hear anyone say the word "sports", well then, we've pulled a number of the best non-sports-related quotes out from the piece for your reading pleasure. Enjoy!

"I'm not going to confirm or deny that. It might jump forward, it might not." —On whether the third season of Mad Men takes place two years after the last season ended.

"A lot of his chickens came home to roost, so to speak. He had a lot of balls in the air, and they all kinda came crashing down as the season progressed. A lot more happens in season three, and there's a lot of change coming his way. Not only in his life, but a lot happens in the culture as well. So far, it's been an amazing season and I can't wait for people to see it." —On Don Draper's meltdown last season and how Don recovers (or doesn't).

"There was a lot of grandstanding on both sides, but I think at the end of the day, both parties wanted to be where they were. So then it was really about coming up with a number. It was a perfect negotiation and a perfect compromise where both parties left the table unhappy in some way, but they're both still there." —On the tense negotiations between AMC and series creator Matthew Weiner.

"Oh yeah, I do, I'm a fan. I was just on a plane this morning and watched an episode that I hadn't seen in awhile. […] Pujols watches film of himself hitting, c'mon!" —On whether or not he watches episodes of Mad Men when they air and if that makes him egotistical.

"30 Rock is probably my favorite show on television." —On what he watches when he's not watching Mad Men.

"If I win two Emmys, which I'm not going to, it will be just another thing I have in common with Kathy Griffin." —On his Emmy chances.

"I think he's an amazing director. His first film, Gone Baby Gone, was phenomenal. I think it's gonna be amazing. I play a cop and Ben [Affleck] plays a bad guy." —On his next film, the Ben Affleck–directed The Town.

"I've recently watched — in the last year, basically — the whole Wire front to back. […] The writing is not nearly as elegant or awesome as The Sopranos." —On his favorite television show of the aughts
[From New York Magazine]
Gah! I seriously can't wait for this show to come back. I'm literally shaking with excitement right now. I really love Hamm's joke about Kathy Griffin – he's up for two Emmys this year, one for lead actor in a drama for Mad Men, and one for his guest role on 30 Rock. I really do hope he wins both. Mmm…what will I do until August 16? Must. Stalk. The. Hamm.
Here's Jon Hamm and January Jones in a photo spread by Annie Lebovitz for September's Vanity Fair. Thanks to ONTD for the images.