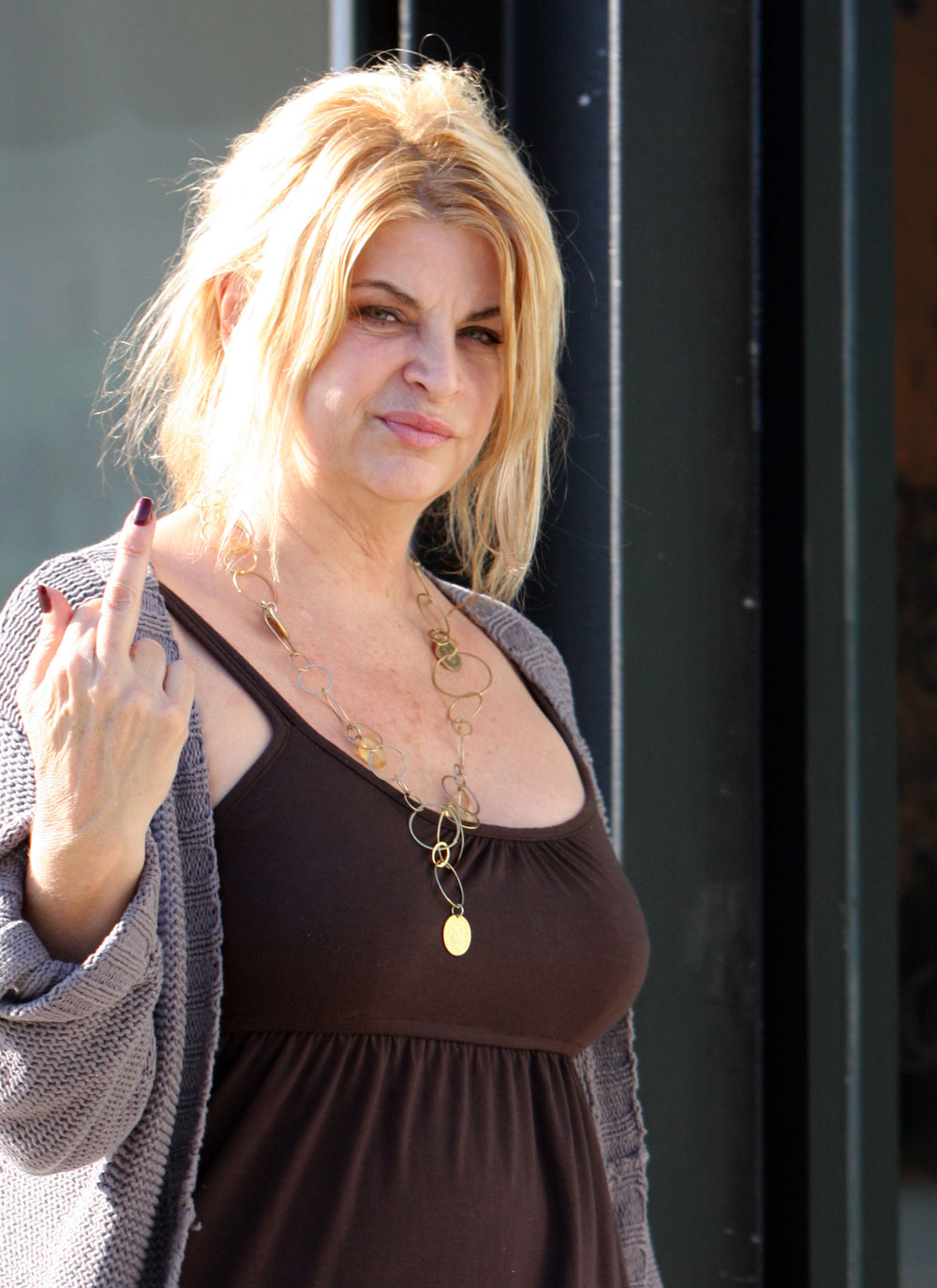 On Wednesday Kirstie Alley tweeted in that circa 1997 all-caps text that she favors that she's somehow replacing Paula Abdul as a judge on American Idol. How this is even possible when Kirstie has no experience in music and is best known for an 1980s sitcom and her yo-yo weight is beyond me. It just goes to show how stupid producers must have been to let Paula go in the first place.
I WANTED TO ANNOUNCE FIRST ON TWITTER…that I AM REPLACING PAULA ABDUL ON IDOL!!!!!!!!! THe network will kill me but THERE IT IS FOLKS!!
12:39 PM Aug 5th from web

DEAD SERIOUS! I AM REPLACING PAULA ON IDOL..CAN'T WAIT TO F SIMON UP…BEEN WORKING ON IT FOR MONTHS! PAULA ANNOUNCED LEAVING TODAY VIA TWIT
12:48 PM Aug 5th from web

WHEN I AM A JUDGE ON AL, [sic] I will tweet to U during entire show…HI peeps!
about 13 hours ago from web
[From Twitter]
I really hope that if Alley had an actual chance to replace Paula on Idol she completely ruined it by posting the news on Twitter before an announcement was made. Kirstie's rep confirmed to Radar Online that something was in the works with Idol, saying simply "She is ecstatic at the prospect." Idol producers, put down whatever the hell you're smoking and give Paula a call. Kiss her ass and offer her the $10 million a year that she supposedly wants. TMZ is reporting that Paula will be willing to continue negotiations if that amount is on the table. It will be a lot cheaper in the long run than hiring a public relations disaster like Kirstie.
Confirmed guest judges for next season include Victoria Beckham and Katy Perry. Maybe Kirstie is just confused and was only being asked if she would consider a guest judge position. After all, this is the woman who thought that the "Mother's Act" bill to screen women for postpartum depression somehow included a provision for "BABIES HAVING PROZAC squirted in there [sic] eyes at birth to prevent depression later on," as if that were even a remote possibility. Kirstie is a devout Scientologist and while she may superficially seem less crazy than Paula, at least Paula has extensive experience in the music industry.
Kirstie Alley is shown out with her daughter in September, 2008. Credit: Fame Pictures