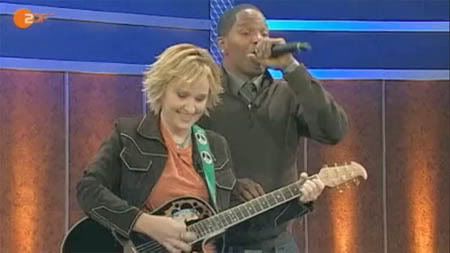 Jamie Foxx and Jennifer Garner were on popular German talkshow "Wetten Das?" or "Wanna Bet?," which broadcast from Basel, Switzerland on Saturday. The show features average people performing silly stunts, with guests betting on whether they'll be able to successfully complete the bet in the time allotted. They were on to promote The Kingdom. Garner said they had just been in Berlin but had some time to check out Basel that day.
The interview wasn't that revealing and they just promoted the film, with Garner giving a very diplomatic response about the film being balanced in its portrayal of American politics. Host Thomas Gottschalk praised The Kingdom and said given the subject matter he was quite surprised how good it was. The best part of the show was when Foxx lost the challenge they were betting on and had to yodel for the crowd.
The bet was if a little girl could identify five of over 50 hard puppets by feeling them with her nose within a certain time period. It was weird, but most of the bets on that show are strange. The other three challenges of the night involved a farmer sinking balls into a basketball hoop using the upwards exhaust air from a tractor, a guy holding 10 bricks against a wall for 20 seconds using just his thumb, and a man throwing plungers on his friends' naked backs.
The 12 year-old girl successfully identified the puppets and Garner won the bet, since she bet that the girl would be able to complete the task, saying she thought that girls should stick together. Foxx bet against the girl and since he lost he had to yodel. After Melissa Etheridge performed the host asked her if she would play the guitar to accompany Foxx's yodeling. A yodeling clip was played for Foxx to emulate, and he danced along to it and was able to mimic it well. Foxx is an accomplished singer and he was a good sport. This cracked me up:
Jamie Foxx remained on the show until nearly the end, and joked with super hot boxing twins Wladimir and Vitali Klitschko, posing with them at one point. Garner left shortly after the yodeling, saying she had to get back to the states to film a movie with Kevin Kline. Along with Melissa Etheridge, musical guests included Avril Lavigne and Sunrise Avenue.
"Wetten Das?" is the most popular show in Europe and has been on the air since 1981.
Photos are screenshots available from the full length video on the ZDF website. The clip here is an excerpt from a longer video accessible from their site. Foxx is still rocking those clip-on earrings.