Pamela Anderson has wed for the third time. The 40 year-old former Baywatch babe got hitched in Vegas on Saturday to 39 year-old Rick Salomon. This is Anderson's third marriage. She was wed to Tommy Lee for three years and Kid Rock for nearly four months last year. Her exes Kid Rock and Tommy Lee got into a fight over her at this year's MTV Video Music Awards.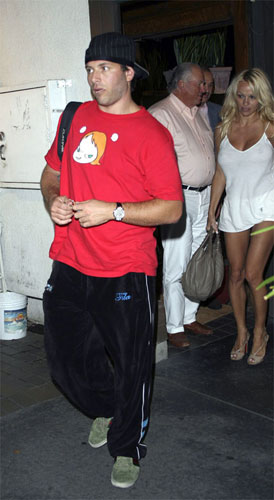 Rick Salomon is best known for starring and capitalizing on the "One Night in Paris" sex tape with Paris Hilton, while Anderson has made sex tapes with at least two of her exes, with the one with Tommy Lee available to the public.
Present at the wedding were Pamela's two sons and the couples' friends and family, including Tobey Maguire, Lukas Haas, and magician Hans Klok, whom Pamela assists in his act.
Both Anderson and Salomon have been married twice before and have marriages that lasted less than a year. Anderson had a spectacularly failed marriage to Kid Rock last year after multiple wedding ceremonies. Salomon doesn't have a great track record either, having been married to Elizabeth Daily for 5 years and to Shannen Doherty for just nine months.
Anderson claims they've known each other for 15 years but their romance just went public a few months ago, and it doesn't seem as if they were seeing each other before that point. They are said to have met through their children.
Anderson has sons Brandon, 11, and Dylan, 9, from her first marriage while Salomon has daughters Hunter, 11, and Tyson, 9, from his first marriage. They certainly seem to have a lot in common. Maybe they'll make it work, but given their respective histories it's doubtful.
Rumor has it that Anderson is pregnant and that prompted her quickie wedding, but that seems to be pure speculation.
Details from People.com and Wikipedia entries for Pamela Anderson and Rick Salomon.
Pamela Anderson is shown on October 6 tapping a keg in Vegas for Octoberfest. Thanks to Splash News.