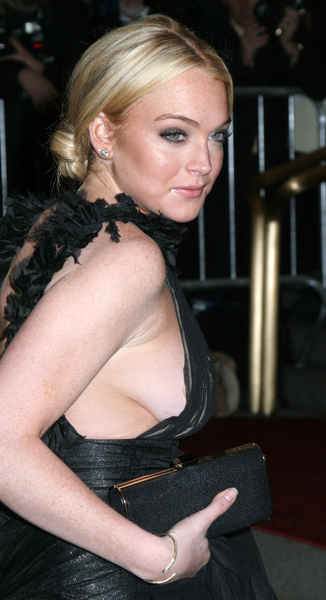 Lindsay Lohan checked out of rehab Friday afternoon with the help of her dad, who is also a recovering alcoholic. She was said to be spending five days with him at a remote location in Utah, where she has been in rehab since August, and was thought to be returning. Instead she packed her bags full of all the underwear she bought to seduce the new addicts and checked out. At least Richie Sambora doesn't have to worry about Lohan sabotaging his chance at sobriety:
Lindsay Lohan has checked out of the exclusive Cirque Lodge Treatment Center in Utah, where she has been since August, multiple sources, including both of her parents, confirm to PEOPLE.

"She's finished the program," one source says. "Lindsay is done, but she may come back for outpatient treatment. She over-extended her stay because she wanted to. She could have been out awhile ago, but she chose to stay."

Lohan's mother, Dina, told PEOPLE Friday: "I'm proud of her. She's moving ahead with her life. Things were getting out of control. She took action. She took responsibility. She really needed to heal."

Lohan was photographed Friday afternoon with her father Michael, who carried her suitcases, leaving Cirque Lodge. "I will be there in her life as best I can but from here on she's going to have a lot of decisions to make on her own," Michael told PEOPLE Friday. "Now that she is going out into the world, I can only hope for the best."
[From People.com]
I wonder if Lindsay is going to take a page from Paris' predictable handbook and start carrying around spiritual books, going to church, and dressing conservatively? You have to hand it to Paris, she worked that angle to death before she went to prison. There's also the Britney route – continue to get high and drunk and go out to as many high profile places as you can manage, letting the world know that it's your career and life to ruin.
If Lohan knows what's best for her she'll lay low, emerging only for trips to the bookstore, church, AA meetings and the occasional angel-themed knick knack store. She did stay in rehab for two months so maybe she realizes that she needs to change her image if she's going to keep working. Whether she took it to heart or not is another issue, and from the stories that came out about her antics in rehab I would bet that she hasn't changed her attitude.
Lohan will start filming the movie Dare to Love Me in LA on October 15th. She still has to serve a day in prison and 10 days community service and is on probation for 36 months. She has until January 18, 2008 to complete her community service and serve her jail sentence.
Lohan is shown in an older image at the Costume Institute Gala on 5/7/07. I'm sure there will be new photos of her soon that aren't taken by X17. Thanks to PRPhotos for this pic.