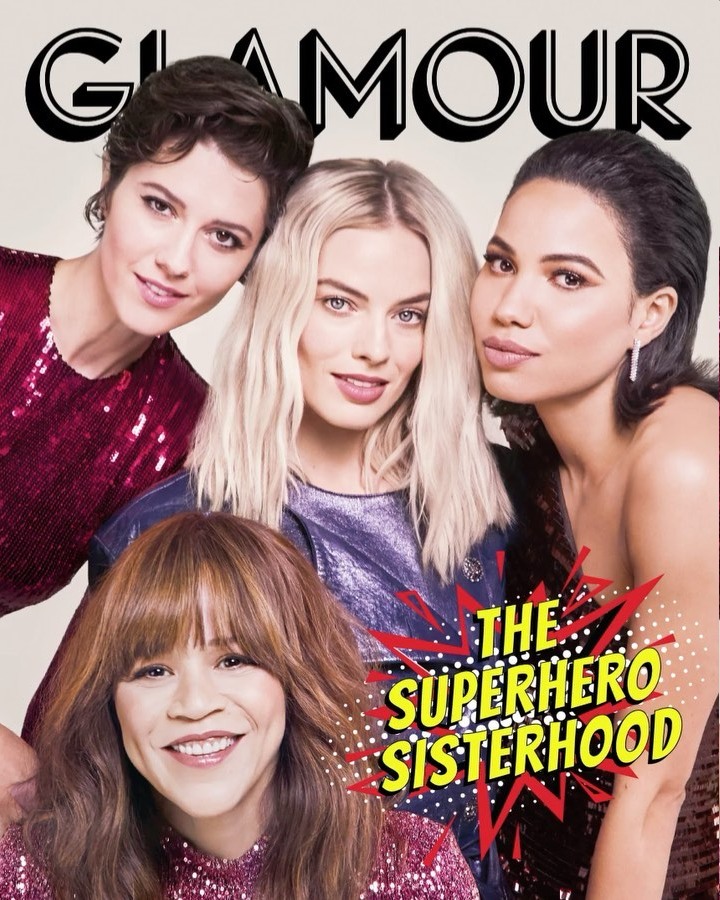 Margot Robbie can basically do no wrong in Hollywood. As soon as she hit the screen in Wolf of Wall Street, she became that go-to It Girl/Cool Girl who gets all the scripts. She gave a great performance in I, Tonya, which earned her an Oscar nomination. She's currently nominated again for Bombshell, this time in the supporting category (a category without Jennifer Lopez). Her performance in Suicide Squad was so good that they basically did reshoots to add more Harley Quinn, then edited the film so that she had a bigger character than Joker. It was pretty much fait accompli that Margot's Harley would get her own movie, and soon enough, Birds of Prey will be in theatres. Margot and her Birds of Prey castmates – Rosie Perez, Jurnee Smollett-Bell and Mary Elizabeth Winstead – cover Glamour Magazine. My guess is that Margot was actually offered a solo cover and she wanted to do the cover with her costars. Which is a smart choice, but poor Rosie Perez, at the bottom. You can read the full cover story here. Some highlights:
Birds of Prey has a female director, a female writer, and four female leads: It's a first in the superhero world, but an odd first. "In real life I'm hanging out with a female gang all the time," says Robbie. "I think girls tend to exist in a hive more so than guys. I thought it was strange that we don't see that reflected on the screen more often."

Pitch problems: "I remember when I was first pitching the project, I was struggling to find comparisons other than Charlie's Angels, which I adored when I was younger," Robbie says. "Then I was like, That's a long time ago, though."

Bonding in Rosie Perez's trailer: After rehearsing a particularly exhausting stunt scene, Winstead and Smollett-Bell joined Perez for some of her coquito, a Puerto Rican drink of coconut milk and rum that Robbie, who couldn't make the get-together, describes as lethal. "She cooked for us and we all cried," Smollett-Bell says. "We all had therapy sessions with each other." They're noticeably reticent when asked what, exactly, was discussed, but Perez throws me a bone: "The world is trash." In the days following, the women would seek one another out on set to talk—stolen moments they'd use to check in, vent, or laugh. "We each had vulnerabilities in our personal lives or our professional lives or our bodies while filming," Smollett-Bell, 33, says. "We all had setbacks and obstacles or knee problems or shoulder problems or personal problems. Yet there was such a camaraderie between us, that sisterhood. It's so f–king inspiring."

The lack of a male gaze meant they could wear comfortable costumes: "The female gaze just happened inherently because there were mainly women making the decisions," Robbie, 29, says. "We were all just picking what we thought was cool." At 55, Perez says she appreciated the commitment to costumes that felt authentic to the role she was playing. "I didn't feel objectified," she says. "I'm the oldest one here, and I was dreading the wardrobe." When she arrived on set, she expected to be fitted in a skintight suit. Instead she's wearing regular trousers and a button-down, as a real detective would, male or female. "When I saw it, I went, 'Oh!' Then, when I saw the other girls, I was like, 'You look hot! You look hot! You look hot! Yay!' I was happy. You could be sexy, but you didn't have to put on the sexiness."
It's sad that it's so notable, you know? It's sad that this is the first time these women have worked on a female-dominated film in front of the camera and behind the camera, and that we're so ingrained as a society to think of sexiness through the male gaze. Anyway, it sounds like they had a great time making the movie. Too bad… the film kind of looks bad? I don't know. We'll see.
How did a superhero movie become one of the most feminist films of 2020? For starters, women made all the big decisions. Our digital cover features the stars of 'Birds of Prey'— @MargotRobbie, @rosieperezbklyn, @jurneesmollett, and #MaryElizabethWinstead https://t.co/Dq6Os6H74D pic.twitter.com/N3cERlHjoO

— Glamour (@glamourmag) January 15, 2020
Cover courtesy of Glamour.