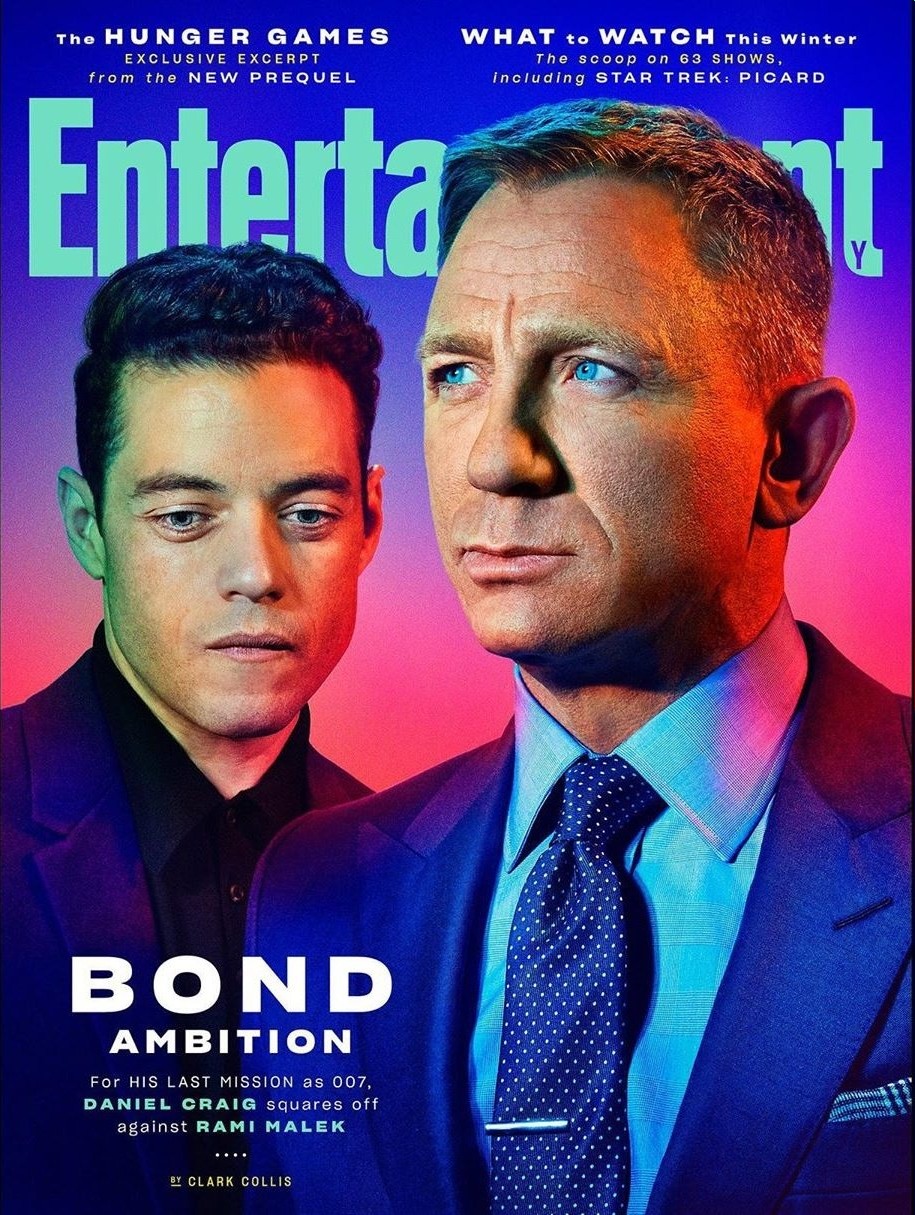 It probably is an age thing – I'm old enough to appreciate the James Bond franchise and enjoy all of these big, dumb movies. I thought Skyfall and Casino Royale were big, fun, stupid movies. I thought Quantum of Solace and Spectre were trash. The youths don't really care though, do they? So with that, No Time To Die will be Daniel Craig's final Bond film. And I'm already starting to feel like this one is going to be more on the side of Spectre and Quantum. Daniel Craig already seems to be phoning it in, promotionally. And even the hype pieces – like this Entertainment Weekly cover story – feel weak and bored. Some highlights:
Why Craig didn't want to come back: Assuming Craig isn't just appearing in No Time to Die for the cash — which seems unlikely given the Craig household also benefits from the income of his movie-star wife, Rachel Weisz — what changed his mind? "I finished that movie with a broken leg," says the actor, who underwent arthroscopic surgery after injuring his knee shooting a fight scene with Spectre costar Dave Bautista. "I had to question myself: Was I physically capable of doing [another one] or did I want to do another one? Because that phone call to your wife saying 'I've broken my leg' is not pleasant."

Barbara Broccoli convinced him: Eventually, Craig decided that he was up to the physical challenge of another Bond, with encouragement from the franchise's longtime producer Barbara Broccoli. "He felt at the end of the last movie he'd kind of done it," she explains. "I said to him, 'I don't think you have, I think there's still more of the story of your Bond to tell.' Fortunately, he came around to agree with that."

Craig insisted that Phoebe Waller-Bridge be brought in: Cary Fukunaga worked on a new screenplay in collaboration with veteran Bond screenwriters Neal Purvis and Robert Wade, as well as Scott Z. Burns (The Bourne Ultimatum). In spring 2019, Fleabag creator-star Phoebe Waller-Bridge also contributed to the script on Craig's recommendation; the actor admired her writing on Killing Eve. "She's the best f—ing writer around," he says. Craig previously dismissed rumors that Waller-Bridge was simply hired to flesh out the movie's female roles, telling a reporter from The Sunday Times that was "f—ing ridiculous."
I like that Craig was the one pushing Phoebe forward to work on the script. Her involvement is actually what interests me most about No Time To Die – I'm very curious to see her fingerprints on the story and dialogue, and I do not believe that she was hired to solely punch up the female characters' lines. Rami Malek goes on to say in this piece that Phoebe did a lot with his villain character. As for the rest of it… God knows. I mean, I'll see it. But wow, I wish Barbara Broccoli had not been so insistent that Craig return for one last film. They're all sleepwalking through this.
Get stirred by these No Time to Die exclusive images https://t.co/hTVWz7gJUh

— Entertainment Weekly (@EW) January 21, 2020
Photos courtesy of Getty, EW.