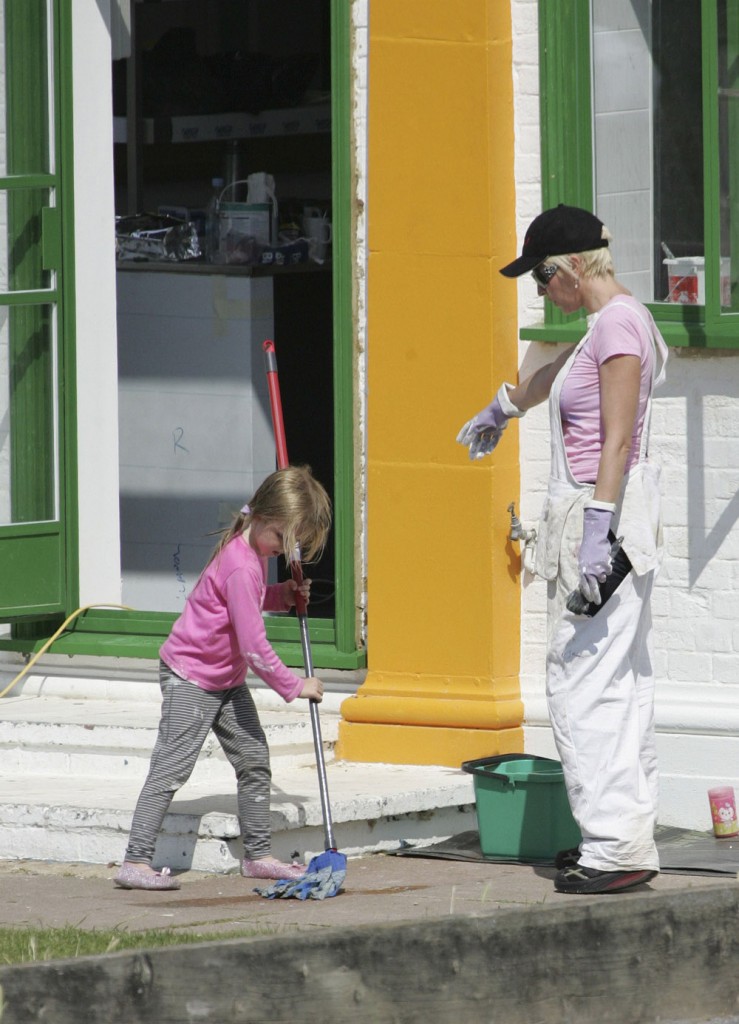 A "Heather Mills is a bitch" story always makes my day a little better. Mostly, I love these stories because I know that in Heather's mind, she's always a saint, an icon of generosity, honesty, humanity, and all that is good in the world. I'm sure in Heather's mind, she's never done anything wrong – she is always the victim, trod-upon, yet tough and resilient, able to overcome what turns out to be her personality disorder.
Over the weekend, Heather attended a polo match in Bridgehampton, and she decided to tell People Magazine all about her daughter with Paul McCartney, five-year-old Beatrice. Some of what Heather says is really cute – Beatrice is a good dancer, and all of the kids at Beatrice's summer camp try to copy her little English accent. But Heather also dropped the word that Beatrice's favorite album is the Beach Boys' Pet Sounds. Gah! Beatrice doesn't even get to listen to her dad's band. Well, we don't know that for sure. Pet Sounds is a good album. But I'd rather listen to The White Album.
She may be the youngest Beatle scion at age 5, but Paul McCartney's daughter Beatrice enjoys grooving to another legendary 1960s rock band.

"She likes the Beach Boys," Beatrice's mother, Heather Mills, told PEOPLE at a polo event Saturday in Bridgehampton, N.Y. Her favorite song to sing? "God Only Knows" from Pet Sounds, the classic Beach Boys album that traditionally dukes it out with the Beatles' Sgt. Pepper for the title of greatest album ever.

"She's always been into music. It's innate," Mills said. "And she's a great dancer."

Beatrice has been enjoying a nice holiday in the Hamptons, says her mother, and getting a chance to mingle with other kids. "She tried a day at summer camp," Mills said. "All the kids were copying her English accent, which was quite funny."

Mills, 41, who was divorced from Paul McCartney in 2008, was in Bridgehampton for the Mercedes-Benz Polo Challenge at Blue Star Jets Field. While in the Hamptons, she's also doing some promotion for a new vegan product line of hers.

"Even at lunch today, at the Southampton Beach Club, the people sitting next to me were having cow's milk," she said. "So I said, try soya. It's better for you. And I brought them a little care packet."
[From People]
Oh. My. God. Heather "brought them a little care packet"! She's so considerate, isn't she? So benevolent! Heather continued her little soliloquy saying, "The people were so grateful that I gave them the splendiferous gift of soy milk – from my own teats, mind you, which I wrapped up in recycled birthday paper with a soy bow – that they told me what everyone always tells me, that I will win a Nobel Peace Prize one day, because everybody tells me I deserve it." And then Heather farted, and it smelled like honeysuckle. "Pardon me," Heather said, embarrassed, yet resilient.
Here's Heather and Beatrice working together to put the finishing touches to her new Vegan café on June 27th. Images thanks to BauerGriffinOnline.