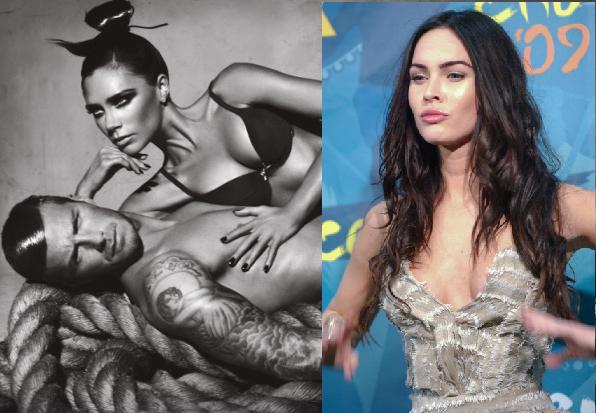 Think about this – in a few month's time, we could be seeing a scantily-clad Megan Fox draped over a bronzed, oily, half-naked David Beckham, all to promote Armani underwear. I have to admit, that sounds hot. And it's close to happening too! It seems Victoria Beckham isn't renewing her contract as the face (or "T&A") of Armani. She's starred in ads for Armani internationally for the past two years, mostly solo, but sometimes with her husband David. Posh gave her reason for quitting: that she wanted to "focus" on her clothing lines. At first I chuckled at that, because why turn down a fat modeling contract just to "focus" on your own clothing line? But then I read that Posh's line is doing really well:
Just days after the release of Mrs Beckham's Armani AW09 campaign, Victoria decided not to renew her yearly contract with Armani. She instead announced she will invest in her career as a fashion designer.

The launch of her latest collection at Net-a-porter.com was acclaimed by fashion editors all over the world. However, her true success came with some of her designs selling out within hours of going online.

With prices from £1200 to £1750 it surprised me how quickly it sold out. Last season the dresses sold out in the luxury department store, Selfridges within a day. There is no better barometer for a fashion designer than this.
[From The Fashion Time]
While I'm still unsure if dropping the contract was a wise move, I understand it if Posh really does want to devote more time to developing her brand. But something tells me Posh will be regretting her decision soon enough, if these most recent rumors are true. It seems that Armani might be interested in hiring Megan Fox to replace Posh. Imagine Megan Fox, oiled up and posing on top of David. Now imagine Posh's head exploding:
Megan Fox is reportedly replacing Victoria Beckham as the new face of Armani. The "Transformers: Revenge of the Fallen" star is said to be the next spokesperson of the Emporio Armani underline line.

Beckham, who stars in the ads with husband David, allegedly will not renew her one-year contract with the brand and will instead concentrate on her own numerous fashion and beauty projects.

News of the World has quoted a source saying that Fox is "perfect" for the Italian brand.
Neither Beckham nor Fox confirmed the report.
[From AHN]
Last month there was a funny rumor that Angelina Jolie was about to sign on to represent Armani fragrances, jointly with David Beckham. Nothing ever came of that rumor, and David hilariously denied it by going off on a tangent, something about how amazing she is, saying: "She's an amazing person and so is Brad. They're an incredible couple — got an amazing family. You know she wouldn't do it and I wouldn't do it. At the end of the day, I wouldn't do it because I'm married." I think the gist is that Posh won't let David model with anyone she thinks he would sleep with. So… that's probably a "no" on the Megan Fox rumor.