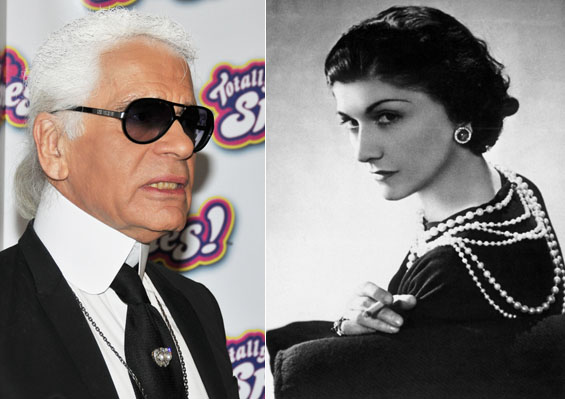 We know Karl "Anger Bear" Lagerfeld has issues. And we know he often takes those issues out on whatever random person irks him on any given day. For a while, it was Heidi "Never Been In Paris" Klum and Heidi's husband Seal, whose skin condition Karl mocked. Then last month it was Audrey Tautou, and the simple fact that Karl didn't expressly approve of Audrey's casting as Coco Chanel in the French film Coco Avant Chanel. He claimed in an interview that Penelope Cruz would have been better casting as Coco Chanel, which leads me to believe Karl might be a wee bit senile.
Even though Karl did not and still does not expressly approve of Audrey Tautou and the film in general, he's still going to soak up some extra press. For the September issue of Harper's Bazaar, it seems some editor's bright idea was to interview Karl… with Karl "channeling" the voice/character/attitude of Coco Chanel. Unfortunately, what might have been a tongue-in-cheek comment sounds like the familiar Anger Bear we know and hate. Harper's asks Karl/Coco is she's still a feminist, and Karl/Coco replies, "I was never a feminist because I was never ugly enough for that." Oh, merde.
In Bazaar's upcoming September issue, the magazine snagged an interview with possibly the most talked-about woman in the history of fashion: Coco Chanel. Ok fine, so Coco may not exactly be available for interviews today–but they got the next best thing, Karl Lagerfeld, to channel the iconic designer. A sneak peek of the hilarity, just for vous…

Harper's Bazaar: Your clothing liberated women in the 1920s. Are you still a feminist?
Karl Lagerfeld as Coco Chanel: I was never a feminist because I was never ugly enough for that.

HB: What would you change about your looks? Would you consider Botox?
CC: When I look at myself in the mirror, I think I'm pretty modern–whatever that means. But maybe I should change my makeup. In my day, the products were dreadful.

HB: What's on your iPod?
CC: The Kills. They suit my character.

HB: You were famous for your paramours. Whom would you have an affair with today?
CC: I like handsome men, so there would be many possibilities, but dukes and princes are not the right escort for a woman like me today. I like to charm younger men. This has not changed.

HB: What's the new Chanel classic?
CC: As apparently my old jacket is still around, done by this idiot Karl, I have to help him find a new idea.
[From Harper's Bazaar]
To be fair to Karl, I really do think he was "in character", although I don't think Coco Chanel would necessarily approve. She was a groundbreaking feminist, and she did make clothes for the newly independent women. If I was answering these questions "in character" as Coco, I might say, in Coco's voice, "Please don't listen to this absurd, crazy, nasty little man. He does not speak for me."
By the way, I hope everyone is keeping their "Karl Lagerfeld List of Hate" updated. Here's what I've got so far – Karl hates: love, the internet, Heidi Klum, food, mornings, Seal, mirrors, Diane von Furstenberg, the 1990s, traveling, human contact, anyone with a skin condition, fatties, anyone who doesn't gush over the current Chanel line, public transportation, Audrey Tautou, sunshine, feminists, children, and models who have never been in Paris. Good to know, isn't it? My, what a crotchety old bastard.
Karl Lagerfeld is shown at the "Totally Spies" premiere on 6/28/09. Credit: PRPhotos.