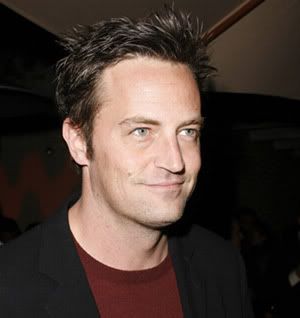 Matthew Perry showed up at the 2BFree after party in LA last night looking thin and cute.
Perry will be starring on a new series by West Wing creators on NBC this Fall, Studio 60 on the Sunset Strip. The series will also star Amanda Peet:
Aaron Sorkin and Tommy Schlamme ("The West Wing") have another for NBC with "Studio 60 on the Sunset Strip," a drama that delves behind the scenes of a fictional late-night comedy sketch show.
The show boasts a high-profile cast, which appeared on stage to greet advertisers: Matthew Perry, Bradley Whitford, Amanda Peet, Timothy Busfield, D.L. Hughley, Sarah Paulson and Steven Weber.
Not even one minute of "Studio 60" has been filmed yet, but NBC gave advertisers rough pilots of "The Black Donnellys" and "Kidnapped" to take home.
It looks like his time at the gym has paid off and we hope Perry's new show is a success.