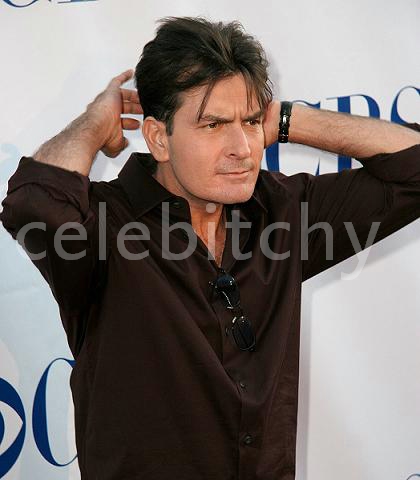 Charlie Sheen, Charlie Sheen, what do I think of you? I'm sure you're hunkered down in your bed right now fretting over that very question, huh? Well I used to think you were a horny pervy mess who used Heidi Fleiss's hookers way too much. Though that implies that there's an acceptable amount of hookerage that's okay, and that's not really the case. But you took it to some legendary extremes. Then I felt kinda badly for you, because Denise Richards was sorta crazy and losing her mind while trying to use your kids to punish you. But then I heard some crazy messages you left for her, and it sounds like you have bigger issues than previously mentioned… and you were already looking quasi-insane. But now, here you are, getting your tattoos lasered off for your fiancée, and that's pretty nice of you. So I'm left in a moral quandary, and I can't really tell you where I stand. But I'll keep you updated.
"What's the difference between love and tattoos? Tattoos last forever. But Charlie Sheen hopes to change all that by promising to remove his 13 tattoos for fiancée Brooke Mueller, 30, who is apparently not a fan of her man's ink. According to the New York Post's Page Six, the once hard-partying actor doesn't remember getting some of the tats, like the stingray on his left ankle or the dragon wearing glasses. A tat of a wooden sign nailed to his chest above his heart reads, 'Back in 15 minutes.'

"'That one was meant to be an ashtray but went horribly wrong,' Sheen, 42, has said. 'I can't even remember the year I got it.' The Two and a Half Men star is no stranger to tattoo removal. With the help of a laser, he's already blasted off the 'Denise' tattoo he had inked on his left wrist in honor of ex-wife Denise Richards."
[From Us Weekly]
I wish I wasn't a crazily superstitious person, but I am. I don't walk under ladders, open umbrellas inside, or throw fortunes from cookies away. That last one is a superstition I invented myself, but I totally think it's true. And I'm pretty sure that there's no quicker way to doom a relationship than to get someone's name tattooed on your body. It's just asking for failure. I once tried to convince a (now) ex-boyfriend to get Thumper the rabbit tattooed somewhere for me, and I'm pretty sure the reason our relationship lasted as long as it did is that he didn't listen. Though I still think it'd be freaking cute, Charlie Sheen should totally get a Thumper tattoo. It's this joyous mix of tough guy (hello, tattoo!) and sweet, cuddly guy (hello, foot pounding rabbit!). Just a thought. Put Brooke's name on it somewhere and I'm sure she won't mind a little bit. And it won't doom their relationship at all. Because I think his prior history already takes care of that.
Picture Note by Jaybird: Here's Charlie Sheen at the CBS Summer Press Tour in July. He had "Denise" tattooed on his left wrist, so either his watch is just perfectly placed, or he's been working on the tattoo removal for a while. Images thanks to Splash Photos.