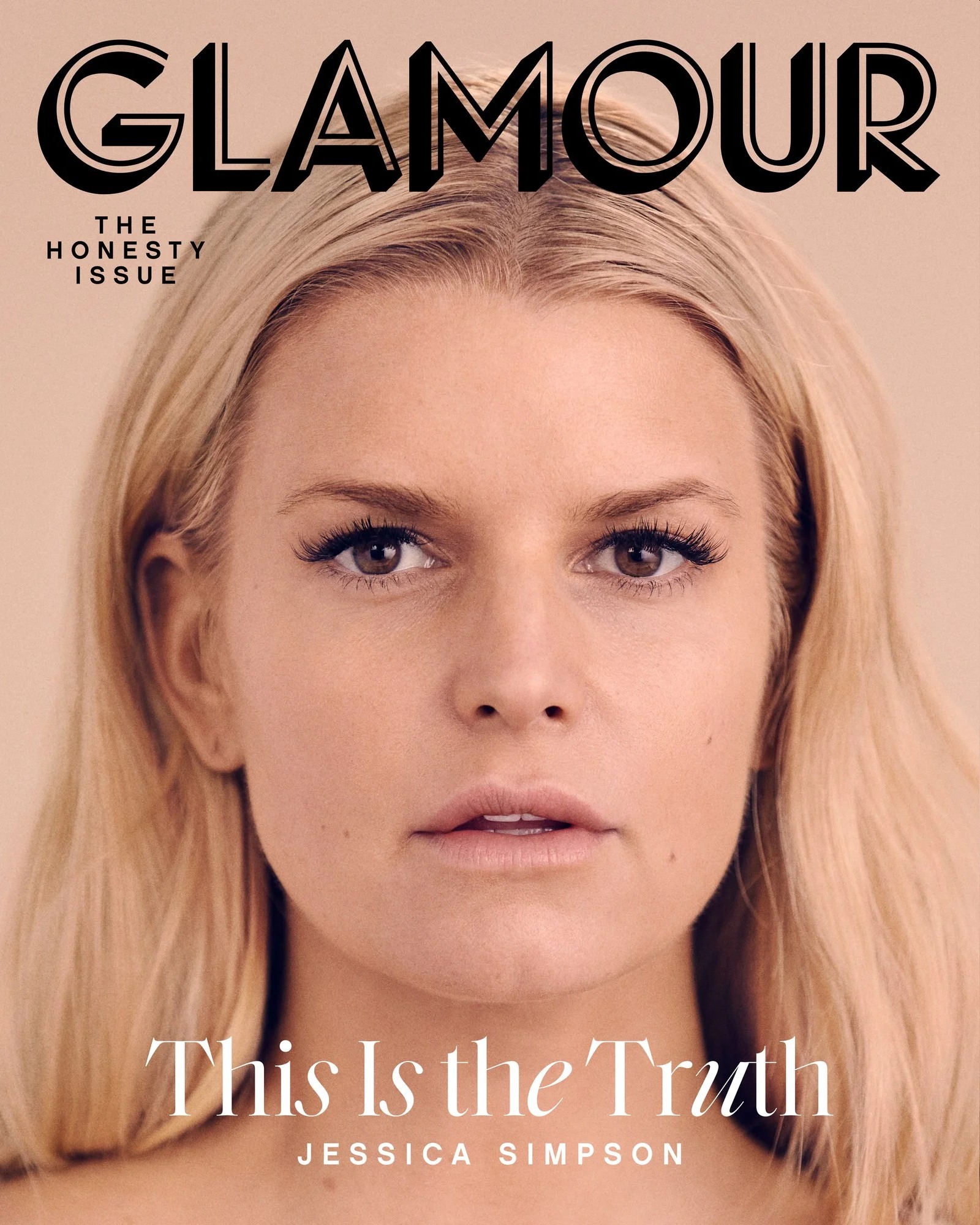 By now, we've been talking about Jessica Simpson's memoir, Open Book, for the past month. I'm still enjoying the vintage tea, and as the promotion continues, I feel myself stanning Jessica even harder. I've always liked her as sort of America's Relatable Ditz, but she genuinely seems like a sweet, damaged woman who tries very hard to be kind to other people and kind to herself. This Glamour cover story magnified that vibe for me: she comes across as thoughtful, reflective and simply open to learning more about herself and the world. You can read the full piece here. Some highlights:
She owns her mistakes: "I don't think people really know me for owning the hard mistakes. We can slip up here and there, but to have had to reveal such deep life-changing moments…I think it only makes people more willing to listen."

She doesn't watch reality shows. "It was The Real World and The Osbournes and then me and Nick. I know things are so set up and everything so positioned…toward the end I knew what was going to make it to air, and so I would just go through the motions and do it, and just so it could be over because it was a hard time in our marriage."

Who will be surprised by the book: "Maybe some ex-boyfriends. But I think they will be proud of my…clarity. There were so many different realizations for me, that I thought were love that actually weren't. You know, it was like I was addicted to being wanted."

She was only a size 4 when the world mocked her for her "mom jeans": "I felt good up there, I felt confident, and then it ruined the stage for me, and the stage was my home. It broke my home. I'd already had broken moments within a home where I had to walk out of a marriage, but my stage has been like my home since I was, like, a child. That's where I could be honestly alone with myself.

Getting sober: I think it's important for people to know that what I did, giving up alcohol, was seriously the easy part for me. The hard part was breaking down the reasons why. The reasons why alcohol was my crutch. You know because people are like, "Are you an alcoholic?" It's like, No, I had a drinking problem. I don't identify with that. I needed to slow down and I needed to, like, feel things again because there were so many moments that were passing me by. That I wasn't, like, grasping and enjoying. When your kids are growing up, you only have it for that amount of time, and I just saw my whole life flash before my eyes.

How she felt after her divorce: "As if I let people down. People looked to us as the trophy couple and I was the trophy wife, even though I didn't know how to use the Swiffer. I tried; like, I mean I was not Betty Crocker and we all know that, but I tried.

People respect her business: "And that I pioneered a way for all women of all sizes to feel beautiful and also feel like they have style. I am size inclusive. You have to look to people for inspiration instead of trying to criticize them because you're insecure. You really have to understand how to be able to walk into a room and there be no judgment and you accept them for who they are.

Whether she would go back and change her relationship with John Mayer: "No. Because it made me love Eric even more. It made me a better wife, it made me a better lover, it made me a better partner. Yes, it was a relationship that was a yo-yo; it was always back and forth. To feel wanted and then to be shut out, and to feel wanted, to be completely shut out. I mean, my advice is to pick up on those signs. If there have been three breakups, stop it there. There can't be 9 to 10, because that's immature. That's not love. If you're actually in love, you're not going to give up.
I think it's interesting that she says she doesn't call herself an alcoholic, that she just thinks she had a drinking problem. It sounds like she didn't really go through a program (AA or rehab) and she just made the decision to stop drinking and that was it. As for Jessica's life/love lesson of "don't go past three breakups"… honestly, some women need to hear that sh-t. Especially young women, who are addicted to being wanted or desired, or addicted to the drama of the breakup-and-makeup cycle. The third breakup should be the last. End of.
Photos courtesy of Backgrid, cover & IG courtesy of Glamour.