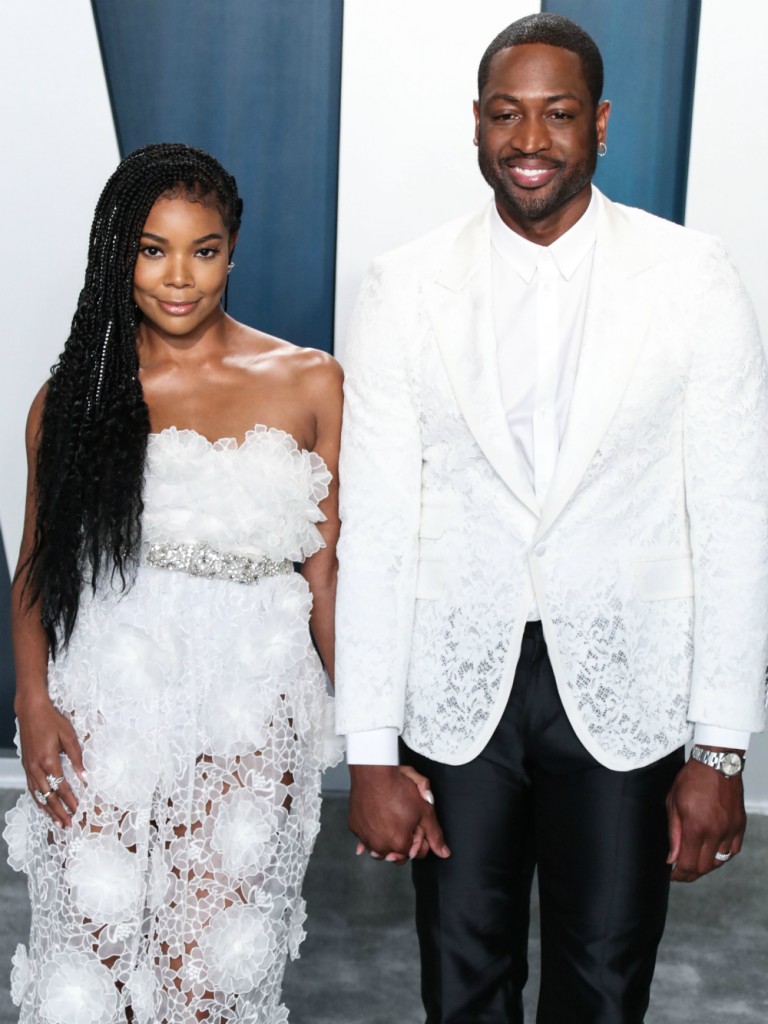 ESPN films has a documentary about basketball star Dwyane Wade called D. Wade: Life Unexpected. It debuts on February 23 and chronicles his career but also his life as a husband and father. Dwyane is father to four children: his sons Zaire, 18, and Xavier, six, and his two daughters, Kaavia, one, and Zaya, 12. Dwyane appeared on Ellen DeGeneres' talk show to discuss the documentary. While there, Ellen congratulated him on being such a supportive father to Zaya, née Zion, who informed her family that in order to live her truth, she will go forward using the pronouns she and her. Dwyane's reaction to the news was to let Zaya know that not only would he support her, he would follow her brave lead in the journey.
There are so many parents that are just, "Oh, you're not going the way I imagined or wanted you to be," and freak out and you are so loving and supportive of Zaya. And what a special child she is.

Yes, she is. Thank you for that. First of all, me and my wife Gabrielle Union, we are proud parents of a child in the LGBTQ plus community and we are proud allies as well. We take our roles and responsibilities as parents very seriously. So when a child comes home with a question, a child comes home with an issue, a child comes home with anything, it's our job as parents to listen to that, to give them the best information we can, to give the best feedback. And that doesn't change because sexuality is now involved in it. Once Zaya, our 12-year-old, came home, first, Zion. I don't know if everyone knows, originally named Zion. Zion, born as a boy, came home and said, "Hey, so I want to talk to you guys. I think going forward, I'm ready to live my truth. And I want to be referenced as she and her. I'd love for you guys to call me Zaya." So, internally, that was our job to go out and get information, to reach out to every relationship we have. My wife reached out to everybody on the cast of Pose. We just tried to figure out as much information as we to make sure we give our child the best opportunity to be her best self.

Once Zion came home and said, "Call me Zaya" and was ready to take on this, I looked at her and said, "You are a leader. It's our opportunity to allow you to be a voice." Right now it's through us, because she's 12 years old, but eventually it will be through her.
[From ellentube via Towelrod]
Ellen mentioned that Dwyane and Gabrielle also work with the non-profit GLSEN, an organization that supports LGBTQ families by making the school/education environment safe and prosperous for LGBTQ children. I very much appreciate Dwyane, Gabrielle, Zaya and the whole Wade family sharing Zaya's journey so openly because I promise you, families in similar situations are benefitting from the discussion. I liked Dwyane's comments about how they reached out to as many people as they could to give Zaya, "the best opportunity to be her best self." I've never struggled with my daughter's sexuality, but I did struggle with whether I should tell people who didn't seem to know. I feared it would make it look like I had an issue with her being queer if I brought it up. But Dwyane reminded me not to prioritize how I come across over how I support my daughter.
Much like Marlon Wayans' approach to his daughter, I love that they both gave their daughters the opportunity to take the lead. I also love that famous voices are reinforcing the message that a child's sexuality or gender identity doesn't change them because it's always been who they were and that, as a parent, our jobs are the same. Fortunately, there are a lot of organizations like GLSEN out there to support us as we journey with our kids. And with more famous folks raising awareness, it makes our jobs easier.
Also, Dwyane gave a nice to tribute Kobe Bryant following his death. You can listen to it here, if you haven't already.
Meet Zaya. She's compassionate, loving, whip smart and we are so proud of her. It's Ok to listen to, love & respect your children exactly as they are. Love and light good people. pic.twitter.com/G2lLVdD2VT

— Gabrielle Union (@itsgabrielleu) February 11, 2020
Photo credit: WENN Photo, Twitter, Instagram and YouTube