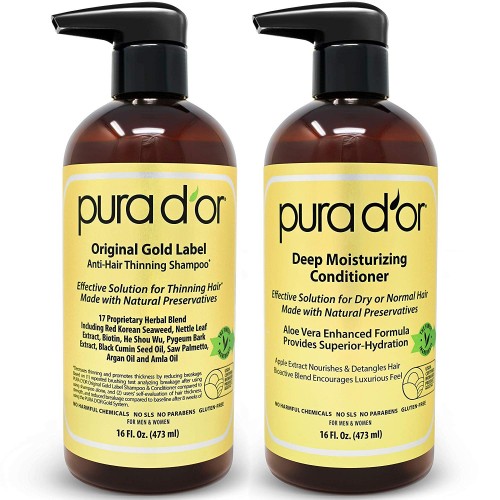 I got the Pura'dor shampoo and conditioner set after featuring the shampoo last week. I'm having hair loss, I keep getting my thyroid checked and it's only borderline so the doctor hasn't given me anything for it. The shampoo can be drying after using it long term although the conditioner is quite good. After about a week of using it I'm going to start switching it with the Hask Biotin shampoo and conditioner every other day. It's only reduced shedding by maybe 20% this first week, but it does make my hair look fuller. (There's another version called "advanced therapy" which I might try also.) I also got two sets of the puzzle piece exercise mat to soundproof the floor in my office and put under my spin bike. It works well, was easy to put together, and didn't smell like chemicals at all. Oh and I got the high light bulb changer! It worked for almost all the light bulbs in my high ceiling, except the last highest one which is in there super tight. I think I have to tape the rod to get it to turn right on that tough bulb. If you got that and need help with the string and suction cup setup, here's a video where they show it in action. That helped me figure out how to work it.
The BaBylissPRO Nano Titanium hair dryer is back!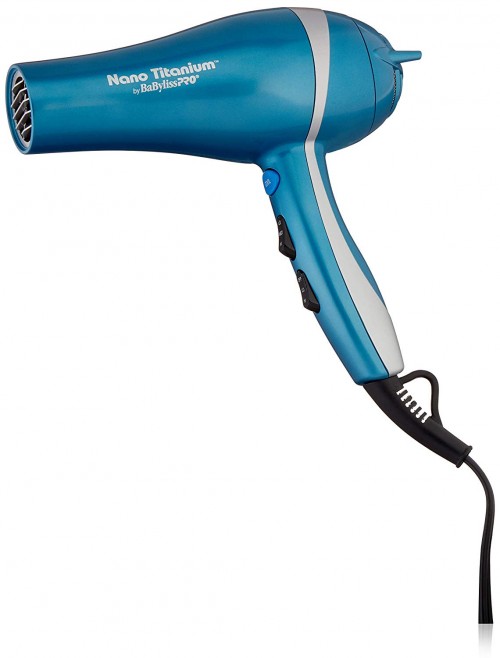 I treated myself to a Dyson Airwrap a few months ago. It's amazing and I look like I got a blowout every day, but it's $550 and if I made a post about it I would feel like a jerk. (That was my Christmas present to myself.) The hair dryer that comes with it is just meant to get the damp out so I use the BaByliss instead. I've had this exact hairdryer for over a year, you may have seen me raving about it. It reduces drying time and makes my hair look so much nicer. This has 4.4 stars, over 3,600 ratings and an A from Fakespot. It's almost $80, which is a lot to pay for a hair dryer, but when you make the switch you'll wonder what took so long. Plus it's cheaper than the professional models and gives similar results. People call it the "best investment I made for my hair," "lightweight and fast drying" and say it makes their hair smoother and less frizzy than traditional dryers. I agree.
A versatile set of crop tops you can wear to the gym or every day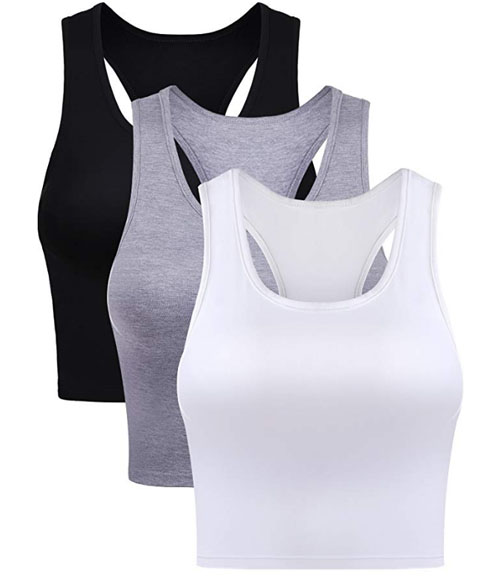 This is a set of three crop tops for under $20. They come to the belly button area and would look great at the gym or paired with pants or a skirt. They come in white, gray and black and in sizes sizes small to large. I checked other crop tops and they had bad Fakespot ratings, but these have 762 ratings, 4.6 stars and an A on Fakespot. Reviewers write that they "fit perfect," that they're comfortable to work out in, that they cling in all the right places and are a great wardrobe staple. There's also a four piece set that comes with navy blue.
Nail and cuticle oil that can help you achieve long, natural nails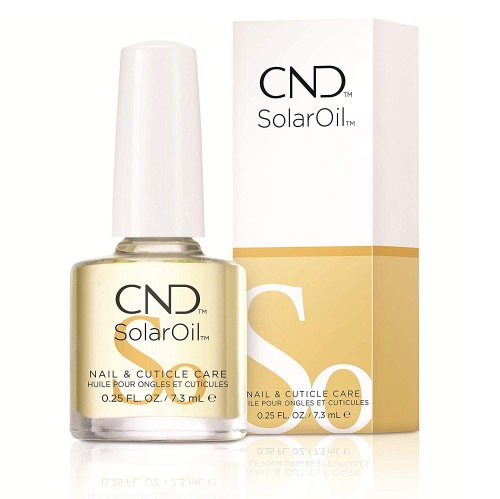 This Solar Oil nail and cuticle oil by CND has 4.5 stars, over 1,700 ratings and a B on Fakespot. Women say that it works wonders to repair weak nails and to moisturize and condition dry, brittle nails and cuticles. It's been called "a miracle," "my favorite cuticle oil," and "worth every penny." Some people say the bottle is small, but others say it lasts a long time and has given them stronger, longer nails than they've ever had. Now I want it. I write these reviews and end up buying half the stuff.
A hard water conditioning treatment to leave your hair silky soft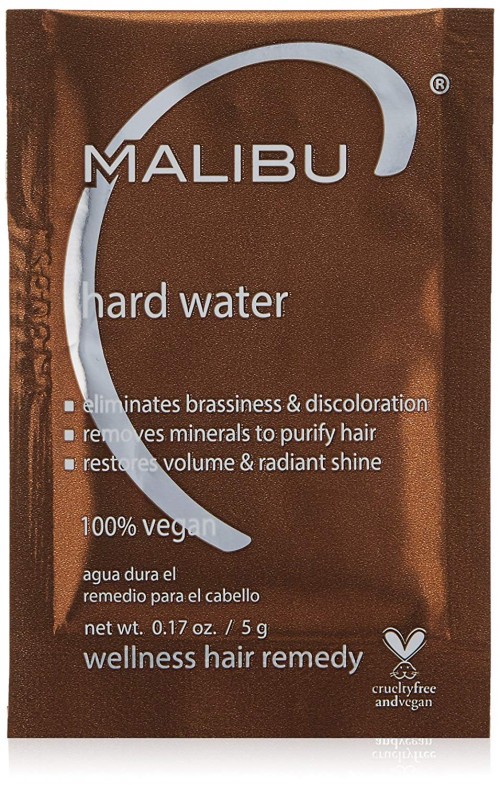 This is a conditioning treatment which removes mineral deposits from hard water and leaves hair soft. It may not be suitable for color-treated hair as some women with dyed hair say it changed their color. However it's also useful for removing rust stains from hard water and green chlorine deposits from pools. This has over 300 ratings, 4.5 stars and an A on Fakespot. Women call it "amazing," say it removes buildup from shampoo and conditioner as well and leaves their hair "lighter and softer."
Double shower hooks so you can hang the liner one one side and the curtain on the other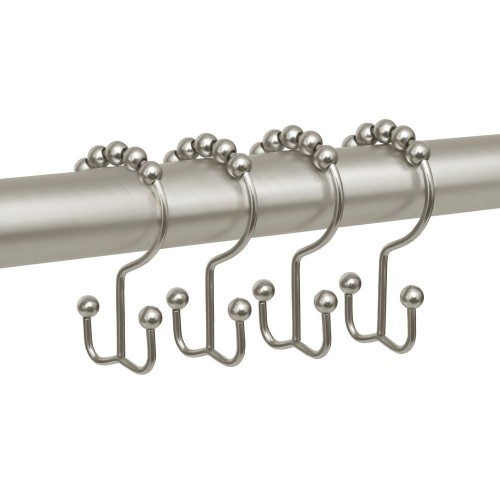 I was looking through the bestsellers in home improvement and my mind is blown that these exist! I have both my liner and shower curtain on one set of hooks. These let you change them separately. These have over 12,000 ratings, 4.6 stars and a B on Fakespot. Reviewers say they're " great looking and functional," "make changing new shower curtains a two minute breeze," and that they "glide easily" without making any noise.
Lip balm that could replace all your other lip balms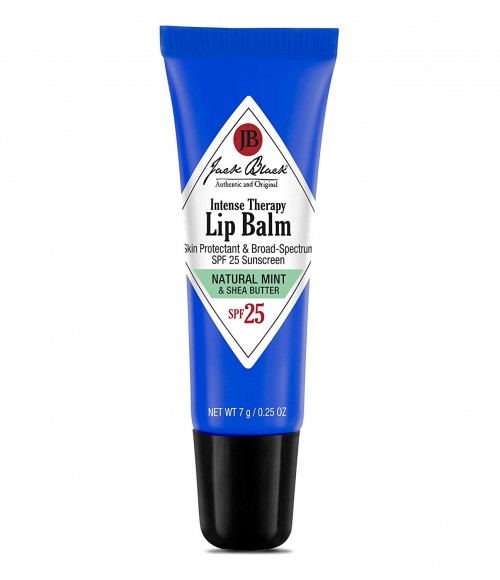 I have so many lip balms in various places, but my go-to is the Laneige lip sleeping mask. So many people swear by this Intense Therapy lip balm by Jack Black. It has 4.6 stars, over 3,300 ratings and an A on Fakespot. People call it "the best quality lip balm," say it "eased months of lip pain," and healed chapping and that it's "the best lip balm I've ever tried." It comes in so many different varieties like mint, grapefruit, lemon and pineapple mint. They're said to have no flavor though and to just smell differently.
A toilet paper roll holder that goes right on the tank so you'll never be without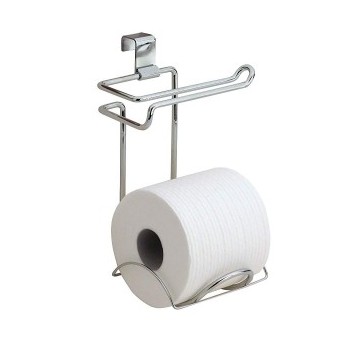 I had two of these in my last house but one was made for a hairdryer and I just used it to hold toilet paper. It got all rusty at the base where it was attached to the toilet, but the other one didn't. I just got two of this exact model yesterday. They're an easy way to keep toilet paper always on hand, especially for guests. This has over 1,500 ratings, 4.6 stars and an A on Fakespot. It's just $8 for one or $14 for two. It also comes in a standing version and a mountable one with a shelf. People write that "It looks great, takes up little to no room on the side of the toilet, and holds an extra [second] roll (including the double size rolls)." Some say you can only put it on the left side of the toilet, but others write that this fits on the right side just fine.
Thanks for reading and commenting on our affiliate post! If you make any purchases through these links we appreciate it and get a small percentage.