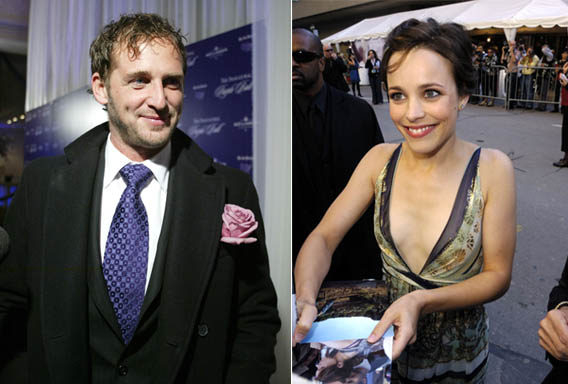 It seems there may be more to this whole "Bradley Cooper will have dinner with any random va-jay-jay" notion we've been developing. It was reported over the weekend by none other than People Magazine that Bradley Cooper went out to dinner with Little Miss Dimples herself, Rachel McAdams. I kind of thought "oh, whatever" because I was pretty sure that Rachel was still dating Josh "Matching Dimples" Lucas. Turns out, not so much. The print edition of US Weekly is reporting (story via LaineyGossip) that Rachel and Josh are Splitsville. They cite a report that Josh was in a club recently trying to, in Lainey's words, "f-ck his way through his heartache." Rachel and Josh have been dating since January, so they had a half-decent run of it. Do you think the fact that they were the most dimpled couple in Hollywood got to them?
It ended eventually and for a while there, especially this past spring, it looked like The Notebook had been burned beyond recognition.

Rachel seemed completely in love with Josh Lucas – kissing on the street, love on bikes, apartment hunting in the Village.

Passionate but short. It is no more. McGoslings today are rejoicing.

Because according to Us Weekly, Rachel and Josh are over. He was spotted at some club the other day slobbering over a random, drunk and douchey and clearly trying to f-ck his way through his heartache.

Before you bust out the dvd however please note – Rachel was also spotted. And not alone. At a concert with a mystery man, am told he looks like an "agent type"…

Reconciliation with Ryan? The door is open. But it might not stay that way for long.
[From Lainey Gossip]
I'm kind of hoping this is true, and they're really broken up. I'd say it's a good possibility – they haven't been photographed together in a few months. That doesn't really mean anything, they could have just been careful not to be seen out together, or they could have been busy doing other stuff. Back in April, there was even a rumor that they were looking to move in together, but it seemed a little soon. Nothing ever came of the moving-in thing, as far as I know, so that means they're break-up won't be as awkward as it could be. You know who Josh would be cute with? Drew Barrymore! I hear she's in the market for some new meat.
Here's Rachel at Comic Con with Robert Downey Jr. on July 24th. Images thanks to WENN.com .