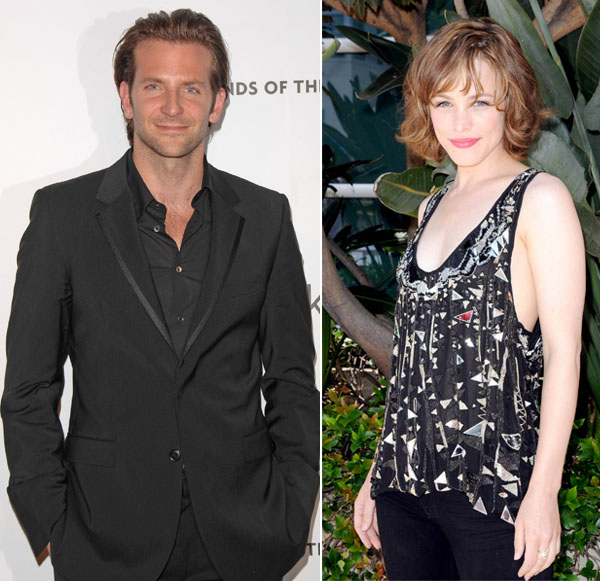 Bradley Cooper, 34, may have jetted off to Madrid with Renee Zellweger over the weekend, but it doesn't seem like he's ready to commit to the tiny Bridget Jones star yet. People Magazine reports that Bradley had an intimate two hour dinner date with lovely Canadian actress Rachel McAdams, 30, in New York on Friday night. Witnesses tell People, which covers this story in their "What You Missed Over the Weekend" video segment, that Cooper and McAdams were having a great time at NY restaurant Odeon and were seen laughing and joking.
Bradley and Rachel were both in 2005′s Wedding Crashers together so maybe they were catching up on old times. It's hard not to think that Cooper is some kind of cad after all the stories we've heard about his dates but maybe he's cultivating that image so that it will keep his name in the press. At least there are no paparazzi photos of the dinner – like when he was out separately with Jennifer Aniston and Renee Zellweger.
I kind of feel bad for Zellweger, 40, because it always seems like she's setting herself up for heartbreak. She comes across as so timid and fragile in interviews, and she had that failed five month marriage to Kenny Chesney. The last we heard of her love life she was quietly dating MSNBC anchor Dan Abrams, but that relationship was apparently over earlier this year. Renee told Glamour in May that she was happy and enjoyed being single, calling it "it's a pretty self-indulgent lifestyle," but added that she wanted a guy who was well rounded and passionate about life. She also said that she reveres her privacy and that she won't talk about who she is dating "Because it's dumb. It leads to nowhere good. I let everybody else in the media do that for me. It takes the responsibility off my shoulders!" They're sure doing it now, and I doubt Renee is comfortable with that, especially now that the news is out that her new boyfriend is not exclusive. Maybe the great sex more than makes up for the compromises to her privacy.
Rachel McAdams is shown at Comic-Con on 7/24/09. Bradley Cooper is shown on 6/15/09. Credit: WENN.com