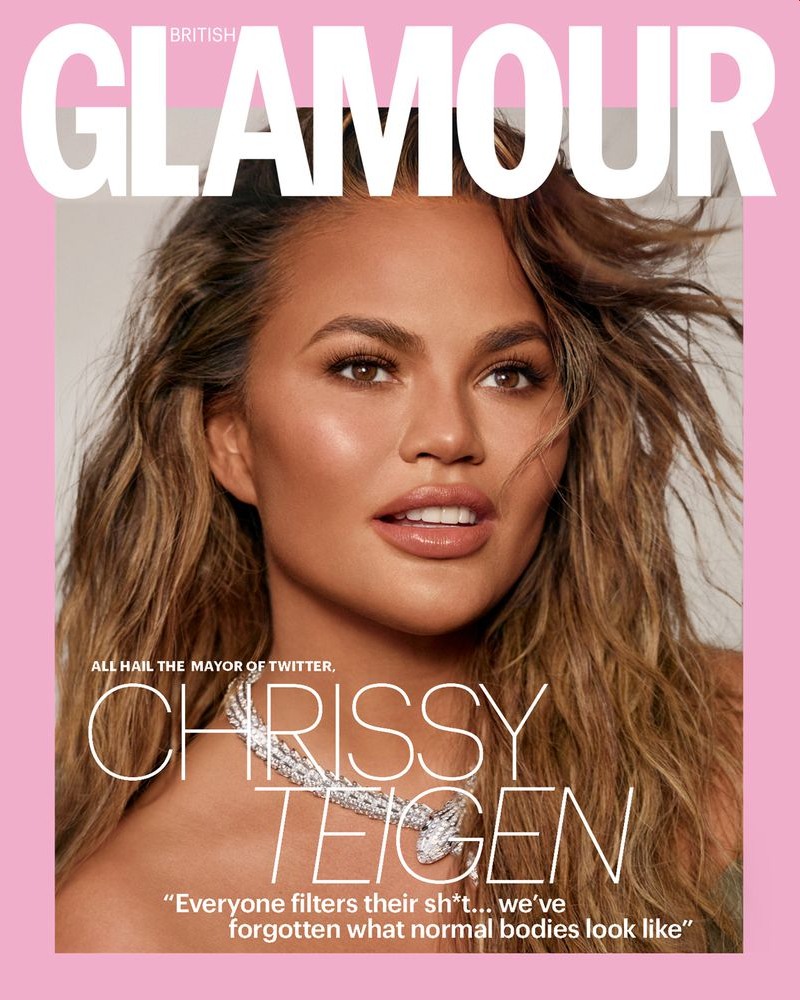 I'm not a Chrissy Teigen fan. I find her to be A LOT. I can handle covering her in small doses, but there are no small doses for Chrissy Teigen, let's be honest. Every interview is a 3,000-word confessional, and I feel like I know more about her diet AND her vagina than I know about my own. Chrissy covers the latest issue of Glamour UK, which is merely an online-magazine at this point. The covers and cover shoot are quite lovely, honestly. The shoot reminds me that she actually was an in-demand model at one point. You can see Glamour UK's full cover package here. Some highlights (this interview was A LOT, and I truly skipped a big chunk of it):
She had a boob job: "Yeah, I did my boobs when I was about 20 years old. It was more for a swimsuit thing. I thought, if I'm going to be posing, laid on my back, I want them to be perky! But then you have babies and they fill up with milk and deflate and now I am screwed."

Whether she really got an "increase": "Honestly, I kept them the same cup size. I just filled them out, so they are rounder and firmer. I had a quarter 'teardrop' cup in the bottom and filled out the breast line. But I want them out now. If I could do one thing, it would be to have a lift. I think you're supposed to replace [implants] every ten years. But when you have kids you think about [the risks] of surgery and I think, 'This is not the way I want to die, in boob surgery.'"

The Filter Life: "You can't set these expectations for people that everything is perfect. Everyone filters their sh*t, edits or Facetunes so you forget what normal faces or bodies look like. It's not fair and it makes you jealous of other people's bodies. It's lying to people by omission. But also, while you want to teach your kids to be comfortable in their own skin, you want to tell them everything you can and let them decide."

On being called a "pug face": "If you hear the same comment over and over again, it gets to you. But when you are happy in other aspects of your life, you care less about it. When I see my crazy, weird smile and my teeth being too big for my mouth, I see it as showing genuine emotion and happiness, so I don't see it as a negative thing any more."

She's not obsessive about weight anymore: "I used to weigh myself every morning, afternoon and night. I knew what the scales would say after each meal. I did that for eight years and had this one weight I wanted to be at. That changed with Luna, and really changed with Miles [her son, two], where it took me a year to be comfortable with my new normal number. I do look at [my body] in the shower and think, 'Arghhh, these kids'. But I don't take the aesthetics so seriously now. It's very fulfilling not having that pressure of putting on a swimsuit and looking good for a magazine while running around a beach, which I did when I was modelling. I don't feel like my body is where I'm going to be sh*tty to myself, either. I'm already thinking enough things I am mad at myself about, I can't add my body into it."

She was drinking a lot about three years ago: "I was drinking so much. I think that's why I lost so much weight, because I was fuelling with wine and I am that kind of person who needs to have energy, I need to move, I need to have chaos."

On cancel culture. "I am now more filtered than I used to be. It's good to think about what you're going to say as it's going to live forever. It's hard because now I do want to say certain things, but I have to think, 'Am I prepared to deal with the backlash?' I am the kind of person who reads everything and must know everything. I desperately still want to be liked, so sometimes it's better for me not to say it, just for my own mental health as I am not as strong as people think."
"I am that kind of person who needs to have energy, I need to move, I need to have chaos." I think that's basically it, and I think that's why I've never warmed to her. And that's my thing too – I find big, messy, melodramatic agents-of-chaos to be exhausting and a waste of my time. Other people find them fun, hilarious, charismatic and more. It's just a matter of opinion and I accept that. I appreciate that she's now at the point where she's self-aware of that part of her personality, and that she understands that she's seeking out the drama, she's seeking out the negative and positive comments and she's letting it affect her.
As for what she says about her boob job… do you believe her that she didn't go bigger, she just wanted them to be more "upright"? I kind of understand that from a modeling perspective, but also… I think she got 'em bigger.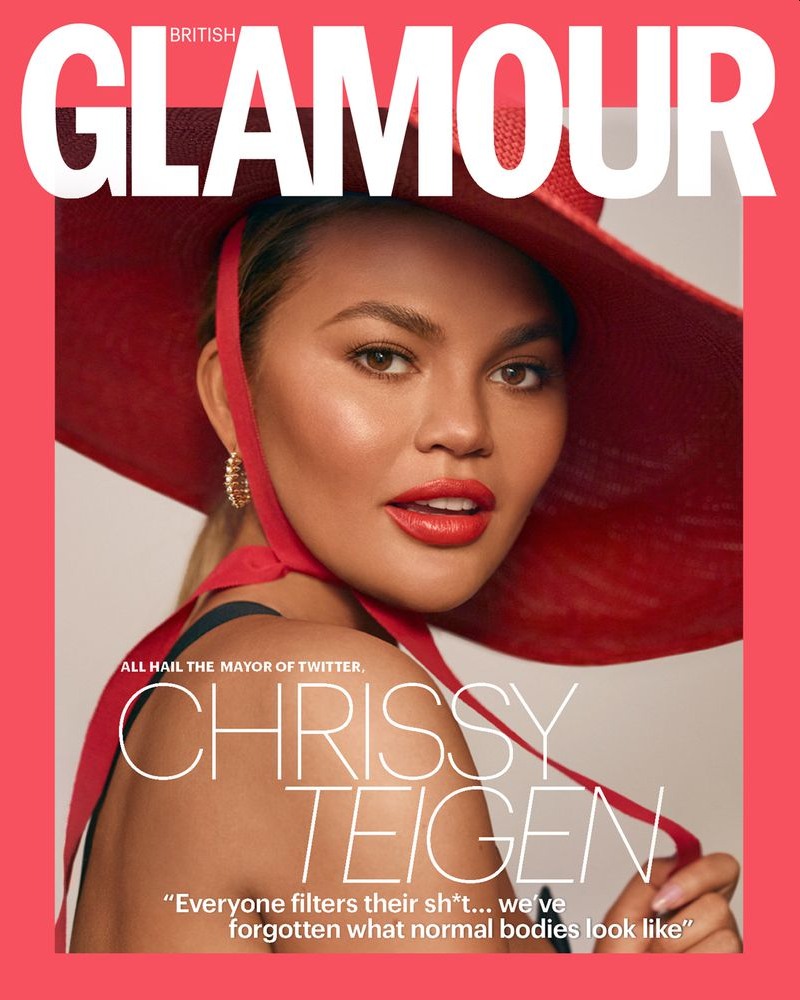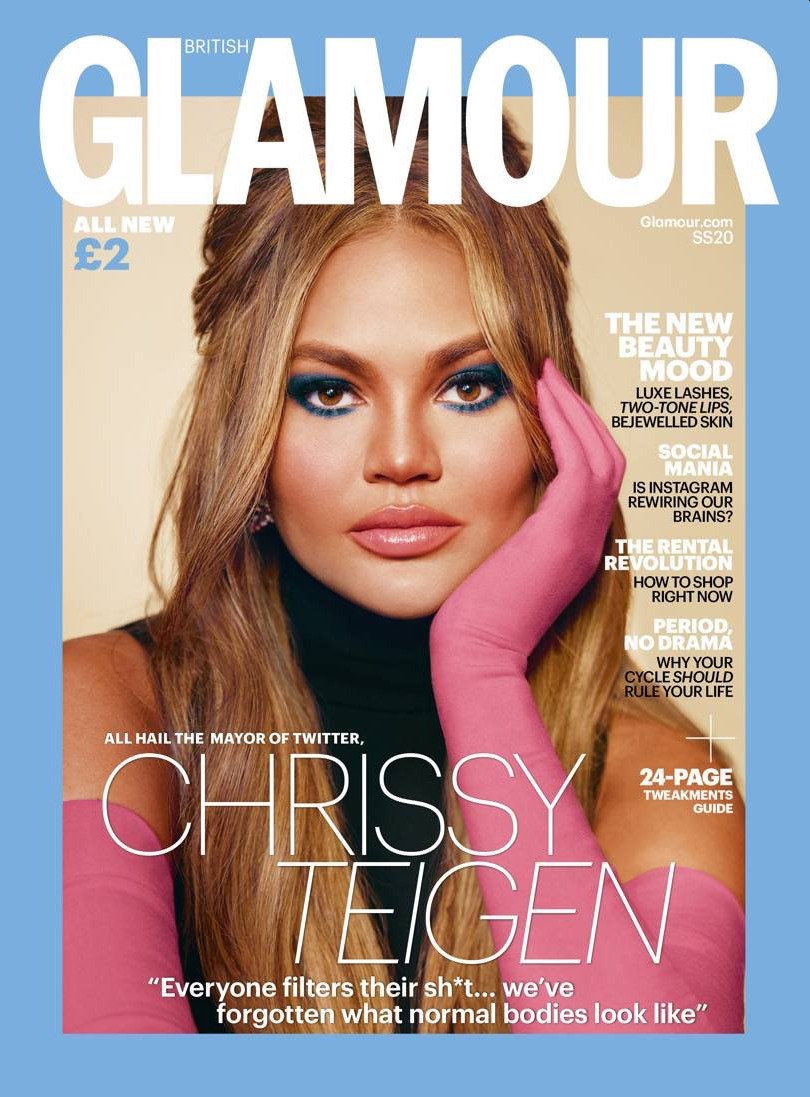 Covers courtesy of Glamour UK.