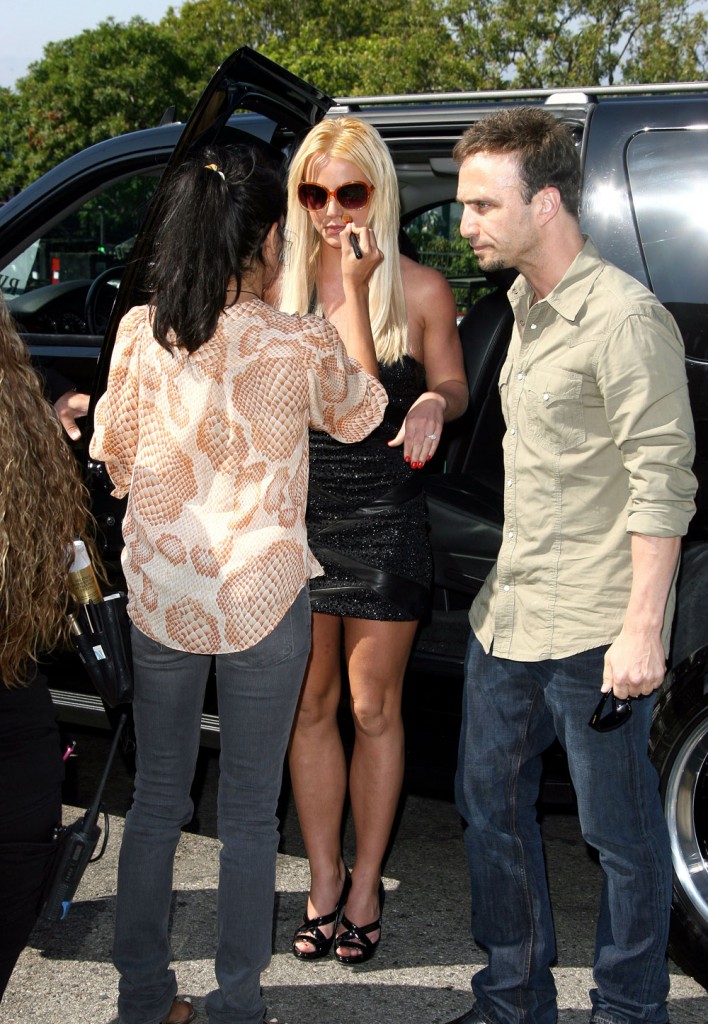 Britney with manager Larry Rudolph – not Jason – on 8/12/09. Note the ring. Credit: Fame Pictures
This week's National Enquirer reports that not only is Britney not engaged, but she was sadly dumped by her boyfriend and agent Jason Trawick. Meanwhile Britney has been seen flaunting a ring on her left hand that looks suspiciously like an engagement ring. It's worth noting that Jason hasn't been photographed out with Britney in a while, over three weeks as far as I can find, and that could be saying more than the ring on her finger. Britney was spotted out with another engagement-like ring, a different one, in late June.
Britney believed she had found Mr. Right in Trawick. She was expecting him to move in with her after she returned from the European leg of her globe-trotting "Circus" tour.

But instead of moving in, Jason said he wanted out of the relationship.

"It was just too fast, too soon for Jason," a close source told The Enquirer.

"Jason wasn't ready to move in and be there 24/7 for Britney. He didn't like the pressure Britney and her family were putting on him to put a ring on her finger.

Jason, 37, is a top agent with Hollywood's William Morris Endeavor Entertainment. He has told Britney repeatedly that he would never marry, but Britney refused to believe him. She thought she could change his mind by having a baby with him.

But when the the singer told Jason of her family plans, he ended the relationship.

"Jason told Britney he needs time to chill away from her," revealed the close source. "She's heartbroken."
[From The National Enquirer, print edition, August 24, 2009]
In my experience, when a guy says they're never going to get married you should decide at that point if you're willing to invest in the relationship, because it's not like they're going to change their mind after a few months or years. I've been there, and so have friends of mine and it's better to walk away early than get your hopes up or think that it's ok because he'll surely want to marry you, even as he professes that he's against marriage.
The Enquirer is also claiming that Britney tried to win Jason back by dying her hair blonde, and that she's trying to keep her schedule open in case he wants to see her. If this is true, she's only going to scare the guy away by wearing that engagement ring all over the place. I hope for Britney's sake that the Enquirer has it wrong and that she really is engaged instead of just pretending. Maybe Jason is laying low for some reason. We'll see. Britney hang in there, you deserve a man who'll stand by you. If this one doesn't, there are plenty who would love to take his place.
Britney is shown with the ring on 8/6, 8/9 and 8/11. Credit: Fame Pictures