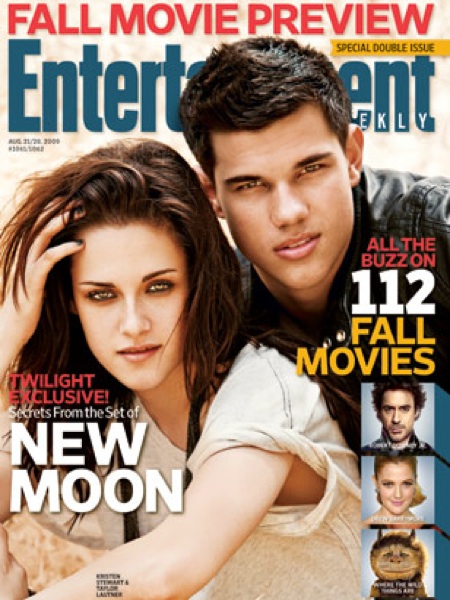 There might be trouble in Twihard Paradise. By the way, I believe Twihard Paradise = a full minute sniffing the heavenly aroma coming out of Robert Pattinson's mangy hair. But I digress. It seems that there might be something brewing between Kristen Stewart and Taylor Lautner, who plays werewolf Jacob Black in the films. Star Magazine has more:
Just as things are heating up again between Kristen and Rob, could their costar Taylor Lautner throw a wrench into their romance?

"Taylor definitely has a crush on Kristen," a source tells Star. "But she just treats him like a little brother."

Still, Taylor, 17, has grown a lot since filming the first Twilight – literally and figuratively. The 26 lbs of muscle he added to play werewolf Jacob Black have given him new confidence with women. He recently romanced Emma Roberts and Taylor Swift on the set of Valentine's Day and now he's set his sights in Kristen.

They were inseparable at the Teen Choice Awards on Aug. 9, while Kristen hardly spoke to Rob. "Rob is really nervous that Kristen will fall for Taylor's charms," says a source.

Adds another: "He likes Taylor, but once they're all up in Vancouver, he's going to make it clear that Kristen is off the market."
[From Star Magazine, print edition, August 24 2009]
Would you like further evidence? Behold, this week's Entertainment Weekly cover! Not only are Kristen and Taylor looking very cozy, in the interview Kristen admits her true feelings for him: "I love that kid… I would do anything for him. I would kill for him, literally." Ruh-roh. EW has more:
New Moon, a far different beast than Twilight, is steeped in heartbreak, focusing on the recovery Bella (Stewart) undergoes after Edward (Pattinson) breaks her heart and her new feelings for her friend Jacob (Lautner). Pattinson couldn't be happier with his downsized role: "It was a stress-free job for three months," says the actor. "All the pressure was on Taylor."

There were some minicontroversies surrounding the set – director Chris Weitz replaced Twilight helmer Catherine Hardwicke, Lautner had to publicly campaign to keep the role of Jacob, and actress Rachelle Lefevre was replaced by Bryce Dallas Howard for the soon-to-be-shot third film in the series. Lautner ultimately secured the spot thanks in part to Stewart.

"It's completely understandable why they wanted to make sure he was right," says the actress. "He was so young, 16, so I got it. But I knew he had [to do] it. Just because of how I felt around him."

And how did the Bella-Jacob best-friend chemistry play out on set? "We have that relationship," she says. "It's lamely cute."

Taylor trained hard to bulk up for the role of the budding werewolf. "My body fat got so low that we actually needed to increase it a little bit," he says. "My trainer would be like, 'Go have a huge milk shake just so I can get a thousand calories into your body.'"

Stewart thinks the new film will be beefier, too: "[Making Twilight] was much more of a fight," she says. "We needed to make something commercial but stay true to the book. We didn't have enough money. It was all very impulsive, and that's what I love about that movie…But I think New Moon is gonna be even better."
[From Entertainment Weekly]
God knows I love riling up the Twihards (cough cough CB cough), but I don't think this hook-up is going to happen. Kristen would rip that poor kid apart. Pattz has barely survived her, and he's six years older than Taylor. Plus, there was this little interesting part – EW has a cute behind-the-scenes video of the photo shoot, with Kristen and Taylor talking about how well they get along. Kristen is asked what's the difference between Edward and Jacob, and she says "I smile more with Jacob." Then Kristen and Taylor are talking about whether he's hardcore enough, and she tells Taylor Lautner : "I think you need a little more growing up to do. You need to grow into your cojones." Taylor: "Okay…. I'm not sure if that was a compliment." Dude… that was not a compliment. Kristen really does think of him as a kid brother if she's mocking his cojones.
And yet! The National Enquirer has yet another report about how Kristen is basically breaking Pattz's soul. Apparently, "Pattinson got really depressed when he offered to whisk Kristen off on a romantic three-day vacation anywhere in the world before filming starts on the third "Twilight" flick, but she answered emphatically: NO!" Kristen's reasoning? She thinks Pattz is "pressuring" her for a "serious relationship". This girl is so f-cking hardcore. I bet she laughs at Pattz when he cries.
Taylor Lautner and Kristen Stewart at shown at the Teen Choice Awards on 8/9/09 and at Comic-Con with Robert Pattinson on 7/23/09. Credit: WENN.com. Header image thanks to CoverAwards. EW has a quick clip featuring Kristen and Taylor, but it's not embeddable, so here's a link