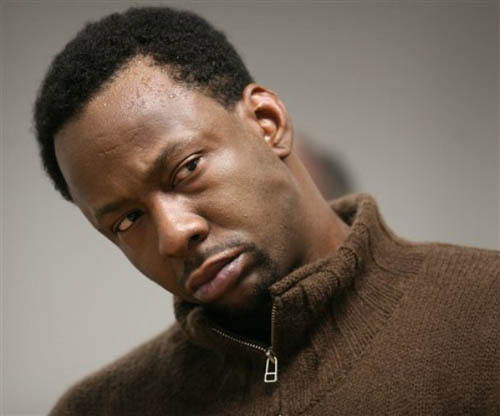 Bobby Brown called in to Lee Bailey at Eurweb to deny reports, confirmed by his lawyer, that he suffered a mild heart attack and was rushed to the hospital on Tuesday night. He said that his lawyer just got "bad information" and it was simple case of miscommunication:
"I heard that I had a heart attack earlier, but I didn't," Brown told Bailey during a phone call Wednesday afternoon.

Reports on TMZ.com, the Atlanta Journal-Constitution and the Associated Press cited confirmation from Brown's Atlanta-based lawyer, Phaedra Parks, who said Wednesday: "This morning they did diagnose him as suffering from a mild heart attack … they attributed (it) to stress and diet."

However, the 38-year-old singer said he went to the hospital for a simple pre-tour check-up – "I gotta make sure my vitals and everything is straight" – and next thing he knew, folks were reporting that he had suffered a heart attack.

"That's what happens when you're Bobby Brown," he joked. "I just had some procedures done. The doc cleared me and said, you know, [go] do what I do."

As for his lawyer Parks' confirmation to various outlets regarding the supposed heart attack, Brown says: "She got bad information from somewhere else, and that just goes to show that people need to talk to each other more often in order to make things right."

"But everything's all right with me. I got a clean bill of health and everything's fine," he says. "I'm ready to get on this road and do these shows and take care of what I gotta take care of."
[From Eurweb.com via ONTD]
Brown also said that he was worried about the effects of the supposedly false story on his children, who were upset and called him up crying. He is saying he's ok and wants everyone to know.
This would be all pretty believable considering it's the person who supposedly had the heart attack denying that it happened, except that it's Bobby Brown and there was a video of him in the hospital with tubes coming out of him telling everyone he loved them but reserving a little hate for his ex, Whitney Houston. The video and pictures used to be on X17.com, and Oh No They Didn't has the details:
Right before he went in, Bobby Brown delivered a heartfelt statement to his family, friends, former collaborators, and "whomever it may concern". He seems genuinely frightened by his looming surgery – at one point, he even tells his kids what to do "if daddy ain't coming home tomorrow"!

We've prepared a transcript of Bobby's words:

"This is…uh, Bobby Brown…ah, I'm about to go under the knife. So, uh, whatever happens – I know, uh, nothing's guaranteed, so – um, I want to tell my kids I love you. Sisters, my mother, my father, I love y'all dearly. Um…to whomever it may concern, um, this ain't about nothing else, y'know, um, uh, had a heart attack, y'know and um,..Y'know this is, this is really messed up, I don't know what's gonna happen, so, um…Just know I love you all, y'know, and um…Take care yourselves, I love you. All my boys, New Edition, uh, peace, man."

"Um…My little girls, y'all know what to do with life, y'know, if daddy ain't coming home tomorrow, y'know. But hopefully I'll be there soon. Um…y'all just take care of each other, ai'ght? Peace."

Following his sincere missive to his friends, family, and, um, New Edition, Bobby Brown turned his attention to his secrets! The stricken star covered all his bases, from his love for girlfriend Alicia to the extent to which drugs contributed to his condition ("Drugs had nothing to do with this…I've been clean for two and a half years, so don't worry about it!").

His strongest statement, however, may have been reserved for his ex-wife Whitney Houston.

Second Clip:

Interviewer: "Any secrets you wanna tell?"
Bobby: "Yeah, man…Um…I'm in love with you, Alicia. Uh…Whitney (holds up middle finger). (Laughs.)

Bobby: No, uhh. Nah, no secrets. Um…mmm. Shit. And drugs had nothing to do with it, I've been clean for two and a half years, so don't worry about it. I still drink a little alcohol every now and then, though. That's basically it. And, man, make sure my babies get this, man. (Unintelligible)."

Bobby lies back, groaning, rubbing his head, then startles when he sees the camera.

Bobby:"Yo! What the f***'s that?"

Man: "What's up, man?"

Bobby: "Yo, man…Nurse!"
[From ONTD]
Both posts with the photos and videos of Brown in the hospital have been removed from X17online and now Bobby is denying he had a heart attack even though his lawyer confirmed it to multiple news outlets. I'm thinking he's just upset that so many details were made public and that he talked so freely about it. X17 rarely cares about publishing stuff that celebrities don't want made public, but if Brown never signed a release and the video was made in the hospital without his knowledge they may realistically fear a lawsuit.
Given that there are photos of Brownin the hospital and a video of him saying he's scared about surgery, it seems like he went through something serious medically and doesn't want people to know about it.