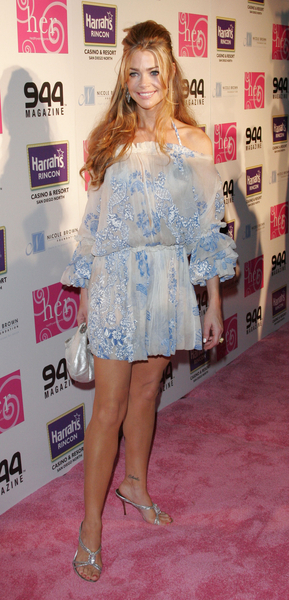 Denise Richards is a 36 year-old adult, not a teenager. She should be too old to be spreading rumors to make her ex's fiancé jealous.
One story said she'd asked Charlie, after his engagement to another woman, to give her a third child.

This single mom who rises every day 5 a.m. (she and I spoke at that hour) said: "Never. I do not want another child. That was to make his girlfriend Brooke jealous, make her think I wanted to get back together. I'm a single mom. I do not want more children."
I believe you wouldn't want more children, crazy lady. She might be able to cope with another baby if she didn't have ten dogs. Ten dogs? Who walks them?
Denise has put her $3.9 million house on the market, and moved into a larger one in the same suburb of Hidden Hills, California. It's a good thing she bought the new $4.6 million home – not many rental properties are available for pets.
Charlie Sheen is obviously trying very hard to keep his fiance Brooke Mueller happy while this nasty divorce goes on – he's getting his tattoos removed. I'm guessing the first to go will be his 'Denise' tattoo. It doesn't seem like something you could easily change to another word. Like Pamela changed her 'Tommy' tat to 'Mommy'.
I'd actually be pretty inclined to keep my tattoos, even if they are starting to look lame on a man of Charlie's age, just as a part of my life history. Then again, I could just keep some photos write down a few thoughts in a journal rather than drawing on myself. Besides, it really, really hurts when you get one. People who say it doesn't are either fibbing or have a higher pain tolerance than I do.
Picture note by Celebitchy: Denise Richards is shown in a god awful dress at the H.E.R. Luau at The Playboy Mansion on 7/21/2007.