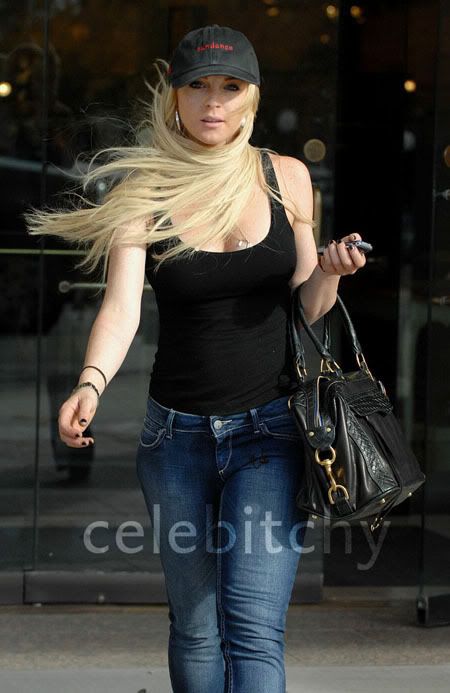 Lindsay Lohan is supposedly telling friends she's going to move to Utah for good. She just got out of in rehab in Sundance, Utah after a two month stay last week and is said to be making the impulsive decision to change residence in order to be with her new boyfriend, despite the fact that he must be brand-spanking new since she was linked to several different guys in rehab. She has been photographed out and about with Riley Giles, a 25 year-old California snowboarder, and tells friends she wants to move there to be with him permanently.
There was also a story on OK! Magazine's website yesterday claiming that Lindsay has dumped her mom, Dina, as her manager after being pissed at the depths to which she sinks to make a buck, but her rep has denied it. That doesn't mean it's not true, just that her rep has denied it. Lindsay has been spending a lot of time with her father so it makes sense that he may have convinced her to drop her mom as manager.
The Utah mountain air certainly agrees with Lindsay Lohan. Fresh out of rehab, she told friends Tuesday she wants to move to the Beehive State permanently.

The reason, she says, is to be with her new boyfriend, Riley Giles, a 25-year-old snowboarder from California.

Lindsay will be receiving outpatient care near the Cirque Lodge rehab facility at least through the end of the week.

Meanwhile, some have been expecting Lindsay's new broom to be turned on her manager-mom, Dina. One well-placed source suggested she has been looking at other management options for weeks…

Yesterday, OK! reported on its Web site that Dina had already been let go, but Lindsay's spokeswoman told us: "Not true at all."
[From NY DailyNews]
I really hope this is true, because it's almost as good a story break from Lindsay as her time in rehab was. Since she's not messing up anymore and is away from LA there are fewer photos so hopefully we can look forward to lighter Lindsay news in the future.
Paris Hilton learned the hard way that we aren't that interested in her daily life after completing her jail stint and remaining relatively scandal-free since. She doesn't get as much press and is probably feeling neglected.
It's a tough lesson for these young "stars" that normalcy is uninteresting to us. The quick media cycle encourages flameouts like Britney, but that's too bad. Go do something useful with your millions and enjoy daily life without craving the validation that comes with having your mug posted all over Internet. It sounds like Lohan is doing just that, although there's no way I'm going to give her credit for it. It's not like this new relationship will last for her, so it's doubtful she'll stay in Utah much longer anyway.
Thanks to Splash News for these pictures of Lohan and her boyfriend in Utah yesterday. She is said to have changed her shoes three times, but she was out shopping at Nordstroms so she probably bought new shoes there.