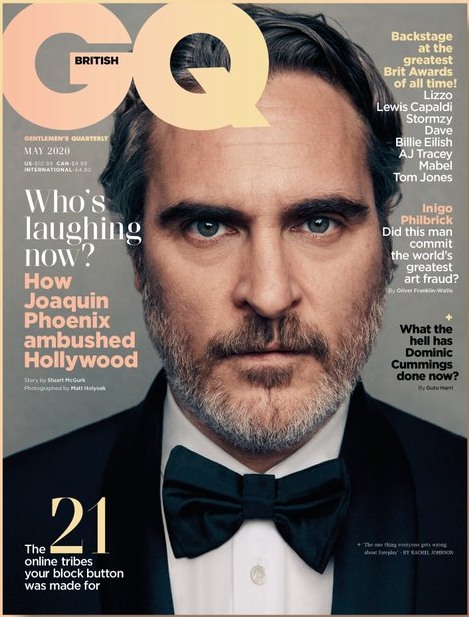 Joaquin Phoenix covers the latest issue of British GQ, and I don't really understand any of it, actually? It could be seen as sort of a victory lap for Joaquin's enormously successful Oscar campaign for Joker, and it's not like he's really promoting anything, and yet… it barely feels like he actually gave GQ an interview. Much of the piece is just a summary of Phoenix's best roles and various speeches and interviews he's made previously. Any new information isn't presented in quote form, almost like Joaquin is too elusive to even be nailed down by WORDS. So here is my attempt to try to find something noteworthy about this interview:
He barely watches his own films or anyone else's films: Phoenix doesn't much like to watch movies of himself; he finds them excruciating. Partly, it's because he's striving for something that he feels he never quite finds. But also, he doesn't much like to watch movies generally, preferring documentaries for the most part. His favourite film, he will often say, is the Will Ferrell comedy Step Brothers. It helps that Step Brothers is a comedy, as it means Phoenix is less aware of the joins. For almost all other films, he equates it to a magician watching someone else perform tricks. He knows them all. Sometimes he'll see a great one, one with actor and director working seamlessly, where he can't figure out the moving parts, but it's only then that he finds himself finally caught up in the moment. "With so many movies, it's not really enjoyable."

Acting techniques are bulls–t: Joaquin Phoenix has a theory about acting and that theory is this: everything they teach you as a kid is wrong. Or, as he will put it, "completely f–king wrong". They teach you to remember your lines. Wrong! They teach you to follow your light. Wrong! They teach you to hit your mark. Wrong, wrong, wrong! Those are the things, Phoenix will argue, that you shouldn't do. Despite more than 30 years as a professional actor, he's purposefully not learnt the technical names or industry terms. One interviewer from the New York Times had to explain to him what a "tent-pole" movie was ("Tent-pole movie, is that what it's called?"). He came to this conclusion around the time of Walk The Line, which was entertaining but by the numbers. He realised he didn't want to do that kind of acting any more. "You just act and it's so ugly."

He checked himself into rehab after Walk the Line: Just after he shot Walk The Line. He'd been drinking heavily and going to clubs. He thought of himself, he says now, as a hedonist. He was an actor in LA. He wanted to have a good time. "But I wasn't engaging with the world or myself in the way I wanted to. I was being an idiot, running around, drinking, trying to screw people, going to stupid clubs." It was also around this time he flipped his car on a winding LA side road. Bloodied, bruised and disorientated, he was about to light a cigarette when he got a knock on the window and a German voice said, "Just relax." Phoenix said he was relaxed and rolled down the window, but the German voice replied, "No, you're not," pointing out that he was about to light a cigarette in a car that was leaking petrol. The Good Samaritan, Phoenix realised after climbing out, was the director Werner Herzog. Phoenix didn't need the push to go to rehab: he just checked himself in. And while he hasn't exactly quit drinking altogether – he still drinks when he flies, because he still hates flying – he has stopped smoking weed.
I've never heard that story about Werner Herzog and rehab. I honestly forgot that Joaquin went to rehab at one point? But I vaguely remember the car crash story, and the concerns that Joaquin might have been on the same path as River. It was such a long time ago. For as much as Joaquin (and other people) want to make it sound like his life is so weird and avant-garde, it really does seem like he just lives quietly with Rooney Mara and they go for walks with their dogs and make vegan food together and watch documentaries, right? As for all of the stuff about magicians' tricks and acting theories… I mean, is it really that big of a f–king deal? No. It isn't.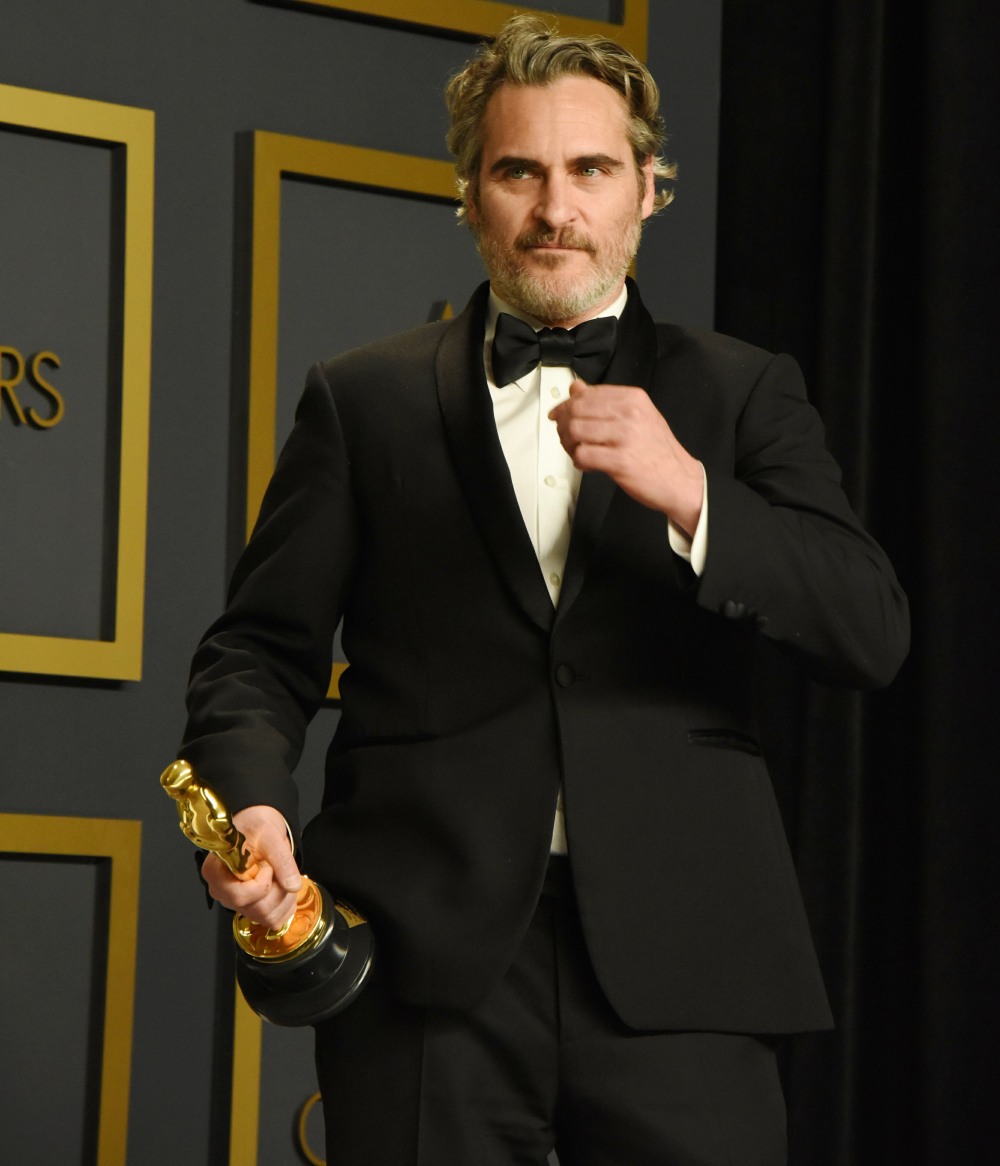 Photos courtesy of WENN, cover courtesy of British GQ.